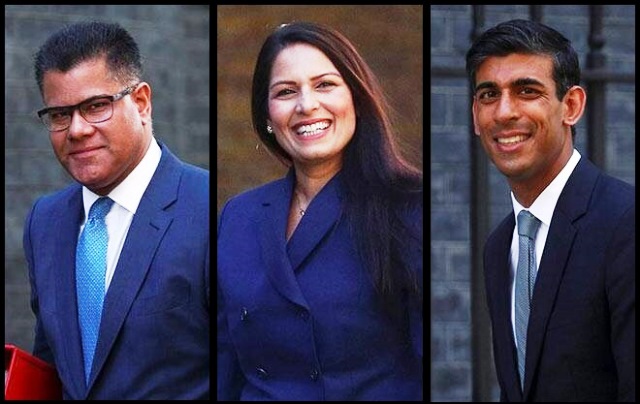 OPINION
OPINION
Indian Diaspora In UK Reached A New High In 2020
2020 is a year that many would like to forget due to the coronavirus pandemic and the heavy toll it took in terms of lives lost, economies disrupted and everyday life upended across the globe, but it also saw the 1.5 million-strong Indian community in the UK reaching a new high: its members continued to feature in bad news, but there was more good news during the year.
It remains debatable whether Indians back home should celebrate when members of the diaspora who are born and bred abroad achieve something. They are citizens of various countries and most have a passing acquaintance with India and its realities. This is most vividly reflected in the British parliament, where despite growing numbers of Indian-origin MPs and lords, when it comes to defending India's interests on sensitive issues, they are conspicuously absent or silent. Indian officials have long despaired over diaspora MPs rarely speaking for India on key issues, but are in the forefront to highlight their 'Indian' origins when it suits them.
India and the UK are historically entwined at various levels. But it is in the realm of politics that 2020 saw the near-mainstreaming of the community, with Prime Minister Boris Johnson putting together what Conservative party chairman James Cleverly called the "most desi government in British history" after the December 2019 election, with four MPs appointed to key cabinet posts.
It is a different matter that this does not necessarily mean India's interests are defended in parliamentary debates, but in the long march of racism and representation, it is something of a landmark not only for the community but also Britain's policies of multiculturalism and initiatives to encourage non-white representation in politics.
It is no longer rare to see chancellor Rishi Sunak batting for the Conservative party or the government and Labour's Lisa Nandy countering in widely-watched mainstream news programmes. Sunak and home secretary Priti Patel have been lauded and pilloried in the news media just like any other British politician. The other two cabinet members – Alok Sharma and Suella Braverman – have received similar treatment. Labour's shadow cabinet has also seen more members from the community, with Nandy, Preet Kaur Gill, Tanmanjeet Singh Dhesi and Valerie Vaz.
This increased representation is clearly an advance from even a decade ago when the community representation in the House of Commons was mainly confined to Keith Vaz and Virendra Sharma. How much of this results in better, quantifiable relations between India and the UK remains to be seen.
Besides politics, 2020 also saw leading individuals from the community featuring prominently in mainstream discourse, such as Anand Menon on Brexit, and Devi Sridhar, Bharat Pankhania and Sunetra Gupta on Covid-19. Health professionals from the community were not only among major victims of Covid-19, but were also on the frontline treating patients across hospitals and other settings. Among the deceased was Gulshan Ewing, 92, the pioneering editor of women's magazines. Hailing from a Parsi family in Mumbai, she was one of the first women editors of leading Indian publications since the mid-1960s, setting benchmarks in film journalism and focussing on women audience. Experts helping the UK government deal with the pandemic included Nobel laureate Venki Ramakrishnan and Lalita Ramakrishnan of the University of Cambridge. Among the first to receive the Pfizer/BioNTech vaccine were Hari Shukla and his wife Ranjan.
The presence of the large diaspora with links with the homeland ensures that events and issues in India resonate on the streets of London and elsewhere. 2020 saw protests, demonstrations and petitions on issues such as the new laws on citizenship, farmers and Kashmir. As foreign secretary Dominic Raab said during his recent visit to New Delhi: "Your news is our news" because of the diaspora.
Members of the community continued to figure in crime and convictions, while proceedings to extradite several individuals continued during the year, including Vijay Mallya, Nirav Modi and Sanjeev Chawla (who was escorted to New Delhi).
At the University of Cambridge, sociologist Manali Desai became the first head of a department in its 811-year history when she was appointed head of the department of sociology. Also, its department of chemistry was named after its alumnus, Yusuf Hamied of pharma major Cipla.
The Ealing Council in west London announced the renaming of part of Southall's Havelock Road – named after Henry Havelock, general in the colonial army involved in suppressing the 1857 Uprising – as Guru Nanak Road from early 2021, following a public consultation.
On the cultural front, while the BBC's six-part adaptation of Vikram Seth's 1993 tome 'A Suitable Boy' received mixed reviews, the London Fashion Week – in a first – showcased the magic of sari as models sashayed wearing saris from various parts of India, and the British Fashion Council appointed actor Priyanka Chopra as its new ambassador. Mahatma Gandhi, who had close interaction with London and the British during his lifetime, continued to make news. His statues in London and Leicester became the focus of protests during the Black Lives Matter campaign. But an unnamed buyer surprised many by picking up Gandhi's spectacles from his time in South Africa for £260,000 in a Bristol auction
Besides India emerging as the second biggest investor in the UK, 2020 also saw entrepreneur Karan Bilimoria elected president of the Confederation of British Industry, the representative body of 1.9 lakh UK companies employing nearly 7 million people. And Zuber Issa and Mohsin Issa, sons of immigrants from Gujarat, acquired retail giant Asda (valued at £6.8 billion), months after a new report co-produced by the Indian high commission highlighted the multi-billion-pound 'diaspora effect' in British business: over 65,000 companies are owned by British citizens of Indian origin.
The Covid-19 pandemic prevented Johnson from travelling to New Delhi for the Republic Day event, but a free trade agreement with India is stated to be one of the priorities as the post-Brexit UK tries to redefine its global role. There is much criticism of the slogan 'Global Britain', and platitudes continue to dominate public discourse of bilateral relations between India and the UK, but the fact remains that even UAE trades more with the UK than India. As former business secretary Vince Cable remarked some time ago, Britain no longer produces most of the things that India needs. Officials have nonetheless identified five sectors for a closer look in the post-Brexit UK: information and communications technology and services, food and drink, life sciences and chemicals, with early harvest pacts expected in 2021.