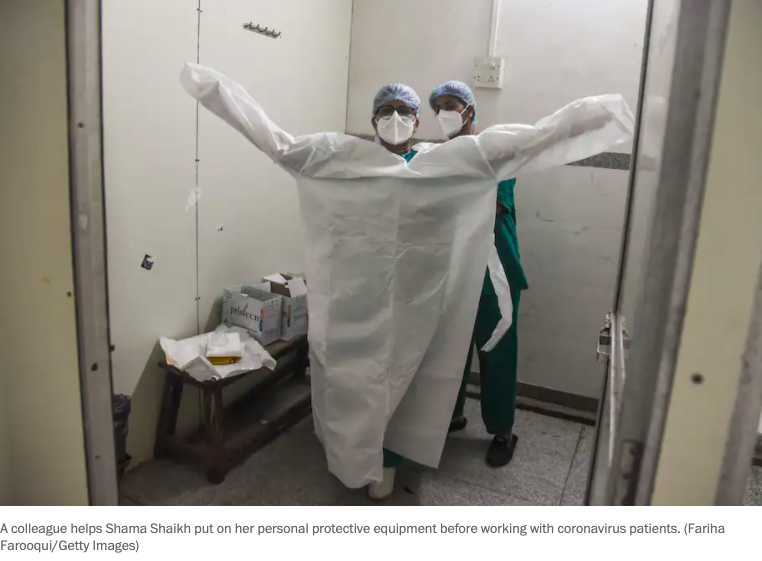 THEBUZZ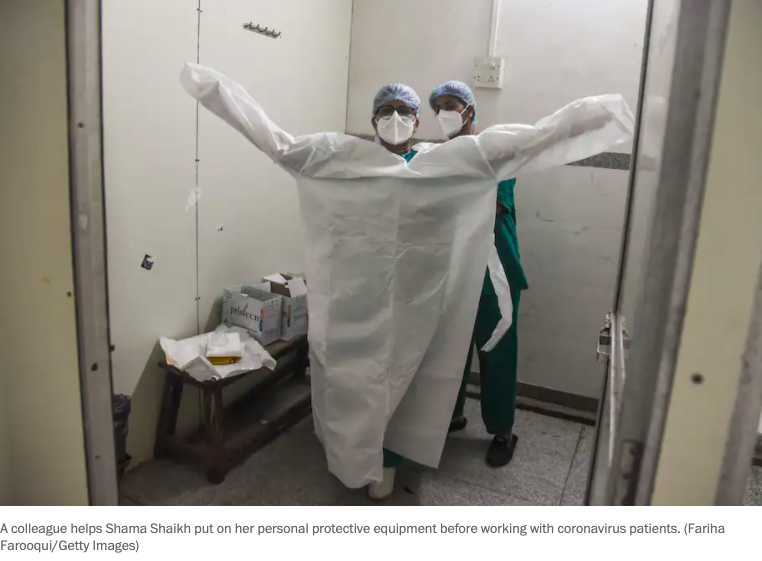 "We've had to grow up a lot in one month… as fresh interns we've been thrown into a crisis-like situation."
Junior Doctors Thrown in the Deep End
It's often said that jumping in at the deep end is the best way to start a new job. And as Covid cripples India's healthcare system, it's sink or swim for junior doctors fresh out of university.
On 26 February, 22-year-old Dr Pankti Pandya had just finished her final year of undergraduate study in her home state of Gujarat, on India's west coast. There were 424 Covid cases that day in Gujarat. That daily number had risen to 1,580 by 22 March, when Pankti started her internship – the final phase of medical training before officially graduating – at Shree Krishna Hospital, in the district of Anand. And by the time she had finished her first month of work, Gujarat's daily cases had soared to more than 12,500.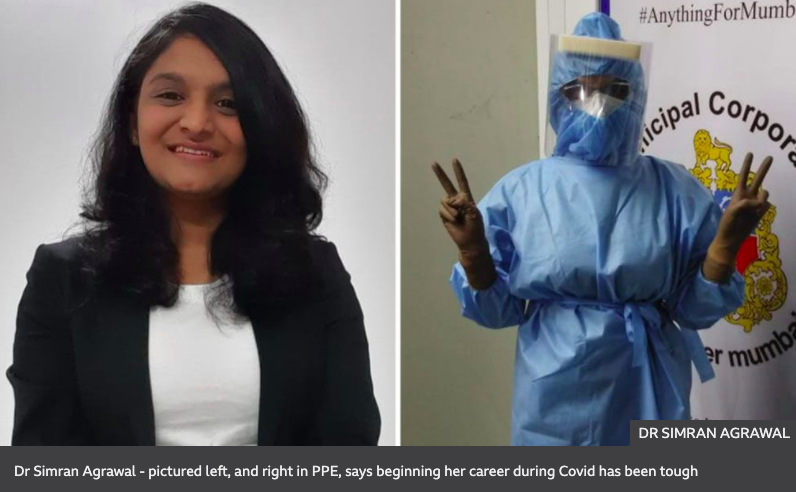 Instead of spending the year doing placements in lots of different areas of medicine, this year's interns are needed on the Covid front line.
Pankti and her peers have been put on a constantly changing shift pattern that includes periods of seven consecutive days of 12-hour shifts – night or day – on a Covid ward.
"We've been thrown into that field, into the thick of things," she says.
Pankti describes one shift where she had to look after about 60 patients with only two more doctors – also junior – on shift.
They were on a non-critical Covid ward, where patients are considered "stable" – which means fewer doctors get allocated per ward.
"We could feel the shortage of workforce," Pankti says.
She says it can feel "very scary" to work in critical care units when there are so many patients that "there's no way that you can look after all of them".
Deciding how to prioritise patients and seeing lots of people die are things doctors usually take years to learn to manage, Pankti says.
But in the face of the pandemic, the interns "have grown up really fast".
"A lot of my friends have had to deal with death at a very early time in their internship, almost on their first day or first night – which is always something which affects you a lot when you are first training."
That's a feeling shared by Dr Simran Agrawal, 24, who began her internship at Nair Hospital in Mumbai in March 2020.
"It was difficult for us to cater to the mental health needs of our patients when we ourselves were physically and mentally drained and burnt out,"
India's covid surge has killed more than 500 doctors and sickened hundreds of others since March, stretching staffs thin
The dead include an orthopaedic surgeon in his 60s and an obstetrician in his 20s. They include community doctors who examined patients with their first symptoms, and specialists who worked around-the-clock in covid-19 hospital wards, trying to save gravely ill victims.
Across India, hundreds of doctors have died in the new wave of coronavirus infections that has ravaged the country. The Indian Medical Association this week confirmed the covid-related deaths of 515 physicians since March, publishing their names and pictures. The group previously reported that 748 doctors had died because of the virus in 2020.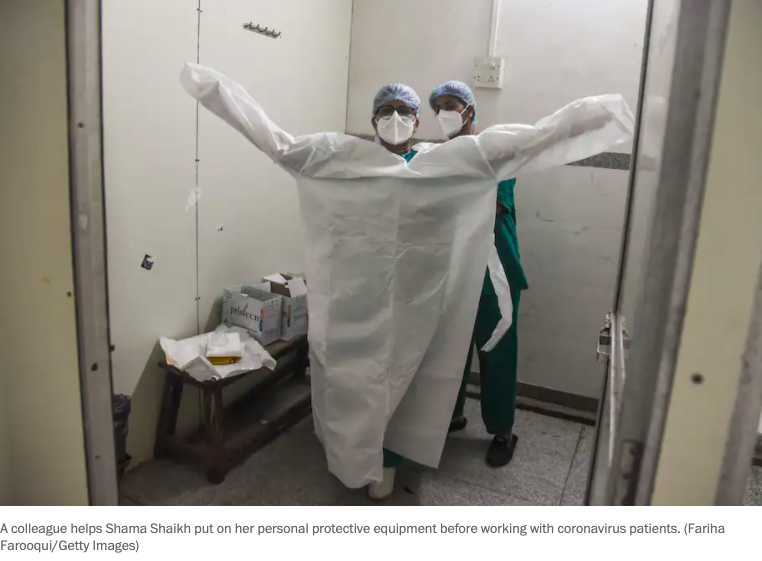 Hundreds more doctors, nurses and other health workers have become infected and temporarily unable to work since the surge struck in April, creating havoc and exhaustion for overstretched hospital staffs across the country.
"When we required double the manpower, our manpower was cut in half," said Mayur Rathod, a doctor managing covid treatment at Saroj Hospital in the capital. During the first weeks of the surge, he said, "cases were rising fast and patients were more critical." He said nearly all 100 doctors and 180 nurses there had been vaccinated, yet many fell sick. "It was a very hard time."
Other hospitals were similarly overwhelmed by the surge after a long winter lull. At the All-India Institute of Medical Science, director Randeep Guleria said patient admissions in April suddenly tripled to nearly 900. "At one point, we had 100 patients lying on the floor waiting for an emergency bed," he said.
India has recorded 1.3 million new cases in the past week, and even as daily cases have dropped since mid-May, reported deaths still hover near 4,000 per day, a figure that is an undercount.
During the worst of the surge, as hospitals scrambled to find sufficient oxygen supplies and beds, families frantically searched for them, too. Many spent hours on the Internet, tracking tips about available oxygen cylinders. Others ferried sick relatives from one hospital to another, hoping to find a bed.
Even now, staff shortages have left hospitals struggling to fill shifts, keep operations going and maintain staff morale. Some managers have assigned doctors to covid duty who are nearing retirement age; others have asked medical schools to release more postgraduate students for hospital work.
"It's like a war, with a first and second line of defense," said Ajay Swaroop, who chairs the ear, nose and throat department at Sir Ganga Ram Hospital in Delhi. "Before, we said strictly that no one above 60 or with comorbidities will be put on covid duty, but once junior doctors started getting infected, even senior people were drafted."
Retired Doctors Around the Globe
Around the globe in the past 16 months, we have seen retired doctors make a return to help their colleagues during the pandemic.
When the pandemic hit Britain, authorities in Britain put out a plea for 250,000 volunteers to help the health service transport patients, deliver medicine, and stay in contact with the most vulnerable in society. They said within days the number of volunteers had reached 750,000. The United Kingdom's Health Secretary, Matt Handcock claimed he was "Delighted that 4,000 nurses and 500 doctors have signed up to return to the NHS in the first 48 hours of our call"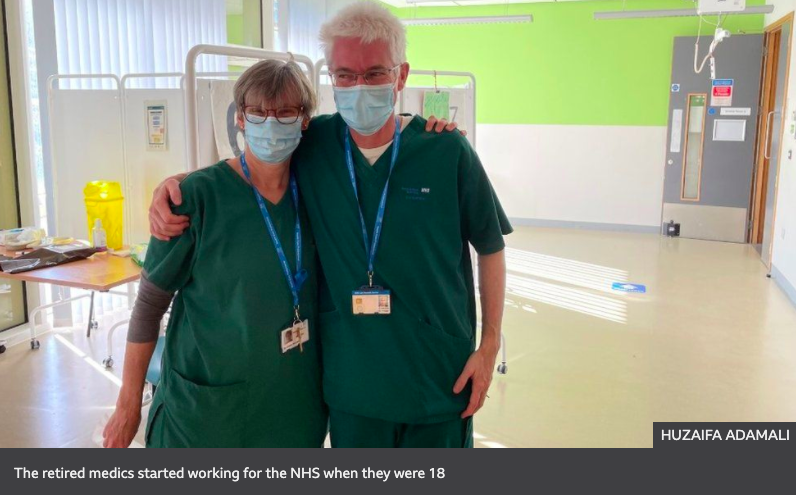 From the United States to Vietnam and across Europe, overrun health services helped retirees reactivate licenses, fast tracked student doctors and nurses and looked for help wherever they could find it.
In Spain, which was hit extremely hard at the beginning of the pandemic, officials called upon all retired medical professionals under the age of 70, who were still able to work, to join the effort. For 63-year-old Loles Andolz, returning to the Barcelona hospital she retired from earlier this year means living apart from her husband, who is over 70, and mother, who recently went blind and must live in isolation to avoid infection.
"My grandmother is having a hard time with her daughter's decision, she cries all day long and wonders why she has to go volunteer instead of younger people," Andolz's daughter, Sonia, told Reuters.
"My mother says that she feels like she is going to war and abandoning her family, although she does it gladly."