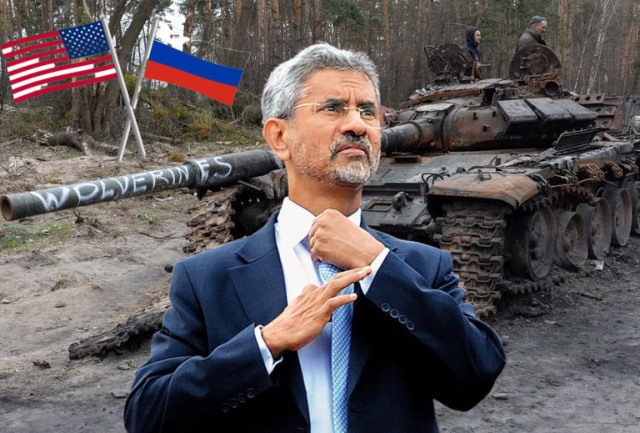 OPINION
OPINION
India's Strategic Success On Ukraine
Seven months into the Ukraine conflict, Russia has annexed much of the Donbass region and more or less achieved what it set out to do. The fall-out of this conflict is far reaching which could fundamentally change the nature of international institutions, the balance of power and the broad camps. Russia has annexed land before. This time the West decided to make a stand. Led by the United States, it attempted to impose its idea of World Order, otherwise known as Pax American. Countries like India have been caught in a very difficult situation. India does not want to be a push over or be caught on the wrong side of the flux taking place nor be tied to one camp.
Foreign Minister S Jaishankar summed up the new mood in India in its international relations when he said, "…Europe has to grow out of the mindset that Europe's problems are the world's problems but the world's problems are not Europe's problems." That statement oozed confidence. Not only did it gain respect for India but many developing and underdeveloped countries found a champion to remain neutral in the resurging cold war.
India has stood aside in the Ukraine war, officially refusing to back US sanctions or condemn the Russian State. In recent years, the Indian Government has been inching closer to the United States than Russia. The USA habitually calls favours from friends to support its global strategies. In the Ukraine war, the US has expected all NATO countries to toe its line. It has also called on Japan, and other countries who it considers to be in its axis.
India was expected by the United States to fall in line, condemn Russia and endorse sanctions. That didn't happen. This shocked the Americans a bit. After all it does a lot of trade with India and has taken in a lot of professional Indians on H1B visas. India is a democracy, hence the US and other western countries like to think of it as part of their family.
India however had other priorities. Its official and get-out clause was simple. Its defence arsenal is largely Russian made and needs Russian parts. It does not want to compromise its defence. The West has not been a willing partner to sell India advanced defence equipment. Moreover the USA has armed India's enemy neighbour, Pakistan, with powerful weapons.
US foreign policy is simple and tends to discard complexities of international theory. It is a case of 'you are with us or against us. If you dither, we will quietly work on you to be in our orbit. But don't ask us to be with you in your hour of need unless it serves US interests.' There is usually a one-way price to pay for friendship with the United States. It is not the fault of the USA. Its democratic political structure is constructed in that way.
Europe and what is called the West, are beholden to the US. While Americans will sleep in warm homes and drive cars without worrying too much about the price of gas, Europeans are already trembling at the prospect of cold nights as gas prices become unaffordable. Many don't drive cars now to save money on pricey petrol. Some of the countries going through this sacrifice were not keen to make a stand against Russia. But they had no choice with American demands. In Europe, what America wants, America gets. Macron, president of France is no Chirac and despite his attempts to present himself as a deal maker, could not stand up to bellicose British taunts or American expectations.
The US imposed sanctions isolated Russia at the UN, treated it as a third world country and tried to enforce no-fly zones across the world against any Russian travel outside the country. Apart from China, most countries were scared of going against the US but at the same time did not agree with it. They had no champion.
It is India that has given them strength and means to stand up as neutral in the conflict. India took a sophisticated approach. It didn't want another dispute on the India-China border or with Pakistan currently. It knew that the Americans would not come to its aid unless it served them to do so. The Americans didn't physically come to the aid of Ukraine, so neither did the European states. The question in India would be: Will the United States physically come to the aid of India if China and Pakistan invaded concurrently? The obvious answer is NO, unless United States saw tactical benefit in it.
India continues to buy oil from Russia. It has not supported Russia at the UN. However it has not voted against Russia much to the dismay of US. India hasn't imposed sanctions or no-fly zone against Russia. It is even trading in Russian currency since dollars have been cut off from Russia. Extraordinarily, India has been selling Russian oil to the United States.
ALSO READ: Indian Diplomacy Shines At Samarkand SCO Meet
India's strong position on neutrality and refusal to be dragged into this war against Russia has in fact strengthened its hand in its relations with the US. The US needs India more than India needs the US. The US feels threatened by growing Chinese influence around the world. It feels it will lose its eminent place in the world and the Dollar could suffer. It relies on India to be its partner against China. India on the other hand has the option of improving its relations with China if the latter reciprocates and let the US fight its own battle.
India's stand encouraged many middle east countries to remain almost neutral. Even Israel sat on the fence. Saudi Arabia has refused to condemn Russia. While these countries may have remained neutral anyway, India's stand gave them that extra courage to gently rebuff the USA.
African countries have in fact quietly praised the leadership of India in this dispute. Many are too weak to refuse the US. But once India did, they felt they could fall behind India's position.
India has thus gained respect and prestige as a result of refusing to be pushed around by the United States. Currently it appears that actually it is the West which has been isolated in the Ukraine situation rather than Russia. Europe unfortunately had no choice as it is heavily indebted to the US.
A positive result of India's position is that China seems to have reviewed its entrenched hostility towards India. It was of the opinion that India would jump when the US asked and felt that India was doing America's bidding in geo-politics. India joining the QUAD (Quadrilateral Security Dialogue) with United States, Japan and Australian had heightened China's suspicions. Now, China may soften its position against India. It may lead to better regional relations if it understands that its own posturing may be pushing India into the US camp.
Given the complexity of the Ukraine situation, it seems India has not only retained an independent position, it has gained respect around the world and may well achieve regional peace. India's fine-tuned foreign policy on Ukraine has also left it room to tilt towards the USA if the conflict goes against Russia.