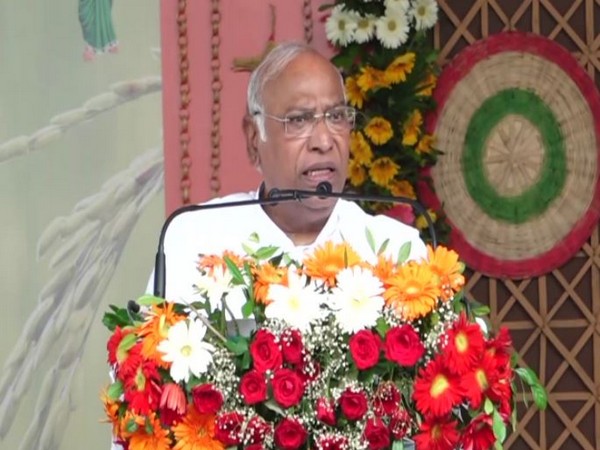 LM NEWS 24
LM NEWS 24
Indira Gandhi Divided Pak Into Two Parts; You Cannot Even Hunt A Bird: Kharge
Congress President Mallikarjun Khrage on Sunday took a swipe at the Bharatiya Janata Party (BJP) saying that they have a habit of twisting the work done by Congress to their advantage and mislead people of the country.
Kharge, while addressing a public rally in Chhattisgarh's Janjgir-Champa district said that it was only Congress that put everything in place in the country.
Explaining further, Kharge said that BJP only gives reference to the 1962 China war, but forgets that it was Indira Gandhi who divided Pakistan into two parts though they (BJP) are not able to hunt a bird.
"They always talk about 1962, but forget that Indira Gandhi divided Pakistan into two parts and now Bangladesh practices democratic governance. It was Congress' rule, in which 100000 people of the neighbouring country were arrested and later released. We fought with Pakistan and liberate Bangladesh This is our (Congress) power. You (BJP) cannot even hunt a bird or a rat," Kharge said.
Kharge was speaking during the party's 'Bharose Ka Sammelan' event in Janjgir-Champa.
This is the second visit of Kharge to the Congress-ruled state after assuming charge as the AICC chief last October. Kharge was felicitated by Chhattisgarh CM Bhupesh Baghel.
The visit is seen as a launch of Congress' campaign for the Chhattisgarh assembly polls, due later this year.
Further, sharpening his attack on Prime Minister Narendra Modi, Kharge said that the PM made fun of former PM Jawaharlal Nehru instead of speaking on violence-hit Manipur.
"Modi Ji didn't answer (on Manipur) what Rahul Gandhi or leaders of the INDIA alliance asked him. Instead, he made fun of Nehru ji and Congress leaders. Modi ji keeps saying that he has done everything. Did power, schools etc come to Chhattisgarh after Modi came to power? Modi & Shah studied in government schools established by us. Or did they study in London or Oxford?.. And they ask us what did the Congress party do in the last 70 years? We had only put everything in place," Kharge added.
He further said that the PM should join a drama company instead of sitting in Parliament.
"They (BJP) compare him (Modi) with Nehruji. He even didn't contest the elections and became chief minister of Gujarat. When he was elected as the PM of the country, he bowed down to the stairs of the Parliament. He does drama and is so dramatic that I think he should go to the drama company," Khrage said.
Kharge was speaking in the Janjgir-Champa district from where the Congress, despite a landslide victory, could win only two of the six seats in the 2018 assembly elections. (ANI)
Read More: http://13.232.95.176/