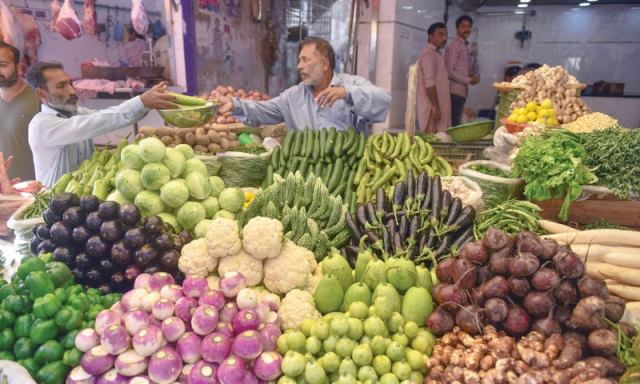 LM NEWS 24
LM NEWS 24
Inflation Breaches 40% Barrier In Pakistan
Consumer prices rose significantly in the outgoing week on the back of onions, chicken, eggs, rice, cigarettes and fuel, official data showed on Friday, driving the weekly inflation to over 40 per cent for the first time in over five months, the Dawn reported.
Though week-on-week inflation eased slightly, it still remained high as bananas, chicken, sugar, cooking oil, gas and cigarettes became costlier, the Pakistan Bureau of Statistics (PBS) reported.
As a result, short-term inflation, measured by Sensitive Price Indicator (SPI), jumped to 41.54 per cent on a year-on-year basis for the week ended on Feb 23, rising from 38.42 per cent in the previous week.
The hike in prices is the highest annual rise since the week ending September 8, 2022, when the SPI inflation was 42.7 per cent. And it was above 40 per cent for the first time since Sept 15, when the reading was 40.58 per cent.
Prices of onions, chicken, eggs, cigarettes and fuel see the highest increase, the Dawn reported.
The week-on-week inflation eased to 2.78 per cent from 2.89 per cent a week ago. Of the 51 items tracked, the prices of 33 items increased, six items decreased, whereas those of 12 items remained stable.
The previous week-on-week reading of 2.89 per cent reading was the highest since October 27, when the change in SPI was 4.13 per cent, official data showed.
During the week under review, the items whose prices increased the most compared to the same week a year ago were onions 372 per cent, cigarettes 164.7 per cent, gas 108.38 per cent, chicken 85.7 per cent, diesel 81.36 per cent, eggs 75.81 per cent, Irri 6/9 rice 75.41 per cent, broken basmati rice 74.16 per cent, bananas 72.22 per cent, washed moong pulse 70.39 per cent, and petrol 69.87 per cent.
In contrast, the highest year-on-year fall was recorded in the prices of tomatoes -67.93pc, chilli powder -7.42pc, and electricity charges for the lowest-income group (-6.64pc).
On a week-on-week basis, the biggest change was noted in the prices of gas 108.4pc (for the lowest-income group), cigarettes 76.45 per cent, bananas 6.67 per cent, chicken 5.27 per cent, sugar 3.37 per cent, cooking oil five-litre tin 3.07 per cent, vegetable ghee 2.5 kg pack 2.79 per cent, vegetable ghee 1 kg pack 2.2 per cent, and prepared tea 1.09 per cent.
The products whose prices saw the highest decline compared to the previous week were onions -13.84 per cent, eggs -5.5 per cent, tomatoes -4.23 per cent, garlic -3.03 per cent, LPG -0.81 per cent, and gram pulse -0.21 per cent.
Meanwhile, the headline inflation measured by the Consumer Price Index (CPI) was recorded at 27.6 percent in January. However, the government has been taking strict measures under IMF conditions that are likely to further cool the economy and stoke inflation.
The government has already taken a string of measures, including adopting a market-based exchange rate; a hike in fuel and power tariffs; the withdrawal of subsidies, and more taxation to generate revenue to bridge the fiscal deficit.
As per the Dawn news, officials say the lender is still negotiating with Islamabad over power sector debt and a potential rise in the policy rate, which currently stands at 17 per cent.
The country's economy has been in turmoil and desperately needs external financing, with its foreign exchange reserves dipping to around USD 3 billion, barely enough for three weeks' worth of imports.
China this week announced refinancing of USD 700 million, which was received by the State Bank of Pakistan on Friday. (ANI)
Read More:http://13.232.95.176/