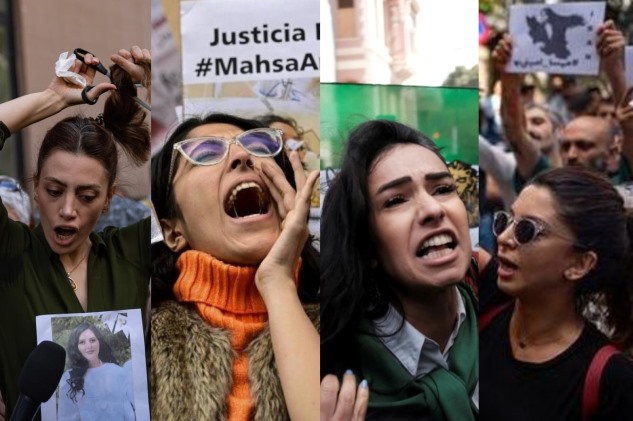 OPINION
OPINION
Iron Women of Iran
On Mahsa's graveyard, they said, in collective mourning, "She is not dead." With barren hills as backdrop, the women threw their hijabs into the air even as her funeral began, their heart-breaking in mournful cries, in chorus, their angry tears choking the blue sky. They are also shouting for justice. Mahsa Amini is not dead, they are saying. She lives.
Her hair lives, her eyes and face live, her soul and heart live. Her youth, and dreams, they too live. On the inflamed, inflammatory, enraged streets of Iran. In the angst and anger of all the women out there — protesting.
All over Iran, across its big cities and small towns, across its 36 provinces, on by-lanes, streets and roundabouts, they are in rage, the women of Iran, and men in solidarity, screaming: Death to the Dictator. The young portrait of Mahsa, without a head scarf, is on every poster.
A murder as a grotesque public spectacle. The murder of a young, Kurdish girl in Tehran, walking with her brother, peacefully. Just about 22. Heart attack? Natural causes? Certainly not. Beaten to death? Yes, undoubtedly, the scars on her body prove that. Did we not see her suddenly collapse in that heavily edited official video?
So why did they kill her? Why? Because of her hair? Her head scarf? Why do they beat women so brutally if their hair shows, or, if they think the dress is not damned appropriate?
Yes, they beat women. And they can do worse!
So who are they? The notorious neo-Nazi Gestapo of the regressive, religious police, male Islamic fundamentalists of the most ruthless and retrograde species — the morality police; in this case, as in the past, a relentless, brutalizing, degrading, inhuman, irrational, torture and murder machine let loose on the streets to stalk and hound women citizens of Iran at the behest of its ultra-orthodox regime, pushing both rationality and modernity to the abyss of absolute dismay and despair.
Meanwhile, at other places, the impossible seems to have happened: stoning the portraits of Ayotollah Khomeini, and burning the pictures of Imam Khameini, the highest symbols of patriarchal power; surely, this is the biggest act of blasphemy in Islamic law in Iran. Even as the government has unleashed its armed and unarmed forces on the streets, including pro-regime loyalists, male demonstrators, shouting the usual slogans to counter all forms of democratic dissent – Death to America and Death to Israel.
At least 50, or more, are dead, including women shot on the streets. Men cops are forcing screaming women inside unknown vehicles. Women are being arrested and packed off to that notorious prison and torture/interrogation chamber of Evin, situated in the picturesque hills of Northern Tehran. A prison, which started its bloody torture-and-death-in-custody rituals during the 'free' days of the Shah of Iran, backed by America.
They are crying, tears streaming down in memory of Mahsa, and their own deep, personal memories, ancient memories, screaming, dancing, holding each others' hands, going round in circles singing songs, shouting slogans, running from the cops and regrouping, and, most crucially, cutting their hair and burning their head scarves in public bonfires. Don't look at our hair, they are saying. Leave our hair alone! Who are you to tell us what to wear? Why are they so obsessed with our beings, our bodies, our presence, our identity, our human existence and essence? Our hair? Go and look somewhere else. Why do you have to look at us on the streets at all? What is it to you if we show our hair or our face or discard the hijab?
Who are you to tell us to do this and do that, to control our young and adult minds, our education, our children, our love and life, our social identity, our aesthetic, political and existential essence, our existential freedom? Go to hell, they are shouting out there, you can hear them, the videos are out there despite a total ban on internet; the fire and the slogans are all over. The whole world is watching the protests, the whole world is watching the brave women of Iran – go ban the internet and instagram!
ALSO READ: 'A Woman Footballer Still Freaks Many People'
The authorities claim 25, but there are at least 50 dead, according to sources, including women. The ambulances are being attacked, because the protestors claim, that the male soldiers and morality police are using the ambulance to transport arms and men. One woman stands all alone in front of a water cannon. The memory of Tiananmen Square, June, 1989, comes back as a resurrection, yet again.
History repeats itself in different kaleidoscopes and rainbows. The water cannon stops and retreats. Another woman hits the window of a police car. Another shouts at the cops, hair flying, eyes aflame, surrounded by her comrades.
Somebody has made a flag with a pole and women's hair flying like a glorious monument of great bravery and beauty; oh, let the hair fly, without a hijab, in defiance, in magic, in freedom, in joy, in beauty and rage. Let the hair become the body and the soul and the heart! Let the hair become the sublime song of the women street fighters.
What is it with the hair of a woman? What is it with a head scarf not worn properly? What is so goddamned proper and not proper with the hair of a woman? What is so pathologically sick and perversely insane with these fundamentalists who are obsessed with how the women dress, and how they should wear their hair and scarf? In this age and in these times! What do they teach the boys in school?
They are writing poetry and saying that if we are dead then our dead bodies will still write the poetry. They are saying that if you are render us silent and mute, then our silence and exile will create a new poetry. They are saying that you want to brutalise and control us, but this is not acceptable anymore, we shall defy and fly.
Hadis Najafi, 20, no hijab of course, fixes her golden pony tail and spectacles as she joins the peaceful protest. Just about 24 hours later she is dead, women grieving over her dead body, her portrait now in a hijab. But she too would live defying the orthodoxy, her golden pony tail as a testimony of living history.
A young, spectacled girl, her angst and anger becoming the melancholy melody of her face and eyes, sings a magic-realism Bella Ciao in Persian – oh, how beautifully she sings; oh, how exquisite and refined is this language, full of strange substances and sensibilities! Turkish artist Masis Aram Gözbek, performs a play, 'Enough', like a synthesis of solo and chorus protagonists, all young, in solidarity with the women of Iran. You look at the play, and you don't have to understand the language. Every face and voice tells the same story – Yes, Enough!
Reminds me of the peasants in the profoundly poetic films of Milos Jancso, in the picturesque countryside of Hungry in East Europe, with the peasants going round and round, the girls forming circles holding bread as the symbol of their labour and love, and their imagined homeland, and the horses with soldiers and their whips circling around them, like the repressive State apparatus. Remember the magical poetry of a film — 'Red Psalm'!
Round and round they go, as round and round the women go, on the streets of Tehran, around a bonfire, burning their hijabs in a bonfire, forced on them outside their will by a regressive, orthodox, control-freak patriarchal, feudal, fundamentalist Islamic male regime led by fossilized and frustrated clerics and misogynists, brutish, nasty and short.
Enough, said the women. We are fed up!