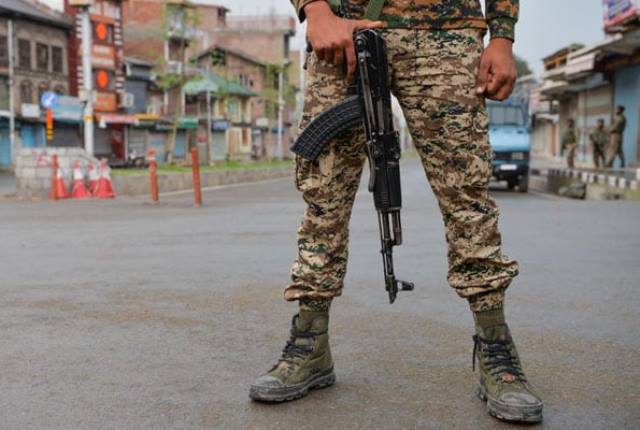 OPINION
OPINION
Is India Giving The Devil A Foothold In Kashmir?
<![CDATA[
The international community has given India a long rope on Kashmir. But with the lockdown in the Valley, murmurs on human rights have begun and are likely to gather momentum
India's decision to scrap Kashmir's special status and bifurcate the state has been a shot in the arm for Prime Minister Imran Khan. It has given Pakistan the perfect opportunity to exploit Delhi's action to its advantage.
India-Pakistan ties will continue to deteriorate. It could go out of hand if there is a major terror strike in Kashmir. Delhi is bound to retaliate and the world community would scramble to restraint the two nuclear armed neighbours. In such a case US President Donald Trump will certainly try to weight in. He has been waiting in the wings nudging both sides to talk.
China is likely to bat for "all weather friend" Pakistan in such an event. The China-Pakistan Economic Corridor is at the centre of President Xi Jinping's ambitious Belt and Road Initiative. The two countries are now bound not just by strategic ties but vital economic considerations.
Indian and Chinese troops have got into a scuffle in Ladakh this week and is a hint of more aggressive patrolling by China on the border. It possibly has nothing to do with Ladakh becoming a union territory, but China had objected to the Indian move soon after March 5. China already occupies 38,000 sq km of Aksai Chin as well as 5,800 sq km in Shaksgam Valley of J&K. India has constantly made the point that the CPEC runs through Indian territory which Pakistan occupied illegally in 1947.
It was mainly due to China's efforts that the United Nationals Security Council held a closed door discussion on Kashmir last month. At the end of the Chinese foreign minister Wang Wang Yi's recent visit to Pakistan, Kashmir was part of the joint statement. All this is not surprising. It will be interesting to see how far China is willing to go in support of Pakistan on Kashmir. Much will also depend on how the second informal summit between Prime Minister Modi and President Xi Jinping pans out later this year. As of now Xi is scheduled to come in October, tentative dates are 11-14, though a formal announcement.
There is no silver lining in sight for India and Pakistan for now. India's talks and terror cannot go hand in hand, now has Pakistan's insisting on no dialogue unless Kashmir's former status is restored. There is no way that Prime Minister Narendra Modi's government will do so. Abolishing article 370, is part of the BJP's ideological commitment.
The international community has given India a long rope on Kashmir. Some in India are crowing that Pakistan has been unable to get the world community to condemn India. That is correct. But human rights issues are looming over the government and despite claims that the internet and mobile services are partially lifted and the curfew like situation will eventually end, the ground reality is different. The murmur on human rights has already begun, and is likely to gather momentum.
Islamabad has been on the backfoot for nearly a decade trying to deflect accusations about the terror networks operating from its soil. Islamabad efforts to hammer the point that it has borne the brunt of terror strikes on its people and security forces did not get much traction. This is mainly because it is well known that Rawalpindi has used terror outfits against both India and Afghanistan. Also both the US and NATO forces had first-hand experience of Pakistan's double dealing.
Now Islamabad is getting a chance to point fingers at India's action in Kashmir. For once the world is willing to listen, as Pakistan's foreign minister as well as its diplomats are putting across their views on Kashmir in America, US and the Gulf to expose India.
At the UN, Pakistan will hope to catch the world's eye on Kashmir. Prime Minister Narendra Modi will be addressing UNGA on the 27th of this month. Pakistan's leader Imran Khan will speak after Modi's address. He will certainly talk forcefully on the past UN resolutions in Kashmir, and point to flagrant violations of people's rights in Kashmir. Much of Indian diplomacy must now necessarily be centred on defending its position on Kashmir.
India and Pakistan are back to square one, with each country attacking the other in international forums. This week it was at the Human Rights Council in Geneva where India and Pakistan clashed. Pakistan claims it got 50 countries to support a joint statement at the Human Rights Council Chief, calling for respect and protection of fundamental human rights of the people of Kashmir, lifting of curfew and ending the communication shutdown and released of those detained. It is a throwback to the late 80s and 90s when Kashmir was a constant presence in all bilateral meets in Europe and US. Indian diplomats will have to work overtime to counter Pakistan. Balochistan will be highlighted by India. It will be a grueling few months for foreign minister Jaishankar and his team.
Not that any of this matters in the long run. What is important is for the Modi government to begin talking to the people of Kashmir. Muscular policy and a strong nation is part of the BJPs ethos. But needs to be tempered with concern for their well being. The sooner the government begins to reach out with compassion to the people of Kashmir the better.
The current partial lockdown cannot continue indefinitely. The main aim of the government was to be able to tell the world that there was no major loss of life. That's commendable, but people's voices also need to be heard. India is still a democracy and while the rest of the country, as well the Jammu area have welcomed the government move, the voices of the valley need to be heard.
Home Minister Amit Shah has said the removal of article 370, would help the authorities to fight terrorism effectively. He plans to rid Kashmir off terrorism and bring development back to the state. At the same time the Centre hopes to introduce new faces in politics. But for this government needs to begin a dialogue with people. The sooner India begins to take some corrective measures the better it will be able to manage the diplomatic fall out over Kashmir. There is no need for the government to waste energy on convincing the people of the country. Most Indians support Prime Minister Modi's decision. The first move was meticulously planned but what next, is a legitimate question to ask the government.
National Security Advisor Ajit Doval claims that the majority of Kashmiris are happy with the removal of special status. Who are these people? Possibly, the Hindus of the state who are ardent supporters of the BJP. But they don't represent the views of the entire population.
Prime Minister Modi needs to take a leaf out of Atal Bihari Vajpayee's book. The PM is a great orator and should try to convince Kashmiris that India cares for them. Winning hearts and minds of Kashmiris is vital unless Delhi wants to give Kashmir in a platter to Pakistan.