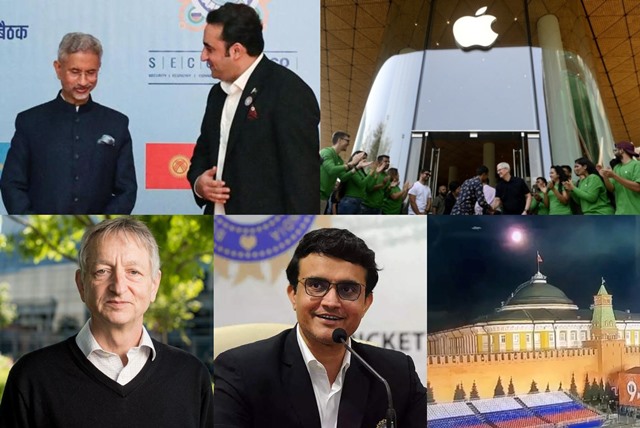 THEBUZZ
THEBUZZ
Is the Shanghai Cooperation Organisation a Meaningless Gabfest?
Is the Shanghai Cooperation Organisation a meaningless gabfest?
The members of the Shanghai Cooperation Organisation (SCO) which organized a foreign ministers' summit in Goa last week, like to believe that the organization whose prominent members include China, Russia, and India, is a sort of parallel United Nations (UN) but for a region that straddles Eurasia. Last week the SCO held its foreign ministers' summit in the laidback erstwhile hippie resort (now a target tourist destination for almost everybody) of Goa in India. But although the assemblage of foreign ministers was impressive and could potentially generate news—after all, there were emissaries from China, Russia, Pakistan, and India, all countries that have at least some beef with each other over some issue or the other—to misquote T.S. Eliot, the two-day meeting ended not with a bang but a whimper.
Of course, there was enough for the news-starved Indian media to work themselves up into a frenzy about the "body language" between the Indian foreign minister S. Jaishankar and his Pakistani counterpart, Bilawal Bhutto Zardari (they didn't shake hands when they met at the summit); or the attempts by China and Russia to take the upper hand at the meeting and its sessions (Really?!!); and how India unenviably had to balance its stance even as its relations with China have soured and the latter has grown visibly closer to Russia with which India's ties, particularly trade-related ones are stronger (what was that again? The friend of my enemy is my…?).
In the end, nothing of consequence really happened. Journalists make a huge deal during such summits of what they call meetings or interactions on the "sidelines", a reference to dialogues or unscheduled discussions that take place outside of the official agenda. So, the media, in the absence of anything of consequence to report, made a big deal about how the Indian foreign minister met his Russian and Chinese counterparts on the sidelines of the Goa summit. And what happened? You are right. Nothing.
After his meeting with the Chinese foreign minister Qin Gang, Jaishankar tweeted profoundly: "Focus remains on resolving outstanding issues and ensuring peace and tranquility in the border areas." Wow! What a breakthrough! And, after his meeting with the Russian foreign minister Sergey Lavrov, Jaishankar said the two had done a "comprehensive review of bilateral, global and multilateral cooperation". How enlightening!
Oh, and there was the usual proforma tirade between India and Pakistan, both accusing each other of heinousness of varying degrees. For the record, Jaishankar said Bhutto Zardari was a "promoter, justifier and a spokesperson" of the terror industry. Zardari, at a press conference in Islamabad after the summit said Jaishankar's comments were a "joke". He said: "This country knows me, have I once even in my political history accidentally sat down with a terrorist?" Bhutto Zardari said. "They don't see that even in our country we (his party, the Pakistan Peoples' Party) perform a role in the first ranks against appeasing terrorists," he added.
So, what was it that we were saying about the SCO? For China and Russia, it is an anti-West platform. For smaller nations such as the Central Asian states, and Mongolia, Armenia, and Turkey, it offers an organization to belong to—an organization that is led by the heft of larger nations such as China, Russia, and India. However, the significance of SCO for India is not really clear. India has been tightrope walking in regard to its relations with Russia and China. At the SCO, it is a sort of big fish but one that is quite confoundingly odd. Its border dispute with China continues to brew; its stance on Russia and the war in Ukraine is conditioned heavily by the dependence on trade with Russia (from whom India buys large supplies of oil and weapons); and it really gets no support, from either China or Russia, on the threats of terrorism via Pakistan that continue to wreak havoc in its territory. Sadly, India's is a bit of a pitiable state in the SCO.
Will India get a bigger bite of Apple?
Apple, the iconic maker of iPhones and iEverything, has an interesting relationship with China. In fact, as the Financial Times observed recently in an article by a portfolio manager, Apple may be more Chinese than American. Here's why?
China is where (still) Apple gets most of its products made. In 2016, Apple is believed to have signed a pact to invest US$275 billion in China. That is a huge investment for a single company to commit to one country. Besides, almost 20% of Apple's revenues come from China (just for comparison, India accounts for around a per cent of the US corporation's revenues, which were around US$400 billion in 2022). Last year, operating profits for Apple from Greater China (the mainland, Hong Kong, Macau, and Taiwan) accounted for US$31.2 billion (its total operating profits that year were US$ 113.96 billion).
Apple also bends over backwards to comply with China and its all-powerful Communist Party. It turns over data accrued from consumers of its products; it blocks apps that irk the Chinese authorities; and it restricts file sharing in the region.
In short, Apple does everything to protect its business relationship, which not long ago, CEO Tim Cook described as "symbiotic". As much as 46% of Apple's suppliers are based in mainland China and it is estimated that for some products as much as 95% of the volume is manufactured in China.
However, things could change. Of late, China has been cracking down on foreign companies with more surveillance as well as controls. Besides, labour and manufacturing costs in China have been going up. In the long run, it is sensible for Apple to think of alternative manufacturing strategies. It has been eyeing opportunities in other countries, including India, Vietnam, Malaysia, and Ireland. IPhone manufacture has been increasing in India where three of Apple's suppliers have facilities, all of them in south India. Apple has been shifting production away from China after the country's strict COVID-related restrictions disrupted the manufacturing of many of its products, including the iPhone.
So how big a slice of the Apple pie will India get. As of now, India accounts for just 5-7% of the total number of iPhones manufactured by Apple; but the US giant wants to take that level up to 25%. So, soon India could get a bigger bite of Apple.
The godfather of AI fears for humanity
Geoffrey Hinton, 75, is a prominent figure in the field of artificial intelligence (AI) and deep learning. He is often referred to as the "Godfather of Deep Learning" due to his significant contributions to the development and advancement of neural networks. Recently, Hinton quit Google where he was the main architect of the firm's research and development in AI and Machine Learning.
Hinton said he left his position at Google to speak out about the "dangers" of the technology he helped to develop. Hinton fears that the tech industry's drive to develop AI products could result in dangerous consequences—from misinformation to job loss, and even a threat to humanity. In particular, Hinton felt that the in future AI systems could learn unexpected behavior from gleaning vast amounts of data and that such behavior could put at risk humanity.
Hinton isn't the only voice against the spread and rise of AI systems. Recently, the billionaire and Twitter's new owner, Elon Musk, had stated in an interview that "AI is more dangerous than, say, mismanaged aircraft design or production maintenance or bad car production, in the sense that it is, it has the potential–however small one may regard that probability, but it is non-trivial–it has the potential of civilization destruction." And Yuval Noah Harari, the Israeli public intellectual, historian and professor, has observed that AI may have "hacked the operating system of human civilization".
The risks that AI could pose have come to the attention of governments. Last week, Big Tech company bosses were called to the White House andtold that they need to protect the public from the dangers of AI. Google's CEO Sundar Pichai, Microsoft's Satya Nadella, and OpenAI's Sam Altman were reminded of their "moral" duty to protect society.
The good news is that many of Big Tech's CEOs and executives are of the same opinion and some of the latest advances in AI and Machine Learning are being made with caution and regulation.
It is official: Sourav Ganguly doesn't know much
Spinelessness is a recurring syndrome among people who benefit from patronage. Last week, we witnessed how a leading Indian athlete (now a Member of Parliament where she was nominated by the ruling regime) criticized the protests by Indian wrestlers and many others against charges of sexual harassment and more levelled at the powerful boss of India's wrestling federation, Brij Bhushan. Now, it is the turn of Sourav Ganguly, former Indian cricket captain and currently chairman of the ICC Men's Cricket Committee.
Known less for his intellect than his talent as a cricketer, Ganguly was quoted last week as saying that he did not know much about the ongoing protest of the wrestlers but hoped that the issue will be resolved soon. Ganguly either cannot read (no shame in that: many people cannot) or he is scared of coming out with a stronger statement in favour of his peers in the world of Indian sport. Most likely it is the latter.
The Indian news agency Press Trust of India tweeted a video and quoted Ganguly as saying: "Let them fight their battle. I don't know what's happening there, I just read in the newspapers. In the sports world, I realised one thing that you don't talk about things you don't have complete knowledge of." Wimp.
Spat over a "drone attack" on Kremlin
Last week, Russia alleged that Ukraine had attempted a drone attack on the Russian headquarters of Kremlin in Moscow with the aim of killing Russian president Vladimir Putin. It was the most dramatic allegations since the war began more than a year ago.
Putin, apparently, was not in the building when the attack happened and the drone caused no material damage. However, Russia called it a terrorist attack and warned of retaliation.
Ukraine, however, denied the attack and its president Volodymyr Zelenskyy was quoted as saying: "We don't attack Putin, or Moscow; we fight on our territory."
I what Kremlin says is true, it raises questions about how protected Putin really is. And if Russia's threats about retaliating are carried out, it could signify a further escalation in the war.