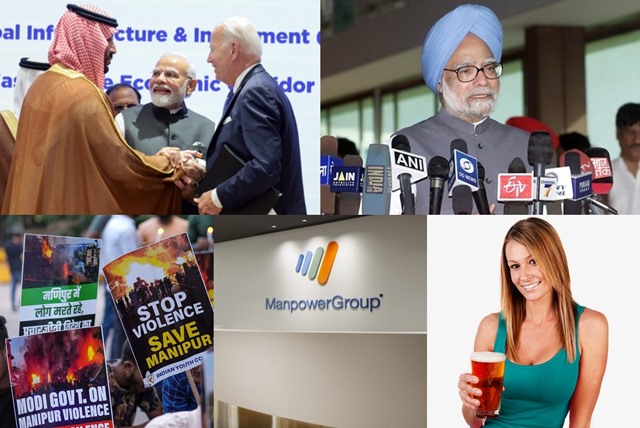 THEBUZZ
THEBUZZ
Is the US Backed IMEC a Copy-cat Project of China's BRI?
On the sidelines of the G20 summit that was hosted by India in New Delhi, a new project called the India-Middle East-Europe Economic Corridor (IMEC) was announced. Backed by the US, it is a joint initiative of India, Saudi Arabia, the United Arab Emirates, Jordan, Israel, and the European Union to create a network of railway lines and port connections from India to Europe, across the Middle East. The project aims to boost trade, deliver energy resources, improve digital connectivity and enable the production and transport of green hydrogen to all partner countries.
It could also resemble a copy-cat project, which aims to emulate China's massive Belt and Road Initiative (BRI), an infrastructure project that spans across Asia, Africa and Latin America and has given China considerable influence over countries that have struggling economies. The BRI was unveiled by China's paramount leader Xi Jinping in September and October 2013 during visits to Kazakhstan and Indonesia, and was later promoted by Chinese premier Li Keqiang during his state visits to Asia and Europe.
Progress of the BRI, however, has been affected by various factors, such as the COVID-19 pandemic, the increasing tensions between China and the United States, and the changing perceptions and policies of the participating countries.
There have been delays, cancellations, or renegotiations of some major projects due to health risks, environmental concerns, debt sustainability issues, or political changes. For example, in Malaysia, the East Coast Rail Link project was suspended and later restarted on a reduced scale.
In some countries that fall in the proposed BRI route, there have been criticism and opposition to the plan because of lack of transparency, accountability, and standards of the projects that make up the BRI. Much of this also centres around the geopolitical implications of China's growing influence in the world and its ambition of evolving a New World Order to challenge the West, and, particularly the US.
There have been recent dissenting ripples. Italy was the first from the G7 grouping (the intergovernmental political forum consisting of Canada, France, Germany, Italy, Japan, the United Kingdom and the US) to join the BRI in 2017 by singing a memorandum of understanding with China but it has since faced pressure from its allies, notably the US , to reconsider its involvement in BRI and align its policies with the European Union and NATO. Recently, there were reports that Italy now wants to withdraw from the BRI before its five-year MoU expires next year.
According to some reports, Italy is now seeking to withdraw from the BRI before its five-year memorandum expires in March 2024.
The IMEC is expected to offer an alternative model of development that is based on shared values, transparency, sustainability and respect for sovereignty. It wants to nurture and foster regional cooperation and stability in the Middle East, a crisis riddled region of the world where countries such as Israel and Saudi Arabia have been at odds with each other, as well as other schisms within the Arab world.
It is easy to surmise that the IMEC is a proposal aimed at countering or even checkmating China's BRI but whether it can do that remains to be seen. BRI has a 10-year head start over IMEC and among the 150 countries that have signed agreements with China for its BRI, are Greece, Italy, Saudi Arabia and the United Arab Emirates, which are. allies and partners of the US. Will they dump BRI and swarm to IMEC?
The IMEC is still in its early stages and many details are yet to be worked out, such as the financing, timeline and technical feasibility of the project. The IMEC will also face challenges such as geopolitical tensions, security risks and environmental concerns in the regions it passes through. Moreover, the IMEC will not necessarily replace or compete with the BRI, but rather complement or coexist with it, as some of the partner countries are also involved in the BRI or have good relations with China. And many BRI signatories might want to evaluate the IMEC's value propositions and comparative advantages over the BRI before they decide to sign up or choose one over the other.
The IMEC proposal should also be viewed from the perspective of Saudi Arabia, the biggest player in the Middle East, and a close ally of China.
China and Saudi Arabia established diplomatic relations in 1990 and have since developed a comprehensive strategic partnership that covers various areas of cooperation, such as oil, defence, infrastructure, culture and tourism. China is Saudi Arabia's largest trading partner and the largest importer of Saudi crude oil.
Besides Saudi Arabia being a key part of China's BRI, China has also played a mediating role between Saudi Arabia and Iran, two regional rivals that have been at odds over various issues, such as the nuclear deal, the war in Yemen, the crisis in Syria and the influence in Iraq. China has proposed a security framework for the Gulf region that emphasizes multilateralism, non-interference and mutual respect.
China's mediation efforts led t oa landmark agreement between Iran and Saudi Arabia that was signed in Beijing in March this year. After seven years of broken relations, the agreement aims to restore ties between the two countries, which are divided by a religious rift that dates back to the early history of Islam. Saudi Arabia and Iran follow different branches of Islam – Saudi Arabia is largely Sunni Muslim, while Iran is predominantly Shia Muslim. This has global implications with Muslim dominated nations around the world either looking up to Saudi Arabia or Iran, depending on which sect is dominant in their regions. China's importance in geopolitics in general, and the Middle East, in particular, can be gauged by the fact that it brokered a deal between the two biggest rivals in the Mulsim world.
China's growing global influence, and its close ties with the other major power, Russia, which is embroiled in the ongoing war in Ukraine, and its economic importance–it is still the dominant manufacturer for global markets, should not be viewed separately from its BRI ambitions. China's president Xi Jinping decided to skip the recent New Delhi summit of the G20 but how his country will react to the IMEC proposal will be highly anticipated.
Indian PMs and Their Media Shyness
Shortly after the conclusion of the G20 Summit in Delhi, attended by a panoply of world leaders, including some of the most powerful, Prashant Bhushan, a noted Indian public interest lawyer and activist tweeted a parody of the late Harry Belafonte's song, Jamaica Farewell, with lyrics that satirized and lamented the denial of access that journalists covering the summit had to face. Mainly it was aimed at the American media corps that travels with President Joe Biden on his Air Force One aircraft and who traditionally expect to interact informally with the leaders and with the US president when he meets them for talks.
Some of the lyrics of the parody, quite artfully done and accompanied by an animated clip, said: …"They thought free speech was in their reach but when they landed in Delhi, they got a shock: "I'm sad to say they were kept at bay and in the van they just had to stay"…. and "where Smiley Joe met PMO, the press corps simply could not go…"
Funny? Yes. But sad as well. Ever since 2014, when Narendra Modi became Prime Minister of India after his party, the Bharatiya Janata Party (BJP) won massively in India's parliamentary elections, a feat that it bettered before his ongoing second term, Modi has adopted a somewhat reclusive media policy. True, he has and does agree to be interviewed from time to time but usually to very selective media publications, TV channels, or journalists (Disclaimer: this writer along with a colleague from a leading Indian newspaper was granted an interview with him in April 2015), but he has never addressed a press conference or faced the press in the manner that some heads of states in other democracies routinely do.
The Indian mainstream media has gotten used to restrictions and there was hardly a murmur about access or the lack of it during the G20 media. On social media such as X and Facebook some tired posts made the rounds but not much else.
Here's the thing, though. Is it a practice for Indian Prime Ministers to shun the media? Modi's predecessor, the Congress party's Manmohan Singh, had a tenure that began in 2004 and lasted till 2014. Guess how many press conferences he addressed during that decade? Three. The first press conference was in May 2005, the second was in February 2010, and the third and last one was in January 2014. Singh was often called the "silent PM" and considered by many to be a puppet of his party's then president, Sonia Gandhi.
More Violence in Manipur
Manipur may have dropped off from the front pages of Indian newspapers, overtaken by other deemed important stories such as afterglow of the G20 summit in Delhi, but violence still rages in the northeastern state that has been in turmoil since May this year. Last Friday, a group of armed Meitei men attacked a Kuki village in the Chandel district, killing 12 people, including four children, and injuring 18 others. The attackers also set fire to several houses and vehicles, and looted valuables. The police said they have registered a case and launched a manhunt for the culprits.
Ethnic violence between the Meitei and the Kuki tribal communities in the state has claimed more than 180 lives and displaced nearly 70,000 people besides causing widespread destruction of property, including churches and temples.
The violence in Manipur is a conflict between the Meitei people, who are the majority in the Imphal Valley, and the Kuki tribal community, who live in the surrounding hills. The violence began after a protest by the Kukis against the Meiteis' demand for tribal status, which the Kukis feared would give them more power and land rights. The violence has also been fueled by other issues, such as drug trafficking, illegal migration, land disputes, and religious differences. Besides killings and destruction of property, women have been targeted and humiliated by sexual violence and public shaming.
Although the central and state governments have deployed security forces, such as the army, paramilitary, and police, to restore law and order and protect civilians, and imposed curfews, internet shutdowns, and prohibitory orders to prevent further violence, this has clearly not helped in stemming the violence, which has far deeper socio-economic and communal problems that need to be resolved.
Does India Have a Talent Shortage?
Last week, a report by ManpowerGroup, a global staffing company, revealed that four out of five employers in India report facing difficulty in finding the talent they need. Meanwhile, 52 million additions were made to the payrolls over the past four years. The report also said that India has one of the highest talent shortages in the world, with 80% of employers struggling to fill roles compared to 69% globally. The most in-demand roles are IT professionals, engineers, technicians, sales representatives, and accounting and finance staff.
Why do companies have trouble recruiting for such roles in India? There could be several factors.
First, is the fact that the impact of the COVID pandemic continues to impact the job market with uncertainties and insecurities among many jobseekers, some of whom prefer to work from home or avoid exposure to crowds. This has had an impact on the number of workers available for onsite work.from home or avoid exposure to crowds.
Second, it is the lack of qualified job-seekers. Demand may have increased for skilled and high-performing workers with companies seeking productivity and performance-driven hires. Job seekers with average or poor performance may find it hard to compete and get selected for the right job opportunities. And although India has a vast cohort of working age population (aged 15-59), many are just not qualified for the sort of roles employers are looking for.
India's working-age population was 61% of its total population in 2011; the proportion is growing rapidly, and is now estimated at 64-65%. In numbers, and try to wrap your head around it, it is 900 million. If the majority of these people are not qualified or capable enough to do the jobs that employers are seeking workers for, what do you think will happen? Hear the ticking? It's a time bomb.
To End With Some Heady Stuff…
Quick, which country drinks the most beer per head? According to a survey by Kirin Holdings (it's a Japanese group; and, yes, it also makes beer!), it's the Czech Republic. Presumably because beer is cheap in that country, people drink an estimated nearly 200 litres per capita every year. That's a whole lot of guzzling. In Austria, which comes a distant second, the comparative figure is less than 100 litres. And, if you're wondering where India ranks on this list, it doesn't figure among the top 30. And not even in the top 100. According to the survey, Indians drank a measly 1.2 litres of beer per head, the lowest among the 170 countries surveyed!