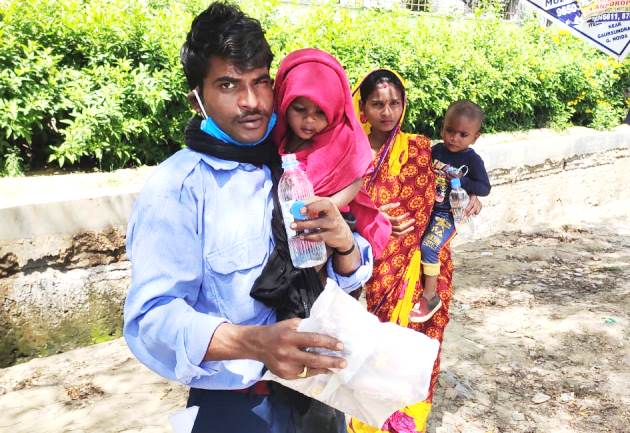 LOK ISSUES
LOK ISSUES
'It Is Humiliating, But I Accept Food Donations For Kids'
Sarvesh Kumar, 29, a factory guard in Greater Noida, wasn't paid his two-month salary due to the lockdown. He finds living on charity humiliating but has accepted it to feed his family
I never thought I would see such days in my life when I would need donated food to survive. Not long ago, I had registered myself with a private security agency in Greater Noida (Uttar Pradesh). The agency deputed me to a private factory as a guard. My wife and two young children – one is three-year old and another one-year – also settled with me. Then this virus outbreak and the sudden lockdown turned our lives upside down.
When the factory downed shutters, and I saw migrant labourers leaving for their native places, I too planned to back to my native Shahjahanpur in Uttar Pradesh. However, I was yet to receive my salary and other dues from the contractor. Initially, my supervisor kept delaying the payments at one or the other pretext. But when I ran out of even daily ration, and asked him for my money firmly, he told me he doesn't have the money to pay. Nor could he commute in the lockdown to provide me food items.
When I told him about my little children going hungry, he became abusive. I know this is a crime to default on an employee's salary, so I went to the local police chowki to file a written complaint but all in vain. The policemen hounded me out and told me not to come out and stay put wherever I was till the lockdown ended.
It was when I was returning from the police station disheartened, some apartment dwellers spotted me walking in the sun. They asked about my situation and offered some packets of biscuits and water. As I narrated my story, they even arranged some dry ration for my family.
I never wanted to live on charity but this situation is critical. I don't have land or farms back home. If I can find work, I am ready to labour for 24 hours to feed my children. It is humiliating when I see my children cry with hunger and I have little to offer.
Security guards of nearby industries often help me with food and milk. I don't want it for free as it makes me feel like a beggar. Yet, I am accepting all such donations because of my children. I don't know for how long I will survive like this. I want to work and earn money.
When the lockdown was imposed, I never thought such a situation would arise. I am grateful to the people who are helping me but I want to request the government to help people like me feed their children. I want this lockdown to end soon. I am worried about my children. If this continues, people like me will be forced to go out on streets in search of food.