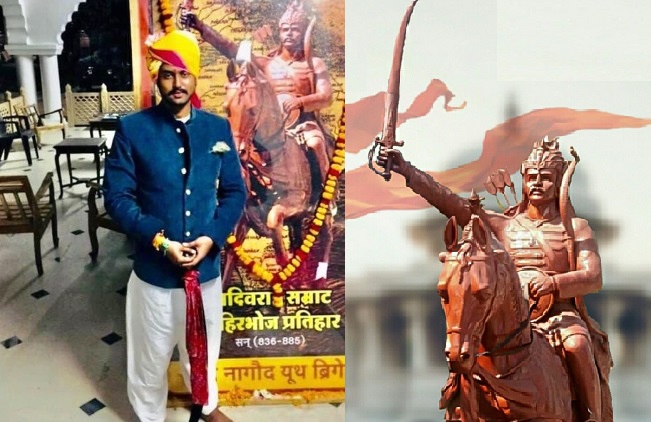 LOK ISSUES
LOK ISSUES
'It Is Unfortunate That Rajputs Have To Fight For Their Ancestry In Courts'
Kunwar Arunoday Singh Parihar, a descendant of Samrat Mihir Bhoj, is engaged in a legal battle against distortion of his ancestral history and state apathy to his clan. His views:
Distortion of Rajputs heritage is not a new thing in Indian history. However, when it is happens selectively against a particular clan and with the tacit support of the governments at the Centre and in the state, it reeks of a sinister agenda. I belong to the clan of Samrat Mihir Bhoj, the ninth century Kshatriya king of Pratihar dynasty who held sway over large parts in northern India.
Inscription of the Pratihar dynasty, which are now known as Pratihar, have been found across India. In some inscriptions, it has been written Gurjar Pratihar. The term Gurjar was adjoined because this organized community was the polity or the praja of Pratihar dynasty. It also denotes the location of the country under Pratihar rule, currently the state of Gujarat and some southern parts of Rajasthan. However, this adjoined term has now become a bone of contention for vested interests. And it carries dangerous designs.
We are proud Kshatriyas, also known as Rajputs. We have utmost respect for all communities but our association with the brave Gujjar community is now being used to deny us our own distinct heritage. What can be more unfortunate than a person being forced to go around fighting legal battles in a lengthy court process to prove one's own ancestry?
I had to move court after a prefix 'Gujjar' was added to a plaque under the statue of Samrat Mihir Bhoj in Gwalior city. For reasons unknown to me, the role of Gwalior Municipal Corporation in this episode has been dubious. The municipal body which constituted a committee following the court's order, ignored all historical facts presented by us and twisted select instances to weaken our case.
ALSO READ: 'PM Must Intervene To Stop Distortion of Rajput History'
Thankfully, most royal clans have details of their family tree intact over generation. We too have all related documents. We don't want our history to be distorted for political gains. Samrat Mihir Bhoj is the pride of India, who shall not be bound to or favourable to any caste. But at the same time, those indulging in distortion of history by claiming him to be a Gujjar, must be discouraged and corrected. When his descendants are alive, any attempt to misrepresent his heritage will be fought tooth and nail by his family.
In October 2021 before the assembly elections in UP, a local MLA of Dadri area of Uttar Pradesh had invited CM Yogi Adityanath to inaugurate a statue of Samrat Mihir Bhoj where again the plaque was misrepresented. It caused a massive outrage and the government had to drop the word Gujjar from the statue.
There is no rift between the Pratihar Rajputs and Gujjar community. However, by willfully raising such incidence, political leaders have tried to play one against the other. It is sad that in the 21st century when the world is progressing, we are stuck with such trivial issues. Distortion of history is dividing the communities and people are forced to struggle to save their ancestry from misrepresentation and misappropriation.
As told to Deepti Sharma