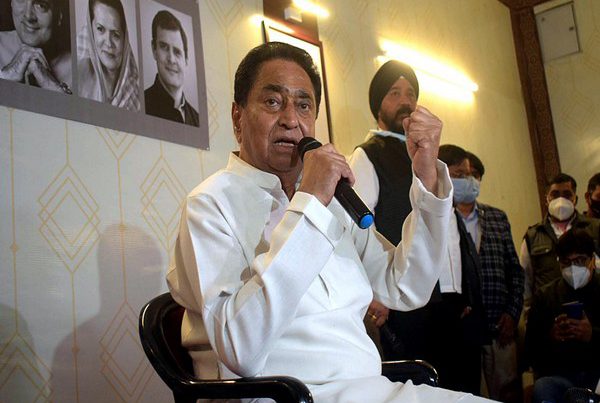 LM NEWS 24
LM NEWS 24
I've Seen Obscene CDs With BJP Netas In Them: Kamal Nath
Former Chief Minister and PCC chief Kamal Nath on Thursday weighed in on the ongoing 'obscene CDs' controversy, saying he has also seen the CDs and they feature BJP leaders.
Nath made the remark while speaking to the media persons in Madhya Pradesh's Satna district on Thursday.
Nath said, "I have seen the CDs. I was the chief minister at the time. I do not do this type of politics. At that time I didn't see the need for any further investigation. I did not want the name of Madhya Pradesh to be defamed, which is why the matter was not brought to the fore. There are only BJP people on the CDs. There should be an investigation into these CDs. The truth should come out."
Earlier, on Tuesday, veteran Congress Leader and Leader of Opposition Govind Singh said, "We have various obscene CDs of BJP ministers, MLAs, leaders and RSS volunteers. But raising allegations like this is not in our culture."
Singh on Wednesday also invited BJP state president VD Sharma at his residence to see the 'obscene' CDs of BJP leaders, ministers, and MLAs. Singh said, "When Sharma comes to my residence, I will welcome him with a garland and then show him the CDs. I will not show the CDs publicly. I have many of them."
Reacting to Singh's sensational claim on the 'obscene' CDs, the BJP state president said, "Such comments do not behoove political leaders. It isn't good to question one's character through allegations not supported by evidence. He is an experienced leader holding a responsible party post. Such reckless remarks don't suit him."
"The BJP never resorts to such politics. I wish to reiterate that if he is a responsible leader, he should go public with whatever he has," Sharma added.
Nath also targeted Chief Minister Shivraj Singh Chouhan, saying, "It seems he can't digest his food unless he does two things — criticize Kamal Nath and lie."
On the absence of Veteran Congress leader of Vindhya region, Ajay Singh Rahul, at the press conference, Nath said, "I have spoken to Ajay Singh and will keep talking to him. There is no division or dispute in the party." (ANI)
Read More: http://13.232.95.176