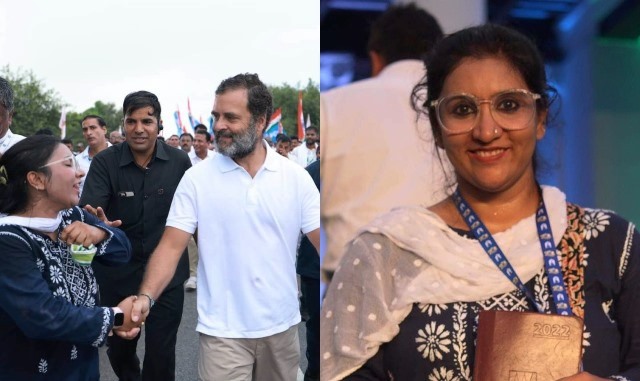 LOK ISSUES
LOK ISSUES
Jab Jab Gandhi Chalta Hai, Tab Tab Desh Badalta Hai
Dr Nousheen Baba Khan, a college teacher in Kolkata, travelled from Kolkata to Karnataka to be a part of Bharat Jodo Yatra in the hope to save the idea of India. Her views:
I travelled from Kolkata to Karnataka with my friends to join the Bharat Jodo Yatra (BJY). Friends included: Santanu Sinha Chaudhuri, 71, banker and English teacher whom I met in Bangalore because his daughter is located there and Md Imtiyaz, 25, a tailor pursuing MA in Urdu. I was not alone in 'not' having any relations with the Congress party, there were many like me; for instance, Vishalakshi Padmanabhan, a former chartered accountant who has pursued organic farming to repair distress in the farming sector in Karnataka, and Savita Hiremathe, a Bangalore-based independent journalist, lecturer and environmental activist;.
My conviction surfaced due to many reasons. My efforts, at times, to restore communal harmony and peace through research-writing, social mobilization and social media / academic activities, seemed to be going in vain. Hate, negativity and a terrorizing atmosphere; it affected my emotional well-being! Besides, the irrational ways to deal with scientific problems were becoming way too much for a political science major. The Yatra gave me hope because the narrative is based on unity, a run or walk that connects, which is inclusive; you do not feel left out for your identity. Since Bengal was not on the route, and since I had to be a part of this historic 'movement', I joined it.
As a responsible citizen, other important issues that made my participation firm are those which the common people have been long struggling with: jobs, inflation and corruption. BJY has firmly placed these 'sidelined issues' into the main political discourse now.
I started from Rampura with morning break at Madenhalli in Andhra Pradesh on Day 37, October 14, crossed Bellary, walked through Karnataka, and ended my participation again at the Karnataka-Andhra border four days later., I rendered my solidarity. On the very first day of the walk, I felt 'this is what I have been doing and this is exactly how I want my India to move ahead, with the principles of communal peace and harmony'. That was a turning point. I spoke to the civil society in-charge of the Yatra, Yogendra Yadav. I said that I want to mobilize the people of Bengal because they also deserve to know about the Yatra which touches all basic issues.
ALSO READ: 'Bharat Jodo Is A Healing Touch To This Wounded Nation'
We tried to explain to people that we have specifically come this far to participate in BJY, they were astonished. Some yatris in Karnataka with whom I chanted slogans, addressed me as 'Madam Bengali'. And we interacted with sign language. All of us knew why we were here – 'Jodo, Bharat Jodo', or 'Jodisi, Bharata Jodisi' became our mode of interaction with everyone we came across.
And yes, there was a chance encounter with Rahul Gandhi! Whenever I have met political leaders, I have always tried to have a dialogue on issues. It has never been as random as with Rahul Gandhi. I had no placard, no poster, no flowers to approach him. He was 500 meters away when I was walking with Yogendra Yadav. I told him that I want to meet RG. He said, 'Go ahead'. I crossed the rope and rushed where he was surrounded by his security personnel. I shouted, 'Rahul sir', and caught his eye. There were other voices calling out as well. I shouted, 'Rahul sir, I am from Kolkata'. He directed his security guards to let me in and I went blank seeing him so close!
He asked me, 'How are you'? I said, 'Congratulations sir! I am fine'. The word, 'congratulations', was spontaneous and from the heart, for what he and his Yatra has achieved so far. I lifted my both thumbs as a sign and said, 'All the best sir and we love you'. He smiled and patted me on my shoulder.
I will rejoin the Yatra in Maharashtra. My friends from Kolkata, one from the law fraternity, a senior scholar, and three activists, are willing to join. It is all extremely positive. The Shiv Sena and NCP are rendering support with the civil society in Maharashtra. I will meet my fellow comrades who participated in the peaceful protests against the NRC/CAA, and whom I never could meet earlier. We have already made plans to catch up with each other.
I am looking forward to the participation of farmers, because farmers' suicides have been maximum in Maharashtra. I would watch out for participation from Bollywood – if any! We have seen how movies are used as propaganda tools, how movies and actors were boycotted, how Deepika Padukone, Amir Khan, Ranvir and others were subject to vicious trolls because of their personal choices and opinion; the episode of Aryan Khan is still fresh in our minds.
I feel that 'Jab Jab Gandhi Chalta Hai, Tab Tab Desh Badalta Hai'. Gandhiji walked against inequality and discrimination, and we have his image walking with the stick. Rahul Gandhi is walking to mend the intrinsic character of India based on social harmony, peace, progress, economic development. The mainstream media has ignored it initially, maligning it, but the people's mood is set. They do not buy these views. They reject it. This is the new change which India is witnessing.
I end with the words of great Urdu poet Mir: Ibtada-e-ishq hai rota hai kya… Aage aage dekhiye hota hai kya.
As told to Amit Sengupta