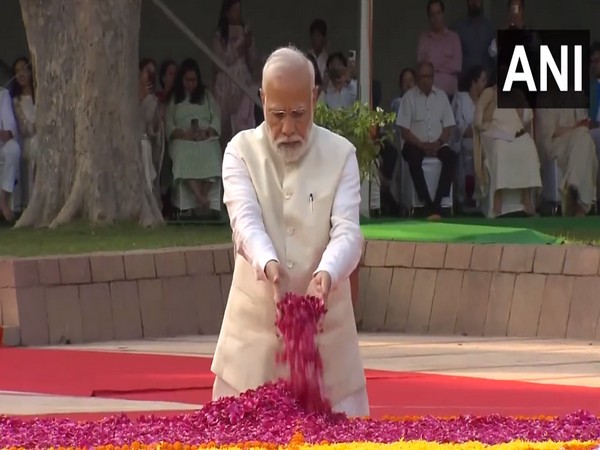 LM NEWS 24
LM NEWS 24
Jai Jawan, Jai Kisan Resonates Even Today: Modi
Prime Minister Narendra Modi on Monday, while remembering former PM Lal Bahadur Shastri on his birth anniversary said that his iconic call for 'Jai Jawan, Jai Kisan' resonates even today.
PM Modi today paid tribute to Lal Bahadur Shastri at Delhi's Vijay Ghat on the occasion of Shastri Jayanti.
"Remembering Lal Bahadur Shastri Ji on his Jayanti. His simplicity, dedication to the nation, and iconic call for 'Jai Jawan, Jai Kisan' resonate even today, inspiring generations. His unwavering commitment to India's progress and his leadership during challenging times remain exemplary. May we always work to realise his vision for a strong India," PM Modi said in a post on X.
Lok Sabha Speaker Om Birla and Vice President Jagdeep Dhankar also paid tribute to former PM Lal Bahadur Shastri at Vijay Ghat on his birth anniversary.
Paying homage to Shastri, Congress national president and Leader of the Opposition in Rajya Sabha Mallikarjun Kharge said that the simplicity of Shastri will always be an inspiration to all.
"From land reforms to laying the foundation of milk and green revolution, from abolishing the third class in railways to providing seats for women in buses, from the 1965 war to serving the country with our Gandhian ideas – our ideals, We remember the unprecedented contribution of former Prime Minister Lal Bahadur Shastri ji. The simplicity and simple life of Shastri ji, who was rich in high thoughts, will always be an inspiration for us.'Jai Jawan-Jai Kisan'," Kharge said in a post on X.
Born in Uttar Pradesh in 1904, Lal Bahadur Shastri was the second Prime Minister of India and served from 1964 to 1966. He died in Tashkent on January 11, 1966, at the age of 61, soon after signing the Tashkent Pact with Pakistan.
Former PM Shastri was a great visionary leader, who understood people's language and who led the country towards progress. Shastri Ji was deeply influenced by the political teachings of Mahatma Gandhi. (ANI)
Read More: https://lokmarg.com/