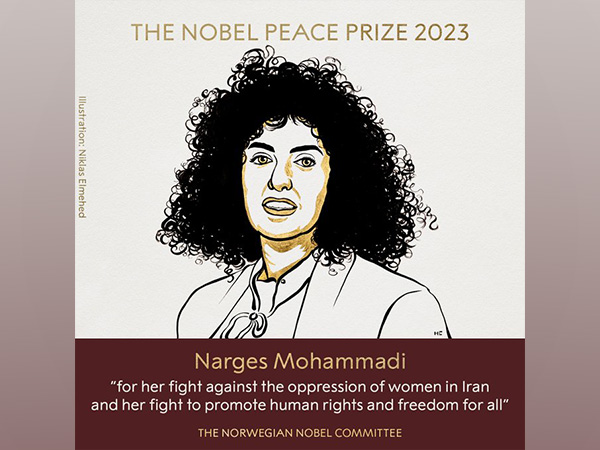 LM NEWS 24
LM NEWS 24
Jailed Iranian Activist Narges Wins 2023 Nobel Peace Prize
Jailed Iranian activist Narges Mohammadi has been awarded the 2023 Nobel Peace Prize for her fight against the oppression of women in Iran and her fight to promote human rights and freedom for all.
"She fights for women against systematic discrimination and oppression," said Berit Reiss-Andersen, the chair of the Norwegian Nobel Committee who announced the prize in Oslo.
"After her release on bail, this year's peace laureate Mohammadi immersed herself in a campaign against use of the death penalty. Her activism against the death penalty led to her re-arrest in 2015, and to a sentence of additional years behind walls," the official social media handle of The Nobel Prize posted on X.
"She fights for freedom of expression and the right of independence, and against rules requiring women to remain out of sight and to cover their bodies. The freedom demands expressed by demonstrators apply not only to women but to the entire population," it added.
Mohammadi becomes the 19th woman to win the Nobel Peace Prize.
Mohammadi, 51, is an Iranian writer, human rights activist and deputy director of the Defenders of Human Rights Center (DHRC). She is currently lodged in Tehran's Evin Prison.
The Nobel award-making committee has urged Iran to release Mohammadi, who it said has been arrested her 13 times, convicted her five times, and sentenced to a total of 31 years in prison and 154 lashes.
"[Mohammadi's] brave struggle has come with tremendous personal costs," Reiss-Andersen said.
Political detainees housed in Tehran's infamous Evin prison learned about the wave of protests from last year. Mohammadi, has contributed from captivity to keeping the protests going strong.
Authorities arrested Mohammadi in November after she attended a memorial for Mahsa Amini, a 22-year-old Kurdish-Iranian woman, died last September after being detained by the regime's infamous morality police and taken to a "re-education centre," allegedly for failing to wear her headscarf properly.
Amini's death sparked political protests against the Iranian government turning into a larger social movement with demonstrators protesting the regime's treatment of women among other issues as well.
Meanwhile, after today's Nobel Peace Prize announcement, a ceremony will take place at the Oslo City Hall on December 10, the anniversary of founder Alfred Nobel's death. (ANI)
Read More: https://lokmarg.com/