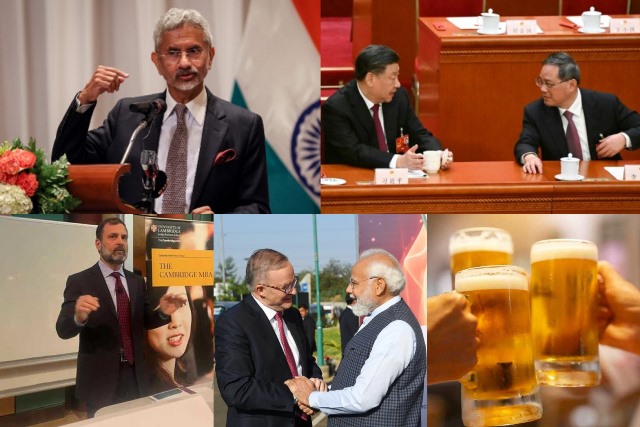 THEBUZZ
THEBUZZ
Jaishankar is Right; India Should be Really Scared of China
India should be scared of China
Last month India's foreign minister S. Jaishankar, who is building a sort of reputation for delivering gaffes, came under fire of the Opposition when, after the recent India-China border stand-off in the north east, he remarked that India could not pick a fight with China because the latter had a much bigger economy. The Opposition tore into him, saying that he was suffering from Stockholm syndrome (which may have been a reference to Jaishankar's stint during his foreign service days as India's ambassador to China) and Indian military veterans, notably those who have fought in India's wars and skirmishes with China, termed his attitude as "defeatist".
Factually, however, Jaishankar's statement about China, while probably not befitting in the pride and patriotism-fuelled world of diplomatic norms, is quite correct. China is much larger and more powerful than India on most measures. India might take pride about the fact that, according to the World Bank, its GDP growth for last year was 7%, making it one of the world's best-performing economies, while China's growth figure was well below its official target of 5.5% and probably the worst in the history of modern China. But before we get ahead of ourselves, the sobering fact to note is that China's GDP is $14.69 trillion, and India's is $3.18 trillion. In that context, getting giddily excited about growth percentages is a bit stupid.
Militarily too China is far ahead of India. According to Global Firepower, which ranks countries on the basis of their military strength, China is No. 3 and India No. 4 (USA is No. 1 and Russia No.2) and in terms of personnel in military service the difference between India and China may not be huge. India has 14.5 lakh active personnel; and China has 20 lakh. But consider defence budgets of the two countries: India spends $72 biillion on defence but China spends $225 billion. That is a difference of $147 billion.
China's economic strength and military power are not the only formidable factors that India should be concerned about. Last week, US intelligence agencies, in their annual global threat assessment report, warned that after the clash between India and China in 2020 along the Line of Actual Control (LAC), which is a notional demarcation line that separates Indian-controlled territory from Chinese-controlled territory in the Sino-Indian border dispute, there is a real threat of a full-blown armed confrontation between the two countries that could require the intervention of the US. The report said that "previous standoffs have demonstrated that persistent low-level friction on the Line of Actual Control has the potential to escalate swiftly."
Changes in China that could further impact India
Last week, when Chinese premier Li Keqiang bid farewell to 800 or so senior government officials, he is said to have said the following words: "Heaven is looking at what humans are doing. The firmament has eyes." The segment of his address in which he said those words has unsurprisingly not been aired by the state-run China Central Television but unofficial videos that capture him saying that have been circulating.
Interpreting what Li meant is not difficult. Also last week, an unprecedented third term for Xi Jinping, China's all-powerful president was officially and unanimously approved by the country's legislature, which is in effect a rubber-stamp institution in country that Xi runs single-handedly and with authoritarian might. In that context, the nuance of what outgoing premier Li said is easy to see.
In China's Communist ideology, the people are supposed to be the lead players in politics and in governance of the country. The state council, which is the Central People's Government of the People's Republic of China and the supreme organ of state power, is supposed to interpret the common people's voices and shape policies based on that. Li's comments about "heaven" looking at what humans are doing is likely a nuanced reference to how, under Xi, who has been in office since 2013, how the state council has been overshadowed by the Communist Party's central committee that he runs with near-absolute control.
Xi's philosophy and objectives have been variously interpreted as throwback to an era where economic , political and international policies of China were centralized and heavily controlled. Xi's policies have put private sector players in China back under central control after an era of near-capitalistic market freedom. But more importantly, his policies regarding the west and the rest of the world are being interpreted as being aggressive and expansionist. This is why the relations between China and US have turned southward and this is another major reason for India, which shares a 3,488 km border with China ought to be worried.
Rahul Gandhi gets flak over comments "against India"
Congress leader, MP, and member of the Congress party's elite family (there is no other way of describing the sometimes enthusiastic and sometimes reluctant leader), Rahul Gandhi, came under severe criticism for what supporters of the ruling regime in India called "anti-India" remarks. While on a visit to the UK, Gandhi, 52, criticized the Indian foreign minister's comments about China as being "cowardly", accused the government of stifling democracy and was quoted as saying that the Indian government was intolerant of criticism and accused it of trying to silence the Opposition.
Among other things, Gandhi alleged that his phone was being surveilled, and that in Parliament, microphones were often switched off when Opposition party members wanted to protest against government action and policies. While there is probably a degree of truth in what Gandhi has ranted about in his meetings and public engagements in the UK, the fact that he chose a foreign country to make such allegations is what seems to have angered his opponents.
Australia-India ties and the Quad initiative
The Quadrilateral Security Dialogue (QSD), or Quad, is a strategic security dialogue between Australia, India, Japan and the United States and is interpreted as a grouping that seeks to counter China's growing dominance in the Indo-Pacific region. In that context, the visit of Australia's prme minister Anthony Albanese to India last week was of significance. The countries seek to strengthen ties by engaging in more trade, investment and defence relations.
In the engagement, which included Prime Minister Narendra Modi and Australian prime minister Albanese also attending a cricket match between the teams of the two countries, the importance of China loomed. Both India and Australia want to become bigger trade partners as both countries want to detach from China. As of now, China is Australia's largest trade partner. India could now become Australia's second-largest trade partner. The two countries last year signed an interim trade deal that was close to a full free trade agreement.
Artificial Intelligence for brewing beer
After humanlike chat interactions on platforms such as ChatGPT, Bing and Bard, it is breweries where artificial intelligence may be making inroads. Beer making might be an ancient skill: the oldest recipe for beer dates back to 1800 B.C. in Mesopotamia where Sumerians are said to have brewed the drink from fermented barley bread.
But today, breweries are beginning to use artificial intelligence to get the perfect brew. An Australian brewery is putting QR codes on its beer cans and bottles so that customers can scan them and give feedback on the taste and other attributes of the beer that they are drinking. The feedback is directly transmitted to company's brewery where an algorithm tweaks the formula of the brew.
This is how it works: The Adelaide based company, Deep Liquid, which partners with the Australian Institute for Machine Learning, helped a local brewery, Barossa Valley Brewing to create AI2PA: The Rodney. It is an AI-generated IPA. On each can of AI2PA, a QR code allows drinkers to send in their comments and views on the beer's flavor, smell, taste, etc. The feedback in real time is converted to a set of data that can be used by an algorithm to change the recipe of the beer according to what consumers want. So, tipplers get to drink the beer that they actually prefer. Cheers!
Read More: https://lokmarg.com/