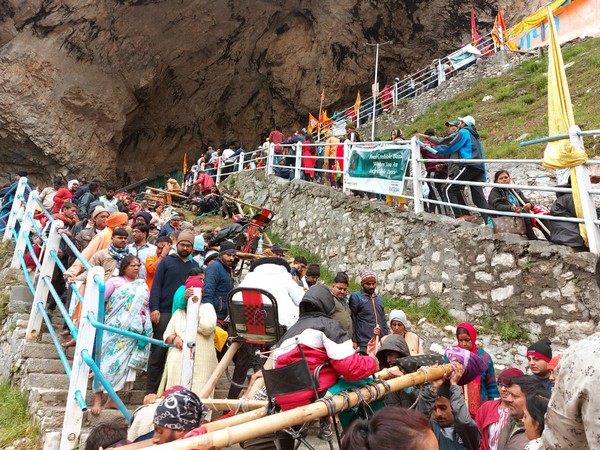 LM NEWS 24
LM NEWS 24
Jammu-Srinagar Highway Blocked Due To Landslide, Amarnath Yatra Halted
The annual pilgrimage to the holy cave shrine of Shri Amarnath from Jammu to Srinagar was suspended on Wednesday due to a landslide on the Jammu-Srinagar National Highway in Ramban district, officials said.
Meanwhile, the Yatra will also be suspended from Pantha Chowk yatra base camp to Jammu and it will be resumed after road national highway clear for traffic movement.
Jammu and Kashmir traffic police said that Jammu-Srinagar NHW is blocked due landslide at T2 Marog Ramban.
"Jammu-Srinagar NHW is blocked due landslide at T2 Marog Ramban. People are advised not to travel on NH-44 without confirmation from TCUs (Traffic Control Unit)," J-K traffice police said.
The 62-day-long Amarnath Yatra, which began on July 1 will culminate on August 31, 2023.
Earlier, the Additional Director General of Police of Jammu Zone and the Divisional Commissioner Jammu on Friday took stock of the security arrangements for Independence Day celebrations and Budda Amarnath Yatra, which will begin on August 17.
"The Additional Director General of Police (ADGP) of Jammu Zone, Mukesh Singh accompanied by Divisional Commissioner Jammu Ramesh Kumar and DIG Rajouri Poonch Range Haseeb Mughal convened a security review meeting with the Police and Civil administration and took stock of the security scenario in wake of forthcoming Independence Day Celebration and Budda Amarnath Yatra which commences from 17th August 2023," said a statement of the Jammu and Kashmir police.
The ADGP Jammu and the Divisional Commissioner were briefed about the security and other related issues by SSP Poonch Vinay Kumar and DC Poonch Yaseen Mohd Choudhary.
Later, the ADGP Jammu and Divisional Commissioner convened a meeting with the civil society members of Poonch.
Prominent lawyers and elected representatives participated in the meeting. All the speakers apprised the officers of all the cooperation for the smooth Independence Day celebrations and peaceful conduct of the yatra. (ANI)
Read More: http://13.232.95.176/