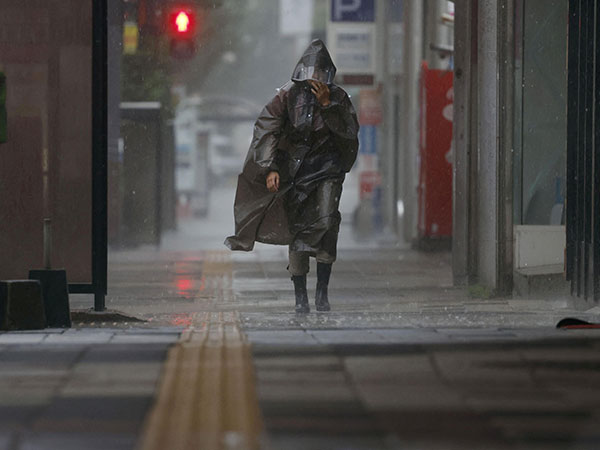 LM NEWS 24
LM NEWS 24
Japan, South Korea Brace For Powerful Typhoon Khanun
Japan and South Korea are bracing themselves for powerful Typhoon Khanun as it is moving slowly towards both countries.
According to Kyodo News Agency, the typhoon brought heavy rain to parts of Japan's southwestern main island of Kyushu on Wednesday as it moved slowly near the region, causing power outages and suspensions of shinkansen bullet train services.
The Typhoon may cause mudslides, floods and strong winds while linear rainbands, known to bring torrential downpours, could develop in southern and northern Kyushu as well as Amami-Oshima Island, according to the Japan Meteorological Agency.
Meanwhile, South Korea said that Typhoon is on a path to make landfall on the country's southern coast and pass vertically across the Korean Peninsula, Yonhap News Agency said.
The Korea Meteorological Administration (KMA) said that the typhoon was advancing towards Jeju Island's Seogwipo at 9 am with a central pressure of 970 hectopascals and maximum wind speeds of up to 35 meters per second.
It is also predicted that the typhoon will maintain its northward advance to reach waters 120 km south of the southern coastal city of Tongyeong at 3 am on Thursday and make landfall in the country later that morning, according to the agency.
When it reaches South Korea, the typhoon will remain "strong" in intensity, bringing winds faster than 15 meters per second in its 340 km radius and faster than 25 meters per second in a 120 km radius, the KMA said.
The typhoon may travel to the central city of Cheongju at 3 pm on Thursday and pass as close as 30 km east of Seoul at 9 p.m. the same day before crossing the inter-Korean border to reach 120 km southeast of the North Korean capital of Pyongyang at 3 am Friday, the agency said.
Looking at the condition of the weather in the region, several flights were grounded Wednesday on Jeju Island and in Busan, reported Yonhap News Agency.
Jeju International Airport reported that out of the 487 flights scheduled for Wednesday, 69 had been cancelled as of 9 am.
All passenger ships from and to the island were also suspended, maritime authorities said, with operations expected to resume Friday.
Warnings of a typhoon, strong winds and heavy rain have been issued for the island and its offshore waters.
In the southern port city of Busan, a total of 47 flights, mostly bound for Jeju, were cancelled on Tuesday and Wednesday, and all passenger ship services were halted.
The city was forecast to experience heavy rainfall, ranging from 40 to 60 millimetres per hour, from Wednesday afternoon to Thursday morning, as per Yonhap News Agency. (ANI)
Read More: http://13.232.95.176/