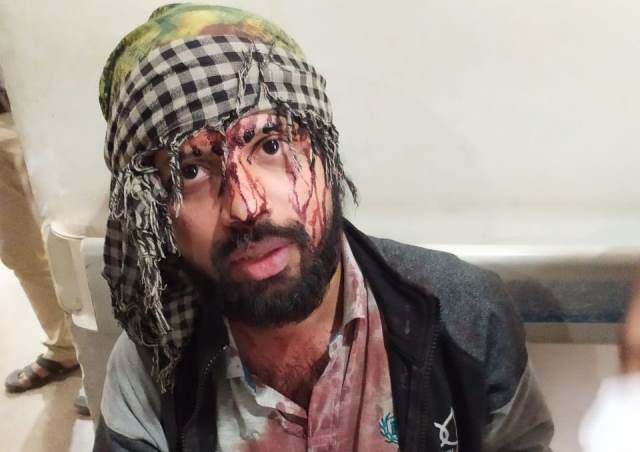 OPINION
OPINION
JNU Is Not Going To Crawl Or Bend
Indeed, the current Nobel Prize Winner for Economics, Abhijit Banerjee of MIIT, Boston, might find it both ironical and surprising. As a former student of the Centre for Economic Studies and Planning (CESP) in the School of Social Sciences (SSS) in JNU in the early 1980s, he would know that JNU students have never been violent. Since the BJP-led government has come to power at the Centre, and since former JNUSU president Kanhaiya Kumar was arrested on charges which are yet to be proved, their relentless protests have been protracted, peaceful, passionate and unarmed, but never violent.
Except in May, 1983, and Banerjee, like many of us, former students of JNU, would know it too well.
In the scorching summer of May 1983, an epic battle was fought inside the campus when Indira Gandhi was prime minister. Earlier, the entire campus had opposed her and Sanjay Gandhi during the Emergency, students were packed off to jail, and Maneka Gandhi, herself a student then, was not really loved on the campus. In 1982, Mrs Gandhi was first stopped while delivering her speech by the entire campus; there was chaos, police lathicharge, slogan-shouting and scuffles. She had to leave the campus with a simmering wound to her ego and her heart.
It would really hurt, considering that she was the founder of this prestigious university named after her father, built on the vision and idealism of Jawaharlal Nehru, and which was meant to compete with world class campuses like Oxford and Cambridge in terms of academic excellence and intellectual rigour.
In May 1983, after a prolonged struggle and 'peaceful gherao' of the vice-chancellor, the then Lt Governor of Delhi, Jagmohan, who later became a BJP loyalist, ordered a violent commando action in JNU, the first in its history. Surely, this was Indira Gandhi's revenge against the prodigal rebels. In anger and retaliation, there was students' violence – short-lived, scattered, with just about a handful involved, and momentary. It was immediately controlled by the students' leadership, and no violence has since been reported for over four decades. Thereby, after the armed commandos broke the strike, students stood in a long queue and courted arrest peacefully at Jhelum Lawns in JNU. Sine die was declared on the campus, and all the hostels were shut.
Almost 400 male students and 50 girl students were then imprisoned in Tihar Jail, Delhi, as 'political prisoners' for around two weeks. Abhijit Banerjee (along with this reporter, a first semester MA student), was one of them. Scores of charges were labeled against them. Several student leaders, including the president of the JNU Students' Union, were expelled. Indeed, one of the former vice-chancellors had then remarked: "JNU students are not violent. They are argumentative."
Since then, JNU has witnessed long struggles and resistance, on local, national and international issues, including protests against the Tiananmen Square Massacre in Beijing in June 1989, indefinite hunger strikes, struggles across police barricades, day and night vigils outside the UGC office at Bahadurshah Zafar Marg in Delhi, and the prolonged struggle after 2016 when students were picked up by the cops, Kanhaiya was beaten up by rogue lawyers at Patiala House courts, doctored videos were planted in a certain TV channel, and JNU, under siege, was condemned and branded as a hub of "anti-national" elements by the BJP propaganda machinery, its government, and its loyalist media.
It was then that the finest minds from the campus and outside gave lectures to packed audiences of students at the Freedom Square outside the vice-chancellor's office contesting and debating the idea of nationalism, nation-state, the freedom struggle, secular democracy, and the fact that the university is a center for the 'adventure of ideas', as idealized by Nehru in the first prospectus of JNU. Clearly, the vice-chancellor did not care to listen to even one such illustrious lecture by great academics, civil society leaders, and brilliant current and former student leaders. This was probably because he does not carry the intellectual, political and academic inheritance of JNU as a staunchly progressive, secular and pluralist university with a deep-rotted pro-poor and egalitarian essence, where debate, discussion and ideas open new windows of enlightenment, inside and outside the classroom. Surely, the vice-chancellor, had a different, a more sinister, agenda, and it was as clear as daylight.
As an RSS loyalist, he wanted to destroy the original essence of the campus, terrorise and tame it, and consequently turn it into a kind of commercial, subservient factory which can only produce conformist robots and clichéd consumerist brand images, not critical thinkers who would doubt everything, and who would want to create a better and more beautiful world. Young minds who would identify with the dreams of Rohith Vemula, a scientist who committed suicide after being hounded for months. Original, non-dogmatic minds who would make a synthesis between Karl Marx and Babasaheb Ambedkar, Kabir and Bhagat Singh, Pink Floyd and folk music, Rabindra Nath Tagore and Munshi Premchand. Clearly, he has failed in his diabolical project. That, however, has made him more relentless, more revengeful, and more and more unthinking.
The current agitation draws from the original principal of JNU as a central university which will represent widely women, minorities, and castes and classes from the most marginalized and backward economic index and geographical zones of India. Surely, students from Presidency in Calcutta or St. Stephen's in Delhi are welcome, but not at the expense of young minds from the backyards of Andhra Pradesh, Orissa, Eastern UP, Tamil Nadu, Bengal, the North-east and Jharkhand. The Old Admission Policy, which was scrapped after the May 1983 agitation, was a reflection of this original principle.
According to the Old Admission Policy, conceived after rigorous surveys and studies on the ground across India by the Centre for Regional Studies and Planning (CSRD/SSS), students were given extra 'deprivation points' based on regional, geographical, social and economic deprivation. It was not a standard 'reservation policy' based on pre-determined quotas. The students-faculty committees were actively involved in determining the deprivation points during and after the national entrance exams. There was, of course, the 22.5 per cent reservation for SC/ST students. This was the first time almost filled in 1989-90 when the Solidarity-led JNU Students' Union led by Independent Students had swept the JNU elections.
Later, after many struggles, other forms of progressive incentives were added, including for students from extremely backward castes etc. The hostel fee and the minimum security was part of this egalitarian legacy. A large number of students in the campus, including children of safai karamcharis and mess workers, acquired high quality education in JNU because of these policies, defended and fought by successive students' unions, and backed by the faculty.
Almost 40 to 50 per cent of students in JNU come from deprived backgrounds. This year a security guard has qualified in a language course. JNU nourishes this democratic atmosphere whereby economic background is no ground for collective aspirations, great idealism, peaceful political struggles and brilliant academic contribution to the university's intellectual culture. Study and struggle, theory and praxis, research and grassroots politics, thereby, become part of a unique synthesis, creating not robots, but truly creative and critical minds. No wonder, JNU has contributed across the spectrum in India and all over the world — in politics, academics, sciences, journalism and media, even theatre and the arts. The BJP government and its vice-chancellor should thereby realize that two of its own Union cabinet ministers are from JNU.
That is why the unprecedented police violence on a peaceful march of JNU students to Parliament, against the hostel fee hike, makes a jarring note. The decision, as usual, was taken arbitrarily, with no discussion and debate, in a campus where most decisions are part of a democratic consensus, including academic decisions, or day-to-day decisions in the hostel or general body meetings. Surely, the wounds hurt and they will hurt very badly in the days to come.
Surely, the vice-chancellor and the government must move towards dialogue, consensus and reconciliation. They should know by now, that come what may, and however repressive may be the state apparatus, JNU is not going to crawl or bend. The muscle-flexing Hobbesian doctrine of being 'Short, Nasty and Brutish' will obviously not work in this campus. Instead, it might spark many more fires in other campuses in the country.
(The writer is a former president of Jawaharlal Nehru University Students Union (1989-90)