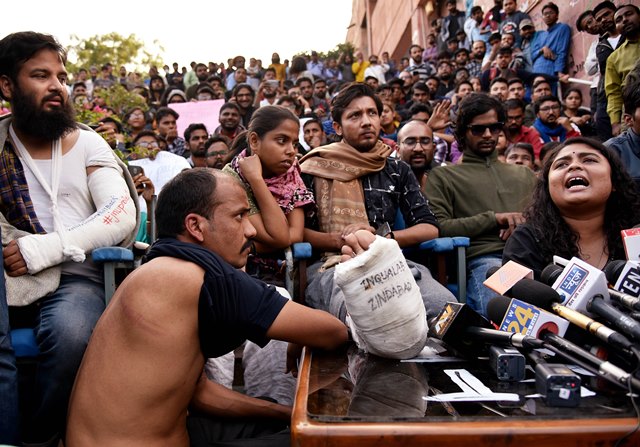 LM NEWS 24
LM NEWS 24
JNU Protest Against Fee Hike Reverberates In Parliament
Rajya Sabha proceedings were Tuesday adjourned till 2 pm following an uproar in the House by Congress and other opposition parties over police brutality on Jawaharlal Nehru University students holding protest against hike in hostel and other fees.
The Upper House was adjourned after Chairman Venkaiah Naidu refused to allow suspension of business under rule 267 given by the Communist Party of India (CPI) leader Binoy Viswan. The JNU matter blew out of proportion last week at the university campus after a clash broke out between the students and police during a protest.
The university had hiked the rate of a student single room rent from Rs 10 to Rs 300 per month, for student double room from Rs 20 to Rs 600 per month and increased one-time refundable mess security deposit from Rs 5,500 to Rs 12,000. The fee was, however, partially rolled back. Now, the room rent for single-seater rooms will be kept to Rs 600 per month, while it will be Rs 300 for those students who come from the below poverty line (BPL) category.
Communist Party of India (CPI) Rajya Sabha MP Binoy Viswam expressed disappointment over Rajya Sabha not taking up the issue for discussion in the Parliament saying, "It is quite an unfortunate battle that there is no space in the Rajya Sabha to discuss such a grave issue."
Viswam said that JNU has become a "detention camp" and added, "the police and the paramilitary forces have destroyed everything in JNU."
"We tried to bring to the House the attack on students that have taken place yesterday inside the campus, under rule 267. No debate and discussions were allowed to be held in the Parliament. JNU cannot go forward this way," he added.
Meanwhile, Delhi Police have registered an FIR in connection with the protest carried out by the students of Jawaharlal Nehru University (JNU) in the city on Monday against hostel fee hike.
On Monday, around 100 students were detained for allegedly 'showing aggressive defiance' to the directions of the police during their protest.
Thousands of JNU students had carried out a protest march yesterday towards the Parliament demanding complete fee rollback along with other demands, however, they were stopped at Safdarjung Tomb near Jorbagh.
"Some agitated groups attempted to forcibly break the barricades and had to be pushed back by the police staff. Around 100 students were detained for showing aggressive defiance to the directions of the police," police had said in an official release.
Coming out in support of the students, several Congress and BSP leaders have demanded also demanded a "high-level probe" into "police action" against JNU protestors.
On the other hand, the university administration has urged the students to join the academic works and forego the protest while also having initiated action against the students for allegedly vandalising the statue of Swami Vivekanand in the campus.
The students have been protesting for over two weeks over recent hostel fee hike.
(ANI)