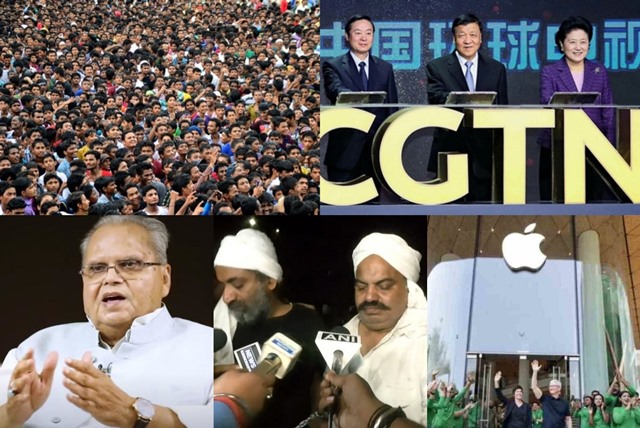 THEBUZZ
THEBUZZ
Jobless India Could Become World's Most Populous Time Bomb
Jobless India could be world most populous time bomb
This month, India is believed to have surpassed China as the country with the world's largest population. For the first time in centuries, China will not be the world's most populous country. According to data based on statistical projections released by the United Nations, India's population by mid-year will reach 1.4286 billion, compared to China's 1.4257 billion – 2.9 million less.
According to the projections, India's population is rising while China's is declining. India's population is set to rise to 1.515 billion in 2030. By contrast, China's population, is expected to fall slightly to 1.416 billion over the same period.
Is India's burgeoning population a blessing or a bane? The good news is that India's population is relatively young: 1.1 billion Indians are in the working age band of 15-64. When more than half the population is of working age, a country is said to enjoy the advantage of what is known as a "demographic dividend", which can be a huge potential for the economy. In comparison, China's population is rapidly ageing. In 2022, China's population declined for the first time in six decades. Compared to 35% of Indians being less than 20 years old, only 23% of China's population is in that bracket.
The not-so-good news is that to get the most out of its huge potential workforce, India has to create jobs for its youth and that is not really happening. Despite trying to change economic policies, liberalise regulations, and incentivise manufacturing and other economic activities, India has not been able to attract the order of foreign investment that it needs to boost employment opportunities for its burgeoning population of job-ready youth.
Officially, India's joblessness at 6.1% in 2017-18 was at a 45-year high but government data says that the levels may have improved in 2021-22 by falling to 4.1%. However, may believe that that the official figures could be underestimations. The Centre for Monitoring the Indian Economy (CMIE) pegged India's overall unemployment rate in March this year at 7.8% (and an even higher 8.5% in urban India where, in general, wages and productivity are higher).
According to another estimate, nearly five million people enter the workforce every year but, the government's own production-linked incentive schemes for selected sectors is projected to create only six million jobs in five years.
This year ending March, the GDP growth has been forecast at 6.8%, which makes India the fastest growing big economy but that might not be enough. Investment growth in India has nearly halved from an annual average of 10.5% between 2000 and 2010 to 5.7% in 2011-2012. Unless investment grows and, according to some analysts, GDP grows at 8 to 8.5% annually for the next decade, India's growth could be a "jobless" one. And that would be a true disaster: the demographic dividend would turn into a ticking time bomb.
Meanwhile, China responds…
The global attention that India's population surge has received has irked China. Not because India's population has surpassed China's but because the China's regime thinks that interpretations of the development, particularly by the western media, have been biased and anti-China. Western media's observation that China's population was declining and ageing faster is what has caused Chinese resentment.
In strongly worded statements, China's government controlled broadcaster CCTV said last week that the subtext from Western media in recent years was that China's development was in "big trouble" and that when the country's demographic dividend disappears, it will decline and the global economy will also suffer. China, CCTV said, has created a "miracle of sustainable and stable economic development with a huge population".
The statement went on to say that the US was increasing its efforts to contain China's development and the Western view was to simply equate population size with development milestones. CCTV said this showed a lack of basic understanding of how population development works. Decreases in birth rate, it said, are a natural consequence of development and is something that the developed world faces everywhere. Countering reports focusing on China's declining population and ageing demography, Chinese officials said it wasn't only quantity buy quality that mattered for a country's population and that the government has been taking appropriate measures in response to its ageing population.
Ex-governor of J&K makes explosive revelations
In February 2019, in Pulwama, 25 km south of Srinagar in Kashmir, a convoy of vehicles carrying Indian security personnel was attacked by a vehicle driven by a suicide bomber. The attack killed 40 Indian Central Reserve Police Force (CRPF) personnel. The Pakistan-based Islamist terrorist group, Jaish-e-Mohammed, claimed responsibility for the attack, one of the most deadliest in recent years. Now, a former governor of Jammu & Kashmir, Satyapal Malik, has revealed in an interview that the attack may have been possible because of serious security lapses on the part of Indian authorities.
Malik, in his interview with journalist Karan Thapar, said that the CRPF had asked for four aircraft for safe travel but the Centre had refused it. The Pulwama attack could have been prevented had the Centre agreed to the CRPF request. More important, Malik claimed that when he told Prime Minister Narendra Modi about the lapse in security, Modi had reportedly told him to stay quiet about the matter. Coming four years after the Pulwama incident, Malik's claims have added heft to Modi's critics and rivals but BJP leaders have dubbed him a rabble rouser.
Public shooting of gangsters brings focus on UP gun violence
Last week when Atiq Ahmed and his brother Ashraf, both notorious gangsters, who had been in police custody in Uttar Pradesh for a string of crimes, including murders, were being transported by police escorts ostensibly for medical check-ups, three people masquerading as journalists fired guns and killed both of them. The incident was caught on video and live TV. The killers who shouted the Hindu slogan of "Jai Shri Ram" after shooting the duo, were quickly overpowered and arrested.
Media reports, based on official briefings, variously described the shooters as criminals, drug addicts, and so on. Yet, the incident refocuses attention on rising instances of gun violence in Uttar Pradesh. Earlier this year, the Supreme Court expressed its distress at a large number of cases concerning the possession and use of illegal guns in Uttar Pradesh. The right to bear arms is not a fundamental right in the Indian Constitution.
Uttar Pradesh, India's most populous state accounts for the largest number of guns. In 2016, the number of licensed guns, according to the small arms survey, in UP was the highest among all states at nearly 1.3 million compared to the total number of licensed guns in India that then stood at 61 million. More recent estimates suggest that Uttar Pradesh could account for half of the country's illegal weapon seizures. According to data from the National Crime Records Bureau (NCRB) for 2020, as many as 67,947 firearms were seized under the Arms Act in the country in 2020, with UP topping the list (32,776 seizures).
Many believe that these figures may be just the tip of the iceberg when it comes to possession of unlicensed guns in the state and the ease of acquiring them. Public shootings in Uttar Pradesh have become frequent and this should be cause of serious concern for UP's government.
Apple opens stores in India but the brand isn't a draw
Apple, the company that Steve Jobs built, and the one that revolutionised how we compute, communicate and entertain ourselves using technology, opened two stores this month in India—in Mumbai and Delhi. Apple's CEO Tim Cook visited India on the occasion and did all the requisite photo-op worthy things: ate paani puri with diva Madhuri Dixit: met the Prime Minister and other officials: and talked about investing more in India: Apple wants to expand manufacturing in India. The flip side is that Apple isn't really a big draw in India. The market share of iPhones is just 5.5% of the total cell phone market in India (an estimated 1.2 billion phone users of which 600 million use smartphones). Apple products are costly. The cheapest iPhone is still way out of reach for the average Indian consumer and 95% of cell-phone users opt for cheaper Android-based devices.
Read More: https://lokmarg.com/