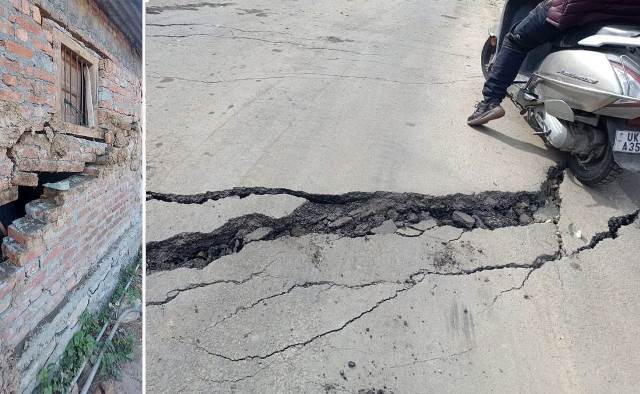 LM NEWS 24
LM NEWS 24
Joshimath Subsidence: 561 Structures Report Cracks, 38 Families Displaced
A total of 561 establishments in Joshimath reported cracks that emerged after land subsidence, with the most cases in the Ravigram ward in Uttarakhand, the Chamoli administration said in a bulletin on Thursday.
Out of 561 establishments, 127 are in the Gandhinagar ward, 28 are in the Marwadi ward, 24 are in the Lower Bazaar ward, 52 are in the Singhdhar ward, 71 are in the Manohar Bagh ward, 29 are in the Upper Bazaar ward 27 in the Sunil ward, 50 in Parsari, and 153 in Ravigram reported cracks," the statement read.
The operations of Hotel View and Malari inn have been restricted under Disaster Management Act, 2005, till further orders, the statement added.
In the last 24 hours, a total of nine families have been displaced, which includes four families in Joshimath Municipal Corporation, one from Gurudwara Joshimath, one from Tourist Hostel, Manohar Bagh, and others, the statement read.
A total of 38 families have been displaced till now, it added.
Earlier in the day, in the wake of the news of land subsidence in Joshimath and cracks developing in many houses in the town, Chief Minister Pushkar Singh Dhami said necessary actions would be taken to ensure the safety of the people.
Dhami said he would be visiting Joshimath soon to take stock of the situation and initiate necessary action.
"I will be visiting Joshimath in a few days and initiate steps to handle the situation. All the reports will be monitored and all the required steps will be taken. I have had a word with the Municipal Corporation chairman Shailendra Pawar to monitor the condition in the district," said CM Pushkar Singh Dhami told ANI.
Joshimath Municipal Chairman Shailendra Pawar said huge cracks appeared in the houses due to a leakage of water from inside the ground in the Marwadi ward.
The Chamoli district administration on Thursday asked Hindustan Construction Company Ltd (HCC) and National Thermal Power Corporation (NTPC) to be prepared to shelter the affected families migrating from Uttarakhand's Joshimath due to land subsidence. (ANI)
Read More: http://13.232.95.176