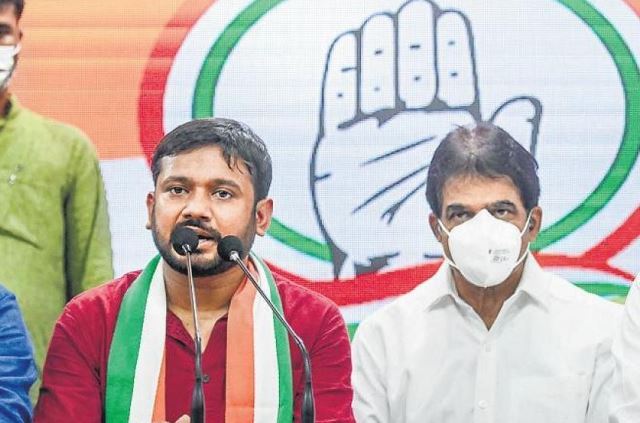 OPINION
OPINION
Kanhaiya Is No Lord Krishna To Save Cong
One swallow does not a summer make. Not even two, or twenty, if it is India's Grand Old Party that, by all indications, is in its autumn, not summer. Stronger branches of this old banyan are being weakened from within, while its leaves, the young ones with green lives ahead, are falling off and falling out.
Two young leaders, Kanhaiya Kumar and Gujarat's independent legislator Jignesh Mewani, joined the Congress party, bringing happy tidings after long. Along with Gujarat's Hardik Patel, who joined earlier, theirs has been leadership in the making for five, tumultuous years.
Both are young, ideologically committed, and are clear about what they want. They are worried, like millions across the country, that if the Congress sinks, the Bharatiya Janata Party (BJP) will find it easy to overwhelm the smaller parties. This would be bad for democracy. Mewani echoed Kumar's description of the Congress as "a ship that should not be allowed to sink." They called for 'saving' the party and with that, "the idea of India." That they spoke in these terms, from the Congress platform is significant. The party needs to be rescued from itself.
This concern for the party's survival was neither their entry-pitch nor altruistic. It is closely linked to long-felt need for forging an opposition phalanx to contain the BJP. Despite deep differences and past political baggage of mutual mistrust, the role of the Congress as a key member of that entity is being increasingly felt under the present circumstances. Differences, as of now are on whether or not the party should lead it and if yes, under an ailing Sonia Gandhi or anyone else. Rahul and sister Priyanka are not considered senior and experienced enough. And they have proved their critics right with their recent handling of the party's affairs.
Both Kumar and Mewani have a good track record so far, enough for their critics to also take note. Kumar has been greeted with bitter/sour trolls on the social media. He was charged, thrashed in full courtroom, jailed and tortured five years ago for wrecking the country to pieces — "tukde-tukde". Forty samples of his speeches of that period were examined, including the controversial one that he delivered at the Jawaharlal Nehru University (JNU) as its students' union president. They were officially subjected to forensic and legal examinations. Kumar's voice did not match with those heard shouting anti-India slogans, India Today later reported. The charge did not stick.
That "tukde-tukde" has returned, especially on the social media, now that Kumar has joined the Congress. It signals the long battle ahead. That battle will need opposition clarity and unity of purpose. For instance, Kumar lost badly to BJP in the 2019 Lok Sabha election from Bihar, as no party was willing to accommodate him. In Bihar's murky turf war, Kumar could face rejection by Laloo's party that already has a young Tejashwi Yadav and hierarchical problems in Bihar Congress.
Kumar, who quotes Marx and Lenin along with Gandhi, Ambedkar and Gautam Buddha, is a communist. Indeed, the Congress has in the past infused communists in the 1970s, when Mohan Kumaramangalam was a central minister and Chandrajeet Yadav was a key party general secretary. But that was in the cold war era. The post-Soviet world and an India post-economic reforms, (launched by a Congress government) have discarded the socialist model. Will the left-of-centre political plank work against the BJP's avowed right-wing political, economic and social agenda that openly plays on religion? Which Kanhaiya will people vote for?
Without surprise, Kanhaiya's entry has unnerved many Congressmen and corporate circles uneasy with anything 'leftist' and has given an added weapon to the BJP and its front organisations.
The Congress shed its secular USP, first by pandering to Muslim conservatives vote in the Shah Bano case and to match L K Advani-led Rath Yatra in the late 1980s, climbed the Ram temple bandwagon. It is now openly trying to match, unsuccessfully, – the BJP's electoral tactics. They include opening gaushalas and marketing gaumutra (cow urine). A party committee headed by A K Antony, a Christian, attributed repeated election losses to the perception that the party was pro-minorities. Along with socialism, secularism is also gone.
Under BJP 'threat', the Congress has discarded the minority constituency. No longer setting the agenda, the party reacts to others.
No party can prosper without a clear direction and without ground support. No party can survive merely by infusion from outside, like polls strategist Prashant Kishore. (Some quarters attribute replacing of a well-regarded Captain Amrinder Singh with Navjot Singh Sidhu, a ma maverick showman and little else, to his counsel).
While noting the Kumar-Mewani entry as a harbinger of likely change, it is risky to read too much into their joining the Congress, when Jyotiraditya Scindia (although he had "access to Rahul's bedroom"), Jitin Prasada and Sushmita Dev, besides others relatively low-profile, have quit. The party has failed to renew itself before the people. If the young are disenchanted, the older guard is clueless, yet clinging to it. Imagine ex-Goa chief minister L. Faleiro flying across the peninsula to join Mamata Banerjee's party in Kolkata!
The Congress is run at the top by a single family. The Gandhis used to be the glue that kept it ticking and united, but no longer. They gave winning slogans. This, too, was long ago. By all available accounts, Sonia Gandhi, the 'interim' president is ailing, and decisions are being taken by her children. They are all good and decent. But that is not enough in politics. From hugging to hissing at Prime Minister Modi, Rahul's is a personalized approach. But that can't be party strategy. Against the wily orator, Rahul comes across poorly. The brand name does not sell against Modi's high octane campaign fuelled by men, money and media. 
Sadly, the party has for long shown signs of the last days of Mughal Empire. Imposing fledgling central authority failed in Madhya Pradesh, narrowly saved Rajasthan and has yielded disastrous results in Punjab. A coterie surrounding the Gandhis counsels destabilising those seniors found growing roots in the states.
On the day Kumar-Mewani entry, the squabbling Congressmen in Punjab were decimating their own fort with the assembly elections just five months away. They had the best chance of being re-elected a third time. It has been frittered away, to utter surprise of friends and foes alike. Angry Amrinder is set to launch a new party. With a multi-polar scene emerging, the battle for Punjab is now wide open.
This fiasco is unlikely to calm rumblings in Rajasthan and Chhattisgarh where Congress is riven by factions. The steep decline in central authority is thanks to opaque decision-making that is often delayed, encourages more discontent and proves disastrous. The party needs internal discussion, organisational elections and "a full-time president" – not an ailing interim matriarch. It needs, by implication, an inclusive leadership that does not function with one or more remote controls. Dissent is out in the open. The leadership – whoever thought and did it – has responded by sending goons to vandalise the house of Kapil Sibal, one of the dissenters. Notably, none has condemned the incident.
Is it any surprise that the BJP juggernaut, with Prime Minister Narendra Modi at its command, continues to roll?
The writer can be reached at mahendraved07@gmail.com