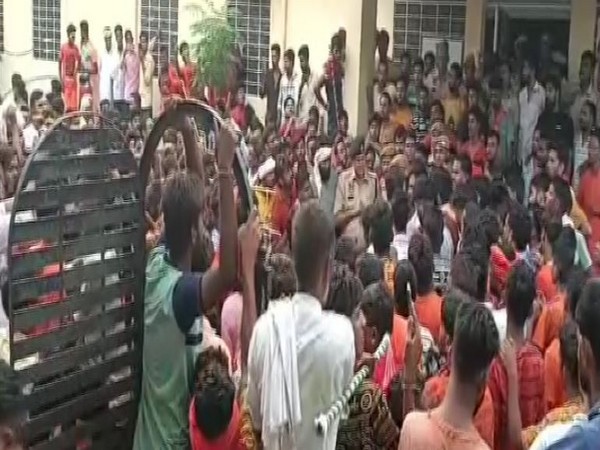 LM NEWS 24
LM NEWS 24
Kanwariyas Protest Over Seizure Of DJ Vehicle In Jaipur
A large number of Kanwariya pilgrims on Sunday staged a sit-in protest outside a police station in Rajasthan's Jaipur after police personnel seized their DJ vehicle from the Jaipur-Ajmer Highway on Sunday.
Kanwariyas were coming from Maleshwar Dham on Sunday when they were stopped, and their DJ vehicle was seized by police near Bagru village in Jaipur.
After the police seized that DJ the pilgrims got furious. The tension spread to the surrounding areas and other groups of Kanwariya assembled together at the police station and started protesting. Along with the pilgrims, villagers also participated in the demonstration.
To avoid any untoward incident during the protest, heavy police forces from six stations including Bagru, Bhankrota, SEZ, Bindayaka, Kalwad, and Karnivihar were deployed. Riot control vehicles and additional police force including Bagru, Bhankrota, SEZ, Bindayaka, Kalwad, and Kaand Ranivihar were also present during the demonstration at the police station.
Former Pradhan Kailash Kumawat, Bagru Nagar Vyapar Mandal President Ravi Ganesh Agarwal, former Zilla Parishad member Gopal Meena, Kamal Tilyawas, former Municipal Vice President Shankar Gared, Councilor Nitin Bhardwaj, Giriraj Chowdhary, Sonu Kumawat, Lakhan Gadhiwal, Dahmi Kala Sarpanch Ganesh Kumawat, Subhash Dhasania were also present along with the Kanwariya pilgrims during the protest.
Bagru ACP Anil Sharma reached the spot to settle the matter by talking to the Kanwariyas. However, the Kanwariyas demanded that the DJ vehicle should be released, and they should be allowed to use it during the Yatra.
The Kavadis alleged that the police do not stop DJs from playing in political programs but they do so when DJs are played in religious functions.
The police then cited the orders of the Jaipur Police Commissionerate that mandated DJs to be banned based on which the police had taken action against them.
The demonstration was finally called off after four hours during which several rounds of talks were held between the police and the Kanwariya pilgrims.
"There is a complete ban on the use of DJ system, but the Kanawariyas were found playing DJ system on a vehicle and on the basis of which the action was taken," Anil Sharma, ACP, Bagru said. (ANI)
Read More: http://13.232.95.176/