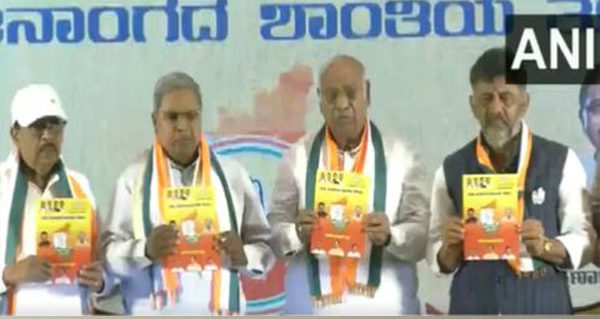 LM NEWS 24
LM NEWS 24
Karnataka Polls: Will ban… Cong Cites Bajrang Dal, PFI In Manifesto
The Congress party on Tuesday in its manifesto for the upcoming May 10 Karnataka Assembly elections said it will take "decisive action" as per law including banning organisations like Bajrang Dal, the Popular Front of India and others.
"We will take decisive action as per law including imposing a ban on any such organisations, read the Congress manifesto released by the party president Mallikarjun Kharge here.
"The Congress party is committed to taking firm and decisive action against individuals and organisations spreading hatred against communities on the grounds of caste and religion," read the Congress manifesto.
"We believe that law and Constitution are sacrosanct and cannot be violated by individuals and Organisations like Bajrang Dal, PFI or others promoting enmity or hatred, whether among majority or minority communities," it added.
The manifesto was released in the presence of former Karnataka chief minister Siddaramaiah, the KPCC President DK Shivakumar and Congress spokesperson Pawan Khera.
Previously this April, Union Home Minister Amit Shah said each vote to Bharatiya Janata Party (BJP) will protect the State from the banned outfit Popular Front of India (PFI).
Addressing a public meeting at Shirahatti, Shah had said, "Each vote counts, so ensure it goes to the right leadership. When the people of Karnataka press the 'Lotus' symbol, understand that you are not voting to elect an MLA or a minister and Chief Minister. Your vote will further strengthen PM Modi's hands in creating 'Mahan Karnataka'. Your vote will protect Karnataka from PFI."
Notably, the PFI and its many affiliates were declared 'unlawful association' by the Ministry of Home Affairs (MHA) in September last year after its involvement in violent activities came to light during investigations carried out by various state police units and national agencies.
Karnataka will go to Assembly polls on May 10 and the counting of votes will take place on May 13. (ANI)