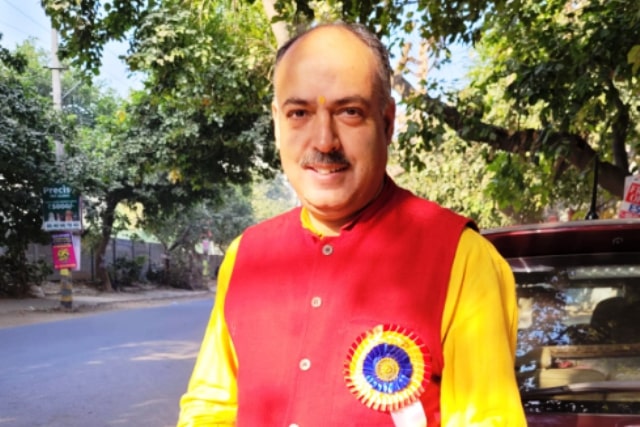 LOK ISSUES
LOK ISSUES
'Kashmiris Are Reclaiming Their Space Across The State'
Ajay Pandita, a Kashmiri who lives in Gurugram, has been happy to see positive changes coming to his home-state after abrogation of Article 370. His views
I belong to a small and remote village in Baramulla district of Kashmir. A couple of months back, I visited my native place and was pleased to see that a metaled road lead to my village. Not only my village, but most of the villages that I visited with my friends during my stay of over 25 days presented the same picture. Residents told me rural roads were being laid out on a war footing under Gram Sadak Yojna.
Next, I visited Kashmir during the time when the G20 summit was being held in Srinagar. I was happy to see a thriving Srinagar and adjoining areas teeming with tourists. This had a cascading effect on the sales of Kashmiri handcraft, traditional farm products and hospitality-lined sectors. Besides the better roads and other infrastructure, I was happy to seek Kashmir people's participation in this 'new Kashmir'.
I seriously felt that Kashmir was returning to its real self, one that it was before the tumultuous 1980s. Children were joyfully going to schools, shops were keeping open till late, there have been no bandh calls, cinema halls are running to packed houses and late evening strolls around Lal Chowk are becoming commonplace. In short, Kashmiri people are reclaiming their public space.
I noticed that Jammu-Kashmir was passing through a remarkable economic transformation, with significant growth and positive outcomes seen in the business environment and every other aspect of the native life. The lifting of Article 370 has not only reduced barriers to investment in the region but has attracted both domestic and foreign investors, resulting in substantial capital inflows across various sectors.
Though I was not a part of the celebrations on the Independence Day at Lal Chowk this year, my friends and relatives have shared many images of the event via messaging apps. I am happy to see the Chowk's glory and magnificence not just returning to its past but actually getting better and more outstanding now.
ALSO READ: 'Netas Run Their Shops, Kashmiris Want To Run Theirs'
I have little doubt in my mind that this has been made possible with the abrogation of Article 370 and my home-state is slowly and surely regaining its lost stature, charm, culture, and everything else lost to the several decades of violence.
There has also been a drastic change in people's mind-set post-2019 and the surge in social media is one of the major factors that accounted for it. Young boys and girls are sharing their stories and scenes from downtown Srinagar and adjoining parts to convey the change. The Kashmiri youth have also realised the evil plans of Pakistan and can be seen actively confronting their narrative on social media sites. This has proved to be the last nail in the coffin of anti-nationals who always found faults in New Delhi decisions.
Here, I would also like to mention that most Kashmiri Pandits are grateful to filmmaker Atul Agnihotri who made The Kashmir Files andpresented our story to masses. It not only exposed the 'sinners' and uncovered the reality of what the beautiful place and its people faced because of the policies of a few families in power (I do not wish to even take their names).
We, as Kashmiri natives, just hope and pray that things get better with the passage of time and our coming generations should never see what our parents and forefathers have seen and lived.
(The narrator is a civil engineer by profession, currently working employed with Ansal Group as vice president)
As told to Rajat Rai
Read More: http://13.232.95.176/