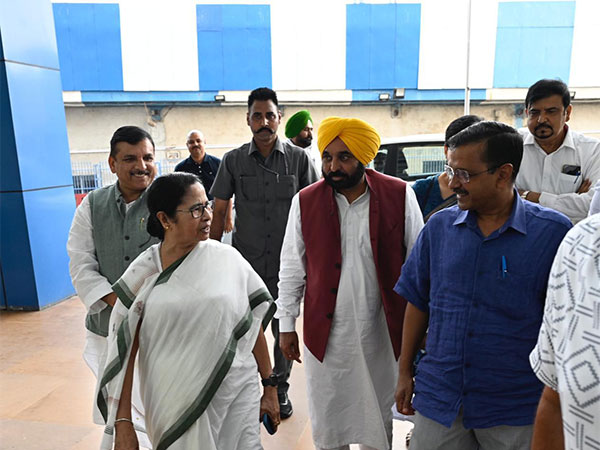 LM NEWS 24
LM NEWS 24
Kejriwal Meets Mamata To Ensure Bill On Delhi Services Is Not Passed In RS
As part of his ongoing efforts to cobble up a grand Opposition alliance to ensure that a bill related to the centre's ordinance nullifying the Supreme Court order on services matters is not passed in the Rajya Sabha.
Kejriwal was accompanied by Punjab Chief Minister Bhagwant Mann and party leaders including Raghav Chadha and Sanjay Singh.
The Delhi Chief Minister on Tuesday embarked on a nationwide tour to seek support from the Opposition parties against the ordinance brought by the Central Government on the transfers and postings of bureaucrats in the national capital.
The Aam Aadmi Party (AAP) national convenor accused the Centre of "taking away the rights" of the people of Delhi and said that the ordinance "should not" be allowed to pass in Rajya Sabha.
Taking to Twitter, Kejriwal said, "From today, I am leaving on a tour across the country, for the rights of the people of Delhi. After many years, SC passed an order and gave rights to the people of Delhi. But, the central government took away all those rights by bringing an ordinance. The law should not be allowed to pass under any circumstances when it is brought in Rajya Sabha. I will meet presidents of all political parties and seek their support".
He will be meeting Shiv Sena (UBT) leader Uddhav Thackeray on May 24 and Nationalist Congress Party (NCP) supremo Sharad Pawar on May 25, according to AAP.
This comes after the Union Government on May 19 brought an ordinance to notify rules for the Government of National Capital Territory of Delhi (GNCTD) regarding the 'transfer posting, vigilance and other incidental matters'.
The ordinance was brought to amend the Government of National Capital Territory of Delhi Act, 1991 and it circumvents the Supreme Court judgement in the Centre vs Delhi case.
Meanwhile, Bihar Chief Minister Nitish Kumar is also putting in efforts to rally the opposition against the Centre ahead of the 2024 Lok Sabha elections.
Nitish Kumar, in this regard, met Arvind Kejriwal in the national capital and Congress president Mallikarjun Kharge and Rahul Gandhi. (ANI)
Read More: lokmarg.com