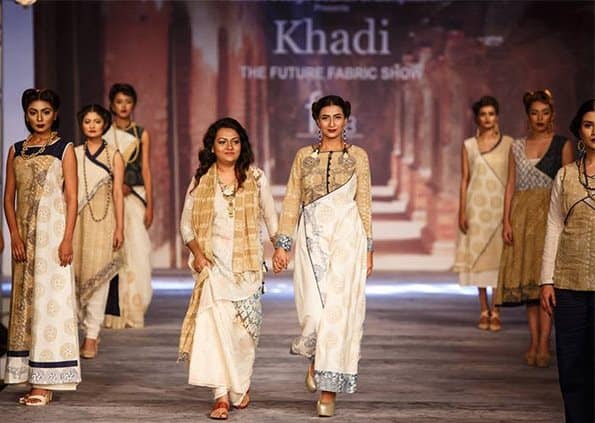 FOCUS
FOCUS
Khadi Inc Bucks Slowdown, Creates Jobs & Wealth
Like it or not, Modi has lent glamour to the khadi fabric and contributed to its popularity and profitability. This is evident from the Khadi Commission's balance sheets in the last five years
Amidst India's current economic slowdown — from aviation to biscuits to cars – the 'desi', or the native, is defying the depressing trend. 
Rooted in soil and traditions, khadi or khaddar, the hand-spun, hand-woven fabric and an array of home-made products of daily use in drawing room, kitchen and toilet are selling better than the branded domestic and multinational stuff.
This is no mere patriotic song; it means jobs and money. And it's voluntary and now, market-driven.
The Khadi and Village Industries Commission (KVIC) ought to be on the national and global bourses except that it is a statutory government corporation established by an Act of parliament.
After long years of neglect and charges of bad performance despite being heavily subsidized, it has entered the profit trajectory.
Its annual turnover of Rs 75,000 crore in 2018-19 is more than double of Hindustan Unilever Limited (HUL). India's largest corporate manufacturer/marketer, the British-Dutch MNC accounted for Rs 38,000 crores in that year.
KVIC's growth has been phenomenal in the last five years. From relatively low Rs 33,000 crores during 2014-15, it jumped to Rs 50,000 crores two years later, growing at 25 percent annually. Buoyed by the latest performance chart, the target for 2019-20 is 20 percent higher, at Rs 80,000 crores.
Proportionately, others do make greater profits. But KVIC, more than just a corporate success story, should be viewed for depth and extent to which half-a-million people work for it directly, making it one of the largest employers. And indirectly, another 15 million collaborators are spread across individual homes and farms and small and medium manufacturing units.
This defies the current phase of growth without producing jobs, especially in the manufacturing sector.  
This is the India that has grown over a century since M K Gandhi launched khadi or khaddar in 1918. Before he involved the masses in the fight for political freedom, this was his first mass-based venture bringing the rural India under the spell of productive self-reliance that meant work and gave a sense of dignity. Thus, khadi was not mere a piece of cloth but became a way of life.
It's an unlikely story that explains why and how India sustains despite poverty and vagaries of nature.
Gandhi started spinning himself and encouraged others. He made it obligatory for all members of the Indian National Congress, then in fore-front of the freedom movement against the British, to spin cotton themselves and to pay their dues in yarn.
He collected large sums, including from industrialists and thus involving them directly, to create a grass-roots network to encourage handloom weaving. Ironically, handloom thrives today even as many textile mills have closed.
Charkha (spinning wheel) was the symbol of Gandhi-led movement. It became part of the Congress flag, eventually to be replaced by the Ashok Chakra in the national tricolor.
Tragically, people in the present century need to be reminded of all this. The political class has discarded khadi. Economic reforms have pushed urban India away from this cost-effective, climate-friendly fabric.
The other reminder is to people discarding khadi. The white cap that carried Gandhi's tag is fast disappearing with the ebbing of the Congress party and its political culture.
It began early: Babu Jagjivan Ram who swore-in 400 Congress winners in 1984 Lok Sabha polls lamented before senior journalist Vijay Sanghvi that leave alone Gandhi cap, none was even clad in khadi. Today, the party has moved farther way from the common man it once represented.
This has naturally opened space for political appropriation and re-branding by the present dispensation that was not part of the Gandhi-led movement.  Last century's "Nehru jacket" is now popularized and marketed as "Modi jacket". The current premier patronizes khadi in its multiple hues and textures. He has also clothed several world leaders in khadi.
Modi has lent glamour to the fabric and contributed to its popularity and profitability. This is evident from the KVIC's balance sheets in the last five years. The sale of khadi products has reached USD 1.56 billion in the last five years.        
Modern textile technology has helped immensely in softening khadi's cotton yarn and its bleaching and blending. KVIC is collaborating with top textile brands Arvind for denim and with Raymond.
Helped by fashion designers, khadi helps the elite make fashion statement if only to help them to "rise above" the class that chases the easy-to-maintain global brands or their local imitations which are mass-manufactured and hence relatively cheaper.
It has gone digital. A pair of trendy Western wear is available for a modest Rs 2,000. The high range could be a few hundred rupees for a meter of fabric. 
The challenge lies in marketing. Leaving out main markets in major cities where it is given peppy look, Khadi Bhandars across India wear traditional, desolate look.
Yet, marketing of khadi and other products, even their exports, remains a unique example of public-private participation (PPP). Private entities buy from KVIC-affiliated and state government-run cooperatives. Encouraged, KVIC is looking for export markets after a survey in 21 overseas markets showed that khadi was the most recalled Indian brand, along with yoga. Its success could build on India's 'soft' diplomacy.   
Having credited khadi for generating the overall 'desi' revolution, it must now be conceded that the fabric that sold for Rs 2,005 crores forms only 4.3 percent of the total KVIC turnover. Fuller credit is due to numerous items like papad, soaps and shampoos, herbal medicines and cosmetics, honey, handicraft material, brassware, vegetable oils and organic grains and pulses.
They are produced by nameless housewives, rural artisans including cooks, potters and painters and small entrepreneurs in both public and private sectors. They make and market goods with or without the KVIC supervision and umbrella and form a unique network that probably exists nowhere else. 
Industry experts attribute the organisation's success to many domestic and international fashion designers preferring to work with sustainable and natural fabrics. There is also a buzz among millennial shoppers, who care about whether the clothes they wear or the products they use create jobs. Since khadi cloth is handspun and its products are mainly created by artisans in rural areas, the brand invokes good vibes in consumers.
In the last five years, the KVIC has promoted new schemes under Prime Minister Employment Generation Programme (PMEGP) that have created 2.17 million new jobs. They include Honey Mission and Kumhaar Sashaktikaran Yojana (for potters' empowerment). This includes distributing bee boxes and electric chaaks or potter wheels in the troubled Kashmir Valley and in Ladakh.  
Such a massive exercise cannot be a top-down process from capital cities without involvement of the makers-cum-beneficiaries. There is need for debate. For instance, where does one draw a line between preserving cultural heritage and industrial/commercial pursuit?
Handloom, for one, should be revived as a skilled occupation that offers livelihood with dignity for both the weaver and the physical environment around, says B. Syama Sundari, coordinator, policy research and advocacy at Dastkar Andhra, an organisation that   promotes handloom weaving as a viable rural livelihood. 
The writer can be reached at mahendraved07@gmail.com
]]>