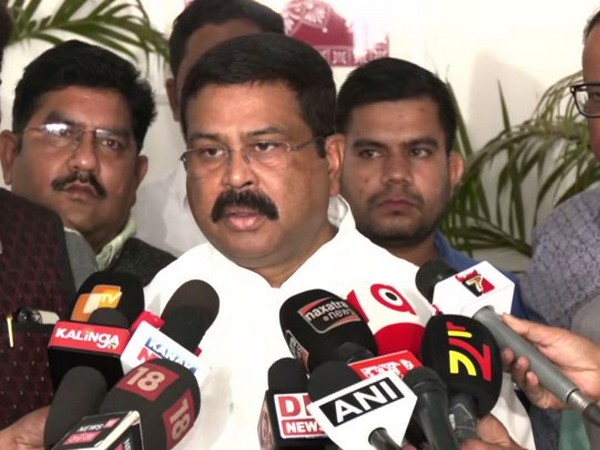 LM NEWS 24
LM NEWS 24
Killing Of Naba Das Shows Lawlessness In Odisha: Pradhan
BJP leader and Union Minister Dharmendra Pradhan on Sunday alleged that the killing of Odisha minister Naba Das by a policeman "shows lawlessness in the state".
Naba Das was shot at by a policeman in Brajarajnagar in the Jharsuguda district on January 29, and succumbed to his bullet injuries in Bhubaneswar hospital on the same day.
"DGP's statement that Lord Jagannath could anticipate an incident such as the killing of a minister' shows lawlessness in the state. The Crime Branch is probing into the matter, but there is no clarity in inquiry," Pradhan said.
Addressing the media, Director General of Police (DGP) Sunil Bansal had said: "There are certain incidents which are unprecedented and unimaginable. Only Lord Jagannath could anticipate such an unprecedented incident in Odisha's Jharsuguda."
"We have suo moto requested High Court to appoint a judge to monitor the investigation to ensure that no questions are raised about the scope and the intensity of the investigation. Some very important clues have been identified in the investigation and I am very satisfied with it," he said on Friday.
He further said that such a "complicated" case is bound to take time and one should not jump to a conclusion as it involves a sitting police personnel fired upon a sitting cabinet minister.
"I am sure the way the investigation is being conducted by the topmost officers of Odisha Police and now we have the guidance of retired HC judge, all the angles are considered, but no timeline can be given as it is a complicated case where a sitting police officer has fired at the sitting cabinet minister," he said.
Notably on Thursday, the special investigating team (SIT) probing minister Naba Das' murder recovered handwritten notes of accused ASI Gopal Das from a septic tank of Jharsuguda Airport police station.
The CID and Crime Branch team in a statement said that the accused ASI during questioning revealed that he threw handwritten notes in a septic tank of the toilet of Jharsunguda Airport police station and that he had noted down his motives behind the crime in detail on the paper.
The recovered pieces of handwritten papers will be sent to forensics and handwriting experts for the reconstruction of evidence and further examination, the Crime Branch said.
The preserved viscera of the deceased have also been sent to the State Forensic Science Laboratory (SFSL), Rasulgarh in Bermuda Biological Station for Research (BBSR) for chemical examination and opinion, it said.
The Scientific Officer and Ballistic Experts also recovered one fired bullet during inspecting the vehicle and the crime spot using a FARO 3-D Scanner.
A medical team led by DSP and CID Crime Branch at Berhampur is verifying the accused's medical treatment records and financial behaviour.
Accused Assistant Sub-Inspector (ASI) Gopal Das had confessed to his crime, the police informed on January 30.
His wife Jayanti Das on January 29 claimed that Gopal Das has been suffering mental disorder for the last eight years and was on medication, doing fine. (ANI)
Read More: http://13.232.95.176/