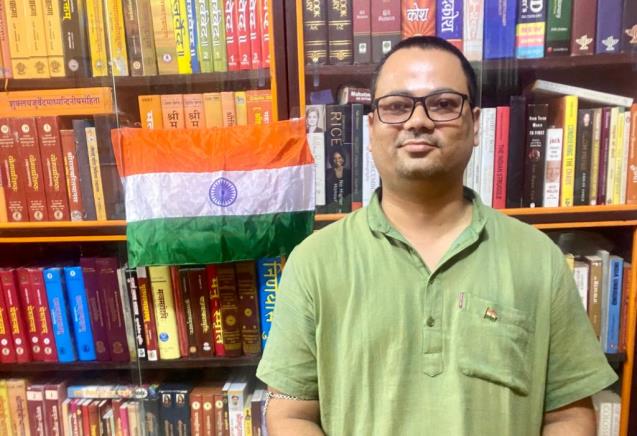 LOK ISSUES
LOK ISSUES
'Know What Tiranga Means Before Hoisting It On Your Roof'
Himanshu Shekhar Jha, a Kolkata-based Chartered Financial Analyst, explains the underlying message that our National Tricolour carries
I am happy to see people vigorously taking part in the state-run programme Har Ghar Tiranga. However, I think that it is important to know what Tiranga, our National Tricolour, represents. All Indians must not only hoist the Flag as nationalist zeal but follow the message it carries. Let me explain.
First and foremost, Tiranga represents inclusivity and equity as enshrined in Indian Constitution. Tiranga was designed to look beautiful from the point of austerity. Later it adopted the combination to represent the spirit of the nation and tradition of the nation which has grown up through thousands of years in India.
Chakra, the symbol of crime in Adbhut Ramayan, must be tamed by the white colour. Thus this symbol at this moment of strife, conflict and intolerance in our country must propagate that forgiveness is divine. By unfurling the Tiranga, I understand, I propagate democracy.
The government never tried to spread the 'message' of the Tiranga campaign. I urge our country leaders to show the strength, simplicity and growth by founding tolerance, equality, liberty and fraternity amongst the citizens otherwise the Har Ghar Tiranga campaign will be a mere commodity trading event –for the businessman, of the businessman and by the businessman.
I am taking part in the Tiranga Campaign because I believe that Tiranga should be above our political beliefs. But I wish that the government of the day should have followed the spirit of the flag. By adopting the Tiranga campaign, the government should have propagated a vision to suppress intolerance and foster equality. We have walked miles since Independence, yet the core ills of our society refuse to fade away. On the contrary, the inequity has continued to rise like the mouth of mythical demon Sursa. I would be happier to celebrate the day if we had eradicated these vices from public life.
Nevertheless it is good to see that the political party which was against secularism in this country is now campaigning for it through Tiranga campaign. Also, it was heartening to see that RSS is also on the right track whereby it changed its social media profile picture with the Tricolour which it vehemently opposed until recently.
Tiranga gives a message that the people of India must regain the amazing capacity to sustain an inclusive growth. The government ignores the fact that inclusive growth is possible where acceptance and tolerance are cherished values while discrimination and inequity are rooted out.
I hope people of India will understand the underlying spirit and message of the Tricolour of inclusivity be it religious, economic or social. Only then we can achieve of a goal as envisioned by our founding fathers.
As told to Abhishek Srivastava