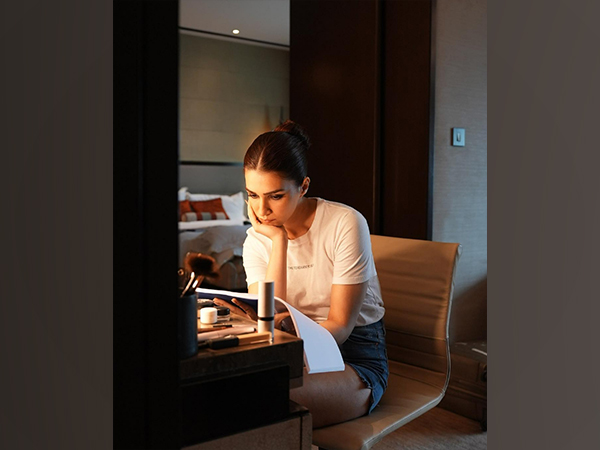 LM NEWS 24
LM NEWS 24
Kriti Shares Pics From First-Day Shoot Of 'Do Patti'
Actor Kriti Sanon on Tuesday shared a few pictures from the first day of the shoot of her upcoming film 'Do Patti'.
Taking to Instagram, Kriti shared a string of pictures which she captioned, "Day1 of shoot for me on #DoPatti. Time to Reinvent! Wearing 2 caps this time. Actor-Producer. Lots of Blue Butterflies dancing in my stomach as I start this very special journey. Probably my MOST challenging role so far.. a story that touched me so deeply that it had to be the first for @bluebutterflyfilmsofficial! #DoPatti Lets make a film we are proud of! Lets create magic!!"
In the pictures, Kriti could be seen sitting in front of a mirror and reading a script.
Makers began the filming of the film in Mumbai on August 18.
The film is set to take viewers on a thrilling suspense-filled ride like never before and transport audiences to the mesmerizing hills of North India, which serve as a backdrop for the mystery and intrigue to unfold.
'Do Patti' is produced by Kathha Pictures and co-produced by Kriti Sanon, also written by Kanika Dhillon and will stream exclusively on the OTT platform Netflix.
The film is directed by Shashanka Chaturvedi, popularly known as BOB, and stars Kajol and Kriti Sanon in lead roles.
After taking the world on adventurous trips with her stories in much-loved movies like 'Kedarnath', 'Manmarziyaan', 'Haseen Dilruba', 'Rashmi Rocket', and 'Guilty', amongst others, Kanika Dhillon sharing her excitement in a statement earlier said, "I am absolutely thrilled to embark on this new journey as a producer. Do Patti is a compelling story, very close to my heart as a writer. And am thrilled to start my journey as a producer with Do PAtti. And such talented actors like Kriti and Kajol and of course Netflix. The writer in me feels empowered today that apart from creating the world on paper, I can curate my vision into reality. I hope to work towards building a production house that truly empowers stories and storytellers!"
Sharing her thoughts on the film, Kajol earlier said, "I couldn't be more thrilled to team up with Netflix once again after Tribhanga and Lust Stories 2, this time for an exhilarating ride that does Patti. The opportunity to be on streaming has been truly exciting as it allows us to venture into unexplored territories and present captivating stories to audiences across the globe. Do Patti has a standout script that promises a unique blend of adventure and mystery. It is a story that is not only rooted in India, but also promises the thrill that can be enjoyed by entertainment enthusiasts across borders "
Actor turned producer, Kriti Sanon earlier said, "Do Patti is a script that holds a very special place in my heart as it marks my debut as a Producer with my production house Blue Butterfly Films. I love every single aspect of filmmaking and have always wanted to be more creatively involved in stories that touch my heart. And I felt in my gut that I was ready to shift the gear and do more. I'm excited to collaborate with the extremely talented Kanika Dhillon as a producer and we couldn't have asked for a better partner than Netflix for this magical journey. Adding to our women power is the amazing Kajol ma'am, who I'm thrilled to be working again with after almost 8 years (since Dilwale). I just cannot wait for this ride to begin!"
Kajol and Kriti have previously worked together in Rohit Shetty's romantic drama film 'Dilwale' which also starred Shah Rukh Khan and Varun Dhawan in the lead roles. (ANI)
Read More: http://13.232.95.176/