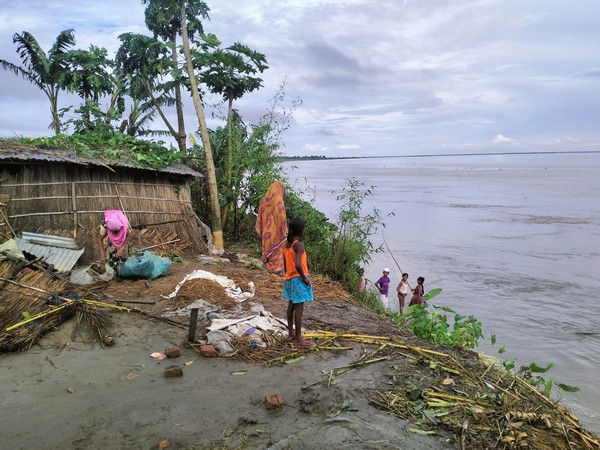 LM NEWS 24
LM NEWS 24
Landless Villagers Displaced Due To Assam Flood, Soil Erosion
Hundreds of families have been displaced due to floods and soil erosion caused by the Brahmaputra river in Assam's Barpeta district.
The mighty Brahmputra river has swallowed hundreds of bighas of land, several houses, school building, religious institution of Satra Kanara area under Baghbar assembly constituency in Barpeta district in recent times.
Md. Afsar Ali, a resident of Satra Kanara 11 no sheet village built his house 16 years ago, but now he is busy along with his family members to demolish his own house and ready to move to safer place to reside.
Md. Afsar Ali is doing this only because of soil erosion, caused by Brahmaputra river.
After swallowing hundreds bighas of land in past times, the river has now reached nearby his house.
"I am demolishing my house only because of the river. My earlier house was at Boroli area which was also swallowed by Brahmaputra river and is now doesn't exist. I built this house (at Satra Kanara 11 No Sheet village) 16-17 years ago. Earlier the river was 400-600 meters away from here, but now it has reached nearby my house. Now we will move to Matabari area to reside on road along my family. Around 400-500 other families are now living on roads. The river has swallowed everything. I am daily wage labourer. I will have to build my house newly. If the government will help us, then it will be better for us to live," Md. Afsar Ali said.
Not only Afsar Ali, many other families of Satra Kanara 11 no sheet, 10 no sheet are now ready to move the other places to live after the Brahmaputra river swallowed their lands, homes.
Jalaluddin Ahmed, a resident of Satra Kanara 10 No Sheet village said, "Earlier we had resided in Palarpaam village and that village is now submerged in river. In my life, we have demolished our house seven times only because of erosion. Every villager of this village has faced similar problem. We are totally helpless. I have nothing, everything has gone – my land, my house," Jalaluddin Ahmed said.
He further said that, the future of these people is nothing.
"This year, the government has done some works to protect to the river erosion, but the work was not properly done. Erosion is still continued. 500 families of this village have affected due to river erosion problem. Earlier the river swallowed at least 13 villages under Manikpur Gram Panchayat – Manikpur, Silosi, Boroli, Sutirpar, Ranirpam, Aligaon Pathar, Aligaon Paam,Aligaon NC etc. Around 1500 families of these villages were affected due to erosion. Several school buildings, government & religious institutions were eroded," Jalaluddin Ahmed said.
Jahan Ali, a resident of Satra Kanara 10 no sheet said that, most of the affected people are now living in Goalpara district and some of them are now working in Dimapur, Lucknow, Delhi as daily wage labourer.
"Around 95 percent people of this area are dependent in agricultural activities, but their lands were swallowed by the Brahmaputra river. Now they are landless and are facing lots of problems. The education system is also very poor in this area," Jahan Ali said.
Another villager Nazrul Islam said that, earlier his house was in Boroli village but that village does not exist.
"In last two decades, as many as 40 villages had been wiped out due to erosion. We are poor, where we will go, some people are residing on embankment, road. To earn bread many people have moved to outside of the district. A month before, the river swallowed a basti and the affected people are now residing on an embankment," Nazrul Islam said.
The affected people of Satra Kanara area are now struggling to live.
According to the Assam government data, the state has so far lost about 4.27 lakh hectares of land by the soil erosion of the Brahmaputra river and its tributaries. (ANI)
Read More: http://13.232.95.176/