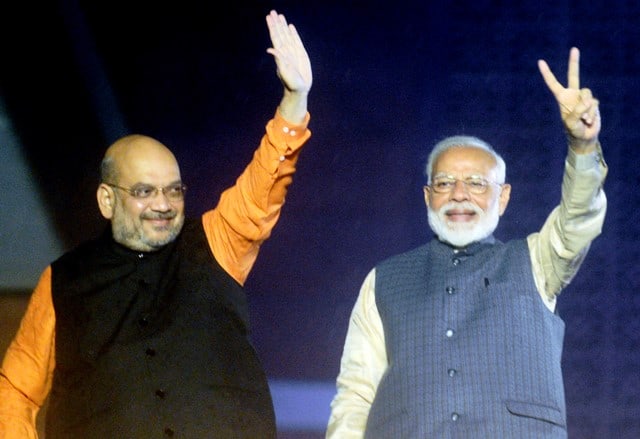 OPINION
OPINION
Leaving No Room For A Third Leader
<![CDATA[
Modi and Shah are making concerted efforts to ensure that their dominance in the party and the government remains unchallenged
In a series of tweets congratulating Prime Minister Narendra Modi and Home Minister Amit Shah recently for taking the bold and historic step of resolving the festering Kashmir problem, Defence Minister Rajnath Singh pointed put that the "groundwork" for this permanent solution was laid down over the last five years.
"In the first five years the government under the leadership of Prime Minister (Narendra) Modi prepared for the ground for a permanent solution in Jammu and Kashmir. Now, after coming back to power, we have taken many big steps in the direction of that solution," Singh said.
Ordinarily, this statement would have escaped attention but then we are not living in ordinary times. Singh's throwaway reference to the work done on Jammu and Kashmir in the Modi government's first term was essentially an attempt to draw attention to his contribution to this exercise and to claim his rightful place in the ruling dispensation's ecosystem since a systematic effort has been made to sideline him.  
Singh was heading the crucial home ministry in 2014 before he was moved to the defence ministry in the Modi government's second term. It's a different matter that unlike Shah, Singh never enjoyed the same clout as his successor today because of his proximity to Modi. Though Singh is technically the number two in this government, there is no doubt that Shah is the de facto second-in-command.
The process of marginalizing Singh, which began in 2014 when the BJP came to power, has continued after the Modi returned to form a government after a resounding electoral victory earlier this year. In fact, the sidelining of Singh is in line with the concerted efforts made by the Modi-Shah duo to see that no party senior or a leader with a mass base is allowed to get out of line or eclipse the BJP's big two. The wings of such potential candidates are invariably clipped so that BJP ministers and MPs remain faceless and beholden to Modi for their electoral victory.
While Singh has been rendered powerless for the past years, Transport minister Nitin Gadkari has been effectively silenced while former chief ministers Shivraj Singh Chouhan and Vasundhara Raje have been kept out of the power matrix in their respective states. Venkaiah Naidu was given the vice-president's post even though he was loathed to leave active politics.
The late Sushma Swaraj was never trusted because of her allegiance to BJP veteran leader LK Advani and was accommodated in the government as she could not be ignored given her experience, talent and seniority. However, she was not allowed to function autonomously though she was heading the crucial external affairs ministry. It was, therefore, not surprising when Swaraj opted out of electoral politics before the last Lok Sabha poll on health grounds and was denied a Cabinet berth in the government's second term though she could have been accommodated in the Rajya Sabha.
Rajnath Singh was put in his place soon after he took over as home minister in 2014 when he was not free to appoint his personal secretaries. He was further pushed on the defensive when the Delhi Durbar was rife with rumours, believed to be circulated by party insiders, that Modi had pulled up Singh's son Pankaj following allegations that he had taken money for arranging the postings of police officials. The BJP was forced to issue a denial after a furious Singh complained to the Rashtriya Swayamsevak Sangh. But the damage was already done.
More recently, Singh was kept out of key Cabinet committees and it was only after he threatened to resign that corrective measures were taken. Last month when Amit Shah presided over the groundbreaking ceremony of projects worth ₹65,000 crore in the Uttar Pradesh capital Lucknow, Rajnath Singh was conspicuous by his absence. Singh, who represents Lucknow in the Lok Sabha, was said to be traveling then but questions have been asked if the programme dates could not have been adjusted to ensure Singh's presence. Similarly, Singh had a minimal role in the government's recent moves on Jammu and Kashmir, which were handled by Modi, Shah and national security advisor Ajit Doval.      
Known to be a straight talker, Nitin Gadkari hit the headlines in the run-up to the last Lok Sabha elections when a series of controversial statements made by him were seen to be a pitch by him for the Prime Minister's post. Not only did he invoke Nehru and Indira Gandhi (at variance with party position) and speak of tolerance in his public remarks, Gadkari literally sought accountability for the BJP's defeat in last year's Rajasthan, Madhya Pradesh, and Chhattisgarh assembly polls. "If I am the party president, and my MPs and MLAs are not doing well, then who is responsible? I am," he said.
Paying tribute to Sushma Swaraj recently, Gadkari dwelt at length on how as BJP president he depended on her for advice. Truly a telling comment in view of Swaraj's equation with Modi and Shah. Today Gadkari is barely seen or heard and the only time he is in the news is when he has a fainting spell which is quite frequent.
Though he lost his government in the last assembly election, former Madhya Pradesh chief minister Shivraj Singh Chouhan wants nothing more than to get back his old job. But the BJP's Central leadership is not obliging him by toppling the Kamal Nath government though it has a wafer-thin majority in the assembly. While it is well-acknowledged that Chouhan's personal popularity has not dimmed, Modi-Shah duo wants to hand over the reins of the state to a new leader. This was evident when Chouhan was not given charge of the party's state unit or made the leader of the legislature party.
Former Rajasthan chief minister Vasundhara Raje was also denied a position in the state after her defeat. She had blotted her copybook during her tenure as chief minister when she challenged Modi over appointments in the state unit and distribution of tickets during the assembly elections. Raje has been keeping a low-profile since then though like Chouhan, she was appointed party vice-president at the national level but this was to guard against their interference in the party's state unit. After the party lost the assembly polls, the BJP made a conscious decision to give tickets to Raje's detractors in the Lok Sabha elections and followed it up by accommodating them in the Modi government at the Centre. The result is that the two-time chief minister and a one-time powerful leader has been virtually banished from active politics.
It all began in the run-up to the 2014 Lok Sabha elections when senior leaders like LK Advani, Murli Manohar Joshi and Yashwant Sinha were put to pasture. And it is clear this exercise is continuing as Modi and Shah work assiduously to see that their dominance in the party and the government remains unchallenged.