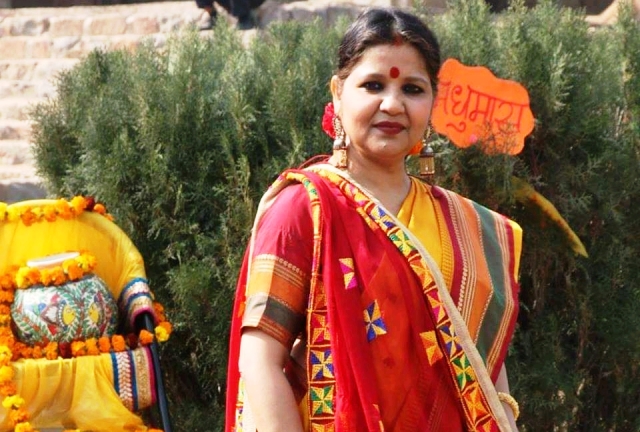 LOK ISSUES
LOK ISSUES
'Let Us All Work Towards A Green Diwali, Greener Delhi'
Babeetta Sakxena, 52, is a social entrepreneur based in Noida, Delhi-NCR, who has been working towards a pollution-free Diwali by sensitising people about environment. She shares her view on how going back to our roots will lead to a 'green Diwali'.
I have been organising Green Diwali Bazaar at the Aga Khan Hall (a prime location for exhibition and niche bazaars) for the past three years and I must say that the attitude of people regarding pollution, especially due to the humongous amount of crackers burnt on Diwali, has undergone a sea change.
In fact, there are many people who want to celebrate a more environment-friendly Diwali but just don't know how to or even if they know how to the products are not easily accessible. Right now as per news there's a serious shortage of green crackers and people don't know how to deal with it. They only need a little hand-holding and we are more than glad to provide sustainable products for Diwali.
However, even though green crackers still haven't made their way into the markets, one of our initiatives called Back to Roots creates awareness about how some of our older traditions were worth their weight in gold when it came to protecting the environment.
I believe one does not need a law to be passed to protect the environment. In olden times, it was a way of life. And hence the Back to Roots initiative. Caring for the plants, trees and animals has been like caring for your family in this country. Everything from diyas to crackers could be disposed off easily.
The pollution scene in Delhi-NCR since 2016 has been particularly bad. This reaches its worst level on Diwali festival. Earlier, there were reports of how asthma patients would suffer terribly on Diwali, but now the whole winter season in Delhi-NCR has become difficult to bear. Add to that skin issues as well as problems like chronic fatigue because of pollution, the effects of which aren't immediately visible, but take a heavy toll on people.
I am glad that the new Supreme Court ruling last year allows for the sale of only green crackers which have low emissions as well as low decibel levels. In fact, if I may suggest, we can perhaps do away with crackers altogether, green or not. Even if every person bursts a few crackers, it undoes months of pollution control measures (The current population of Delhi is 2.9 crores).
After all, Diwali is about letting your inner light shine bright and the crackers are just a ritualistic representation of that.
A child like Greta Thunberg has shown us the way to live a greener and cleaner life and we see many kids not wanting to buy crackers at all but trying to celebrate Diwali in other ways: like through music and food. And in my opinion caring for the environment is a bigger duty than patriotism or akin to it. If you really want to serve your nation, serve your environment.