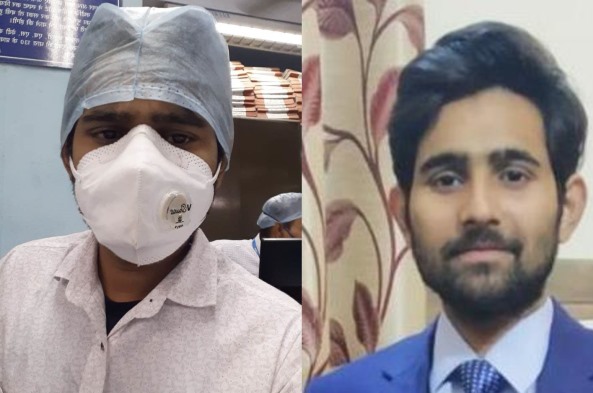 LM NEWS 24
LM NEWS 24
'Life In Hot Spot Is Tough, Going To Work Makes It Worse'
Himanshu Saxena, resident of a hot spot zone in Moradabad, Uttar Pradesh, goes to work at a bank daily. Saxena says he lives in constant fear of contracting Covid-19
I live in the Chaurasi Ghanta area of Moradabad. The area is close to a hot spot, Nawabpura, which was in the news recently for attack on the police and medical team isn't very far off from where I stay. Moradabad has seen a drastic increase in coronavirus cases recently.
Living in a hotspot is indeed tough. The rules for movement are very strict. Even if you want to take your mind off coronavirus for a single minute, you can't. You know that you are living in a high-danger zone and every day you have to find your courage again and again to be able to go to work.
Since I work in a bank, unlike other people I can't work from home and I have to go to work every day at Gandhi Nagar. So, you can say people like us have suffered a double blow. We suffer because of lack of services and are constantly exposed to the virus because we go to work every day.
When I come back from work, I have to take full precaution that I do not touch my family members without first taking a bath properly. Earlier we all used to sit together as a family in the evenings and laugh with each other. That has stopped. With not being able to meet friends and neighbours and limited interactions with our own family members as well, we hope this ends soon. I totally respect social distancing though.
We spend a lot of time updating ourselves on the current local news. The good thing is that people in my area cooperate with the police and the medical teams and listen to them as well as give their inputs.
I hope the situation improves soon and our lives can go back to normal. This living in constant fear, the spectre of coronavirus hanging over everyone's head all the time, has gone on for too long now.
At the bank, ensuring that the many welfare schemes started by the central and state governments are reaching the poor through the bank is a tall order. We can't afford to slack off for even a minute, because someone's life or livelihood might depend on it. My father runs a government PDS (Public Distribution Scheme) shop, so both of us come under the category of essential service provider ourselves. He also has to go to work every day.
With both of us out for work daily, our family is completely dependent on the other essential service providers for fruits, vegetables, milk etc. Despite all the precautions, we still fear about coming in contact with strangers and worry about how many hands the fruits and vegetables might have been transferred through.