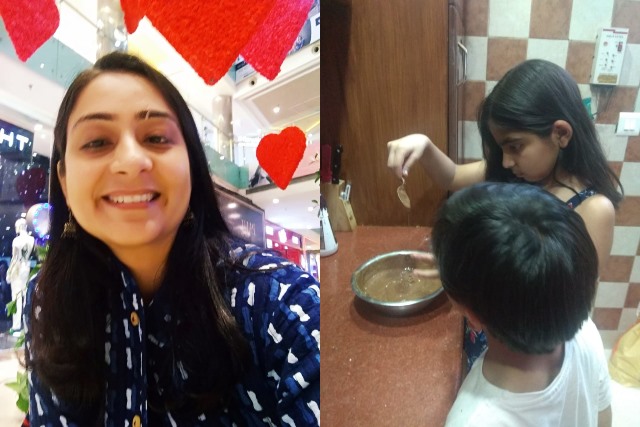 LOK ISSUES
LOK ISSUES
'Lockdown Has Turned My Children Into Prospective Chefs'
Anjali G Sharma, a South Delhi-based social activist, is happy that her young children have taken to cooking with much enthusiasm and even share recipes with their cousins
Coronavirus has brought about multiple changes in our lives, but one change that makes me really happy is how easily my children have taken to learning basic cooking skills. It all started when the maid stopped coming to work due to lockdown.
My children, Anisha (10) and Aryan (6), saw me spending longer hours in the kitchen for long time and they wanted to help. What started as helping, soon turned into inquisitiveness and curiosity, something I was too happy to attend to. Between my work and my children's online classes, a lot of time would be spent discussing food. I slowly started teaching them flameless cooking and then moved on to preparing sandwiches, about ingredients and portioning.
Let me share a cute-yet-hilarious story with you. One of these days I thought of making samosas for the kids. It turned out to be super tasty and my six-year-old son shared this fact with his five-year-old cousin over the phone. The cousin then asked for the samosa's recipe and duly noted down. Next, he showed it to his mother and asked for the same fare. The young cousin was moved enough to write a thank-you note to my son, which we have saved with us.
Can you imagine five- and six-year old discussing food over the phone! I am glad that this has happened, for everyone should know basic cooking skills. The coronavirus induced lockdown has proved to be easier for people who were equipped with basic cooking skills.
My daughter has literally turned a 'pro' at baking. She can now do end-to-end baking on her own after nearly two months of lockdown and I only help her when it comes to putting the baked item in the cooker. She is one proud, smart and meticulous baker.
The children now also watch quite a lot of food videos. And sometimes they are open-eyed with wonder as to just how many amazing things can be prepared in the kitchen. I think more than teaching kids cooking, it's about igniting the fire of enthusiasm inside them and letting them know that as parents we trust them with important tasks.
One thing I admire about my kids is that don't waste a single item even while learning. Even before the lockdown, we as a family took care to not waste anything on the plate, plus recycle anything that we can. But post-lockdown they understand that grocery items aren't as easy to come by. Plus, they like letting their imagination run free about the various food combinations that can be had and aren't as choosy about they eat anymore.
During my children's online classes, their teachers keep sending them videos related to one subject or another. So one day my son received a video wherein there was an ad for Rajma Burger. And guess what the young man wants to make now? Yes, Rajma Burger!
Before lockdown, I wasn't much into cooking. But I must admit now that I have begun to enjoy it and find it relaxing and therapeutic. There is a sense of pride and delight running through our house these days because we have all begun to enjoy one common activity and thus get a lot of time to bond with each other.