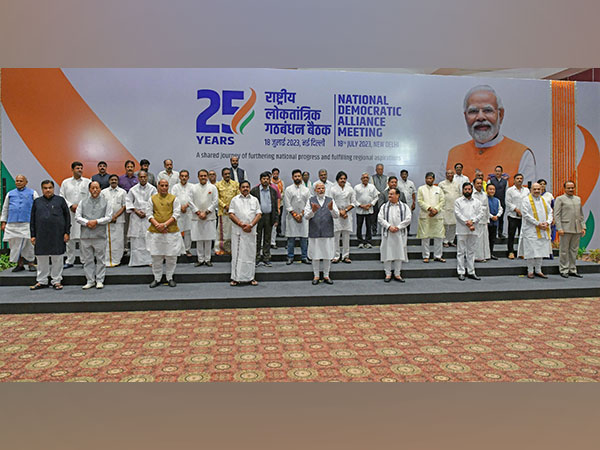 LM NEWS 24
LM NEWS 24
LS 2024: Modi To Hold Meetings With NDA MPs From Tomorrow
Prime Minister Narendra Modi is slated to hold meetings with groups of National Democratic Alliance (NDA) MPs between July 31 and August 10 as the alliance gears up for the 2024 Lok Sabha elections.
Earlier on Tuesday, BJP leaders held a meeting in the national capital in which 10 groups of NDA MPs were formed to deliberate on programmes for the 2024 general election, party sources said.
The groups have been formed as part of efforts to bring more synergy to the poll efforts of NDA constituents.
Prime Minister Narendra Modi is scheduled to hold Cluster -1 meetings with groups of NDA MPs from West Uttar Pradesh, Bundelkhand and Brij region on Monday at 6 PM at Maharashtra Sadan. BJP National President JP Nadda, Defence Minister Rajnath Singh and Home Minister Amit shah will also be present at the meeting, a source told ANI.
The Cluster -2 meetings with groups of NDA MPs from West Bengal, Jharkhand and Odisha are scheduled at 7 PM on Monday at the Parliament Annexe building. Amit Shah and Rajnath Singh will be present at the meeting.
"Ten groups of MPs have been formed. PM Modi is to chair the meetings of each group," a source told ANI. Meetings on the first day will have MPs from Uttar Pradesh, West Bengal, Jharkhand, and Odisha, the source added.
The BJP will also celebrate the 25th anniversary of the NDA, with the ruling alliance seeking to set the narrative for the 2024 poll battle.
Sources said Union ministers Nitin Gadkari, Amit Shah, and Rajnath Singh, along with BJP chief JP Nadda have been given the responsibility of coordinating with the NDA leaders.
Four leaders including Bhupendra Yadav, Sarbananda Sonowal, Tarun Chugh, and Rituraj, have been given the responsibility for the NDA programmes. Four more leaders including Prahlad Patel, Arjun Ram Meghwal, and V. Muraleedharan are also associated with them. There will also be another team of ministers and MPs who will be assisting in these tasks.
Apart from the Parliament, programmes will also be held in different state bhavans in the national capital like that of Maharashtra and Uttar Pradesh.
This is the first time that the leaders of the alliance will have region-wise deliberations. The BJP is working on a plan to secure a 50 per cent vote share in the Lok Sabha election along with allies, sources said.
The BJP leadership has identified 160 relatively weak constituencies and the party is putting up extra efforts to turn around its prospects in those constituencies.
With the opposition putting up a united front, the NDA led by the Bharatiya Janata Party (BJP), held a mega meeting on July 18. The BJP-led NDA has 38 parties under its fold. (ANI)
Read More: http://13.232.95.176/