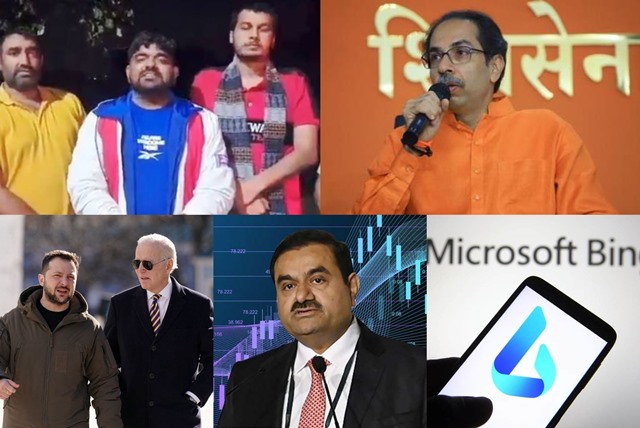 THEBUZZ
THEBUZZ
Lynchings and Demolitions Become a "Model" in India
Lynchings and Demolitions a "Model"
One use of the word, "model", is to describe a thing or a practice that can be followed or imitated by others and although the literal definition of that meaning doesn't incorporate it, the word "model" is usually associated with positive attributes. Hence, the phrases, "role model" or a "model for development" and other similar ones. But last week when members of the Hindu mahapanchayat in Haryana's Manesar town clamoured for the state to follow the "Uttar Pradesh model" it was a most sinister practice that they wanted the authorities to emulate: demolition by bulldozers of unauthorised and illegal settlements.
On the face of it, the demolitions, aimed at illegal encroachment of public spaces and state owned land may have a legitimate objective but last year when a spate of such demolitions happened in several states, but mainly in Uttar Pradesh, there were allegations that the practice was abused and demolitions were aimed at settlements that had mainly Muslim residents or small businesses run by that community. In fact, bulldozing demolitions has become a sort of retributive action.
Last week's mahapanchayat meeting, attended by hundred of villagers from in and around Manesar, was held to show solidarity for an individual named Mohit Yadav, aka Monu Manesar, whose dubious claim to fame includes several criminal charges, including being accused in a very recent case where two Muslim men were burnt to death in a car, presumably by right-wing cow vigilante groups who have in recent years become very active in lynching anyone who is suspected of cow slaughter or transportation of cows for slaughter. The strictest laws are in Delhi, Gujarat, Haryana, Himachal Pradesh, Jammu and Kashmir, Ladakh, Punjab, Rajasthan and Uttarakhand, where the slaughter of cows and their progeny, including bulls and bullocks of all ages, is completely banned.
However, the law is interpreted quite loosely by so-called cow vigilante groups who are believed to widely use mere suspicion as a compelling reason to unleash their vengeance against Muslims. Since 2014 when the Bharatiya Janata Party came to power at the Centre, the number of lynchings in the name of "cow protection" has soared.
Mahapanchayats, which are usually run by khaps or community organisations representing a clan or a group of North Indian castes or clans, are gatherings that cover 10-12 villages. Khaps, which advocate and often order honour killings (for marrying or eloping couples that are from different castes) and also decide on property rights, as well as other matters, have no legal status and are, indeed, banned by the courts in India. Yet, in rural parts of northern India, primarily in Haryana where the khaps are most belligerent, they still thrive.
Last week, in Manesar, the khap-fuelled Mahapanchayat came out in support of a criminal with murder charges and protested against the police action against him. The police that came to Monu Manesar's village were from Rajasthan because the murders of the two Muslim men had taken place there across the border from Haryana. The Mahapanchayat tried to block the policemen from entering the village and even briefly blockaded the highway connecting Delhi and Jaipur.
The bodies of the two men who were believed to have been killed in Rajasthan were found in the charred vehicle across the border in Haryana's Bhiwani district. Manesar is believed to have led the group that perpetrated the crime. He remains unapprehended. Manesar is a sort of a hero among local right-wing Hindu militants. A member of the Bajrang Dal, a militant youth wing of the Vishwa Hindu Parishad, he also has a YouTube channel (with more than 200,000 subscribers) where instances of cow vigilantism are posted.
The disturbing thing is that the Mahapanchayat while protesting against the police action against Manesar has also supported vigilantism against "cow slaughter" and called for Haryana to adopt the "Uttar Pradesh model", ostensibly to target Muslims. This is yet another distressing trend in the growing wave of discrimination and persecution of minorities in today's India.
Shiv Sena: End of the Thackeray era?
In 1966, the late Bal Thackeray, a former professional cartoonist, founded the Shiv Sena party, which began as a pro-Marathi nativist movement in Maharashtra. The party wanted Marathi people in the state to be preferentially treated vis-a-vis migrants from other parts of India and agitated for that cause. Over the years, however, the party has changed its ideology sharply, moving from regionalism to ultranationalism and then swinging towards secularism. In fact, last year when former Maharashtra chief minister and Bal Thackeray's son, Uddhav Thackeray, forged an alliance with the Congress and the Nationalist Congress Party, the hardliners in the party, led by Maharashtra chief minister Eknath Shinde, forced a split in the party.
After a legal battle between the two divisions, last week witnessed the Shinde faction taking charge of the party and getting the court-approved right to use the party's traditional bow and arrow symbol as well as the name, Shiv Sena.
This comes as a blow to Thackeray and his faction. He has appealed the Supreme Court order in the matter but for the moment, the Thackeray has come to an end in Shiv Sena.
Could Biden's visit to Ukraine aggravate the Russian offensive?
US president Joe Biden paid a surprise visit to Ukraine last week to show solidarity towards the nation as well as to its beleaguered president Volodymyr Zelenskyy. Biden's visit marked one year since Russia attacked Ukraine and the beginning of the ongoing war. After his visit, Biden was quoted as saying: "I've just come from a visit to Kyiv, and I can report: Kyiv stands strong, Kyiv stands proud, it stands tall and, most importantly, it stands free."
Biden said Russia would never win the war and that the US and its allies would consider fresh sanctions against the country if it did not relent in its offensive against Ukraine.
Meanwhile, in his state of the union address last week, the Russian president Vladimir Putin blamed the West and Ukraine for starting the war, a view that he has espoused ever since Russia began its attack. He also announced that Russia was suspending its participation in the strategic offensive arms treaty (START). The new START was signed in Prague in 2010 and it limits the number of strategic nuclear warheads that the US and Russia can deploy, and the number of land and submarine-based missiles and bombers they can use to deliver them. Russia has the highest stockpile of nuclear weapons in the world with an estimated 6,000 warheads. Russia and the US together have more than 90% of the world's nuclear warheads, enough to destroy the world many times.
In recent weeks, Russian attacks against Ukraine have intensified and there is, at least for the moment, no sign of an end in the conflict.
Adani stocks continue to plunge after Hindenburg report
The bloodbath in Adani group's stocks continues well after short-seller and activist firm Hindenburg Research accused the group of financial irregularities and price manipulation. When the report was released in January, Adani was ranked as the third richest billionaire in the world. As a result of the crash of his group's stocks, he is now down at the 33rd spot, according to the Forbes' Real Time Billionaires list. According to Economic Times, with stocks falling up to 84% from their 52-week high levels, the total market capitalization of all 10 Adani stocks has reduced by 62% to Rs 7.32 lakh crore in a month.
The meltdown in Adani stocks has also spread to affect the market sentiment on the Indian bourses. The Nifty last week was down by more than 3% compared to a month ago and one of India's biggest insurance companies, LIC, which is a large investor in Adani group companies, could make a notional loss of around Rs 30,000 crore on account of its investments in the conglomerate's stocks.
Microsoft's Bing gets shirty in trial runs
Microsoft, which is getting ready to launch its AI-based chat, the enhanced Bing, could have a bot with an attitude on its hand. The IT giant has been rolling out the AI chatbot to select users for a few weeks now and it is getting some interesting feedback. One phenomenon is especially noteworthy. If asked many questions, the chatbot is reported to get a bit unhinged and irritable. On some occasions, it has threatened users and even compared them to Adolf Hitler.
As a consequence, Microsoft is believed to be modifying the bot, including limiting the number of questions that can be asked of it.
Read More:http://13.232.95.176/