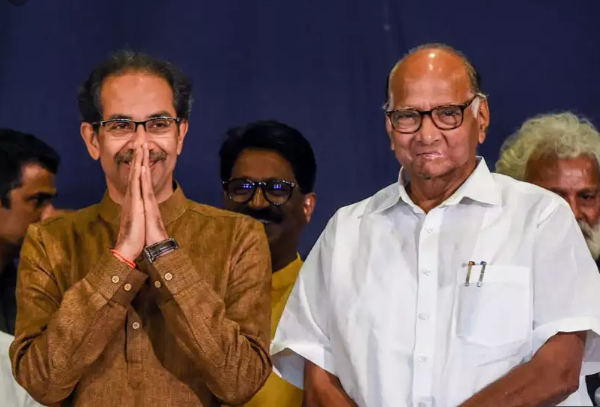 OPINION
OPINION
Mahabharata In Maharashtra
Associated with Realpolitik that sets pragmatism over ideological goals, the phrase "politics is the art of the possible" entails that "it's not about what's right, or what's best. It's about the attainable."
Nineteenth-century German politician Otto Von Bismarck who coined it couldn't have foreseen events in present-day India, or in Maharashtra. He would have been flummoxed by the way even Realpolitik is played.
It is difficult to say who won in Maharashtra that saw a government ushered in by subterfuge that had to quit within three days. Besides greed for power that comes natural to all contenders, this happened because of abdication by institutions established under the Constitution.
To begin with, the President signed a proclamation revoking the governor's rule at an unearthly 5.43 AM. The Union Cabinet did not meet to recommend it. (This was justified by the Law Minister, of all days, on the Constitution Day).
Next, the state governor, obviously on New Delhi's diktats, hastily swore in by 8 AM Devendra Fadnavis and as his new deputy, Ajit Pawar. He did not verify the claim of majority support from among the newly-elected legislators. Even after the dust settles, his conduct shall be debated.
The Supreme Court heard the matter on a Sunday morning, an official holiday. But three honourable judges reserved their ruling when they could have issued clear directions for floor test in the legislature citing well-established precedents. That allowed contenders and their cronies — carpetbaggers all – to abuse all democratic norms in activities from swank hotels and resorts to the streets.
The apex court finally controlled the damage with clear-cut rulings, but after 48 hours. It not only gave the Fadnavis government just one day to get the assembly's confidence vote but also stipulated that the proceedings should be telecast 'live', conducted by a pro-tem Speaker and held by an open ballot.
Without dwelling on the background details that are too many, problems for the BJP ruling at the Centre, always resorting to the jugular to extend sway across the country, began with falling short of majority in both states that went to the polls last month.
It roped in a rival party in Haryana co-opting its chief as the deputy chief minister. But in Maharashtra it reneged on a fifty-fifty pre-poll pact with its oldest ally Shiv Sena (at least Sena insists so).
Despite winning half of the seats than the BJP, Sena, fearing future marginalization from a marauding BJP in the only state it has political base, insisted on the chief minister's post.
After a month's stand-off, it broke with the BJP and aligned with old rivals, Nationalist Congress Party (NCP) and the Congress. The latter prevaricated, unwilling to align with an untrustworthy ideological adversary when NCP chief Sharad Pawar emerged as the catalyst. To his credit, he insisted, and secured, Sena's formal parting from the BJP-led ruling alliance.
The BJP prime movers, Narendra Modi and Amit Shah grabbed the weakest link in the Opposition chain – Ajit Pawar, NCP chief's controversial nephew. He succumbed, to escape probe for graft charges worth billions instituted by the Fadnavis Government-1.
Having got him, the short-lived Fadnavis-2 withdrew nine of the 20 charges. But the next day, Ajit quit, under severe family pressures. Stripped of perceived majority minus Ajit, in no position to face the floor-test, Fadnavis resigned, with egg on his and the BJP's face.
Now, some noteworthy points on the way polity functions. Split verdicts in an election have been creating conditions when political mores and constitutional norms are wrecked. Money flows — the going price of a Maharashtra legislator this time was, reportedly, a staggering Rupees 50 crores.
The "Aya Ram, Gaya Ram" political culture of trading in legislators that goes back to the 1960s has burgeoned. People have got used to seeing those they vote changing party labels and loyalty for power and pelf. Come to think of it, all four parties were brazen and shameless, but BJP behaved with maximum impunity.
No popular movement has been unleashed to protest this trend. India's middle class scoffs at corruption in general, but is selective on political corruption. The venerable Anna Hazare, the anti-graft movement hero six years ago, hailing from the same Maharashtra, is today silent and ignored.
Maharashtra's changed political line-up has blurred the secular-communal divide. An aggressive "Hindu nationalist" Shiv Sena is being embraced by the NCP, the Congress, the Samajwadi and others. Keen to beat back a marauding BJP, the secularists (this term is getting blurred) have embraced Sena despite its record of regional chauvinism and its avowed "Hindu nationalism" that is more aggressive and regressive than the BJP.
The BJP-Sena split has raised new worries in influential quarters. The caste factor has always kept a pluralist Hindu society divided. Lord Meghnad Desai, the British peer and an avid Modi fan, laments: "If two Hindu nationalist parties cannot agree on a power-sharing coalition because of the Brahmin/non-Brahmin difference, what hope is there for a Hindu Rashtra?"
The Maharashtra events are a resounding slap on the faces of Modi and Shah. Their template of being the modern-day Chanakyas has taken a hit. Their 'nationalism' platform aggressively selling their Kashmir initiative and labeling its critics 'traitors' did not bring enough seats. Local issues and regional parties mattered. Besides unemployment, farm distress is a serious issue in Maharashtra.
The Pawars are a dynasty, the reason why Ajit the rebel, turned prodigal. Now Pawar sups with another dynasty, the Thackerays and the oldest dynasty of them all, the Congress' Gandhis.
This is Pawar's moment, thanks to the BJP's Maharashtra folly. India's increasingly one-sided political discourse has been seriously breached with Pawar's emergence. Although ageing and ailing, he has a stature around whom a leader-less Opposition, particularly the Congress, can build its future campaign against the BJP. That is, provided they sink their egos — a big 'if' in Indian context.
Road for this has been paved in Maharashtra, the second-largest state that elects 48 Lok Sabha members, next only to Uttar Pradesh. Equally important is the fact that the state, despite numerous flaws, remains India's richest and its capital is also India's principal financial/ commercial hub. Losing Maharashtra is the biggest blow the BJP has suffered since 2014.
Maharashtra has a chief minister in Uddhav Thackeray, 59, who has had zero experience in governance. He has remained under the shadow of his father, late Balasaheb, who founded and built a party with a chauvinistic agenda and resorts to strong-arm tactics. India Inc. couldn't be happy by this development fearing political instability and the resultant damage to an already slowdown-hit economy.
The new combine will have to battle and rein in their several inner contradictions and with Pawar playing the 'Pitamaha', ensure that they do not overwhelm governance.
The writer can be reached at mahendraved07@gmail.com