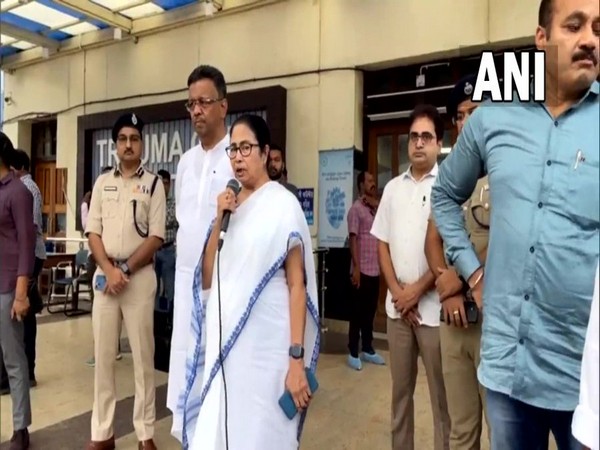 LM NEWS 24
LM NEWS 24
Mamata Visits Hospital To Meet Victims Of Panchayat Poll Violence
West Bengal Chief Minister Mamata Banerjee on Wednesday reached SSKM Hospital and met the victims of the Panchayat Poll violence.
During her visit, Mamata announced financial assistance of Rs 2 lakh to the dependents of the deceased and Rs 50,000 to the injured.
"We are giving compensation of Rs 2 lakhs to the families of those who died in the violence and a job to one family member. We are giving Rs 50,000 to the injured," West Bengal CM said.
Emphasising the unity among opposition parties, Mamata Banerjee hit out at Bharatiya Janata Party (BJP) and said that they are trembling with fear.
"People who have no work just do violence, protest and make people fight with each other. This is the work of the BJP, but people will respond to this by voting peacefully. India will face elections…since yesterday they (BJP) are trembling with fear," West Bengal CM said.
The Panchayat elections in West Bengal took place on July 8 and counting of the votes for 63,229 -Gram Panchayat seats took place on July 11.
TMC has won 28,985 seats and the Bharatiya Janata Party (BJP) 7,764 seats, while Congress has secured 2,022 seats so far. TMC was leading on 1,540 panchayat seats while BJP was leading on 417, according to the State Election Commission (SEC).
Communist Party of India-Marxist (CPI-M) has won 2,409 seats and is leading in 260 seats. Other parties won 725 seats and led on 23 seats, while independents which included TMC rebels won 1,656 seats and are maintaining a led in 104 seats.
Elections were held on July 8 under tight security, with approximately 5.67 crore voters participating and deciding the fate of 2.06 lakh candidates vying for 73,887 seats in rural areas of West Bengal.
However, the voting day was marred with widespread violence, looting of ballots papers and rigging. There were reports of booth capturing, damaging of ballot boxes and assault of presiding officers from several districts such as Murshidabad, Cooch Behar, Malda, South 24 Parganas, North Dinajpur and Nadia.
Reports also emerged of ballot boxes being set on fire and clashes between political parties in different locations. (ANI)
Read More: http://13.232.95.176/