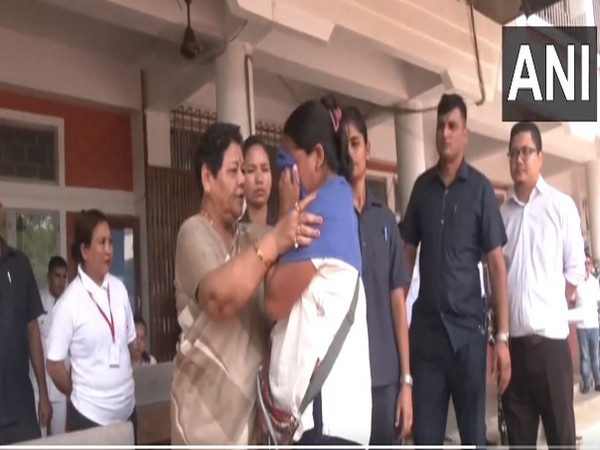 LM NEWS 24
LM NEWS 24
Manipur Gov Visits Relief Camp In Churachandpur, Consoles Woman
A video showing Manipur Governor Anusuiya Uikey "consoling" a woman at a relief camp in the violence-hit Churachandpur district of Manipur surfaced on Saturday.
Manipur Governor Anusuiya Uikey on Saturday visited relief camps in Churachandpur and consoled a woman who narrated her story.
She met several locals displaced during the violence that erupted on May 3 and assured the affected people that the government would offer compensation to those who lost family members and experienced property damage.
Read more- Manipur Video: CBI Registers Case, Launches Probe
BJP Leader Quits Party Over Manipur, Says 'PM Is Sleeping'
Additionally, she expressed her commitment to promoting peace and ensuring a bright future for the people of Manipur, promising to do everything in her power to achieve these objectives.
During a visit to a relief camp, a women narrated her ordeal to the Manipur Governor and started to weep as other women looked on.
As per the video, the Governor can be seen walking up to the grief-stricken woman and consoling her. During her visit to the relief camps, several dispaced locals asked when peace would return to the state.
The Governor said, "The people here want to return home. I am striving to bring all parties together in the interest of restoring peace to the state."
Earlier, Governor Anusuiya Uikey on Saturday urged the visiting I.N.D.I.A leaders to contribute to the restoration of peace and order to the violence-hit Northeast.
She also called on all parties and stakeholders help put the state back on track.
Speaking to reporters after visiting relief centres in Churachandpur, which was the epicentre of the ethnic violence in the state, Governor Uikey said, "People are asking when peace will be restored to the state. I make constant efforts to bring communities and stakeholders together in the interest of restoring peace to the state. We are also calling on all political parties to help us in this effort."
On the two-day visit by the Opposition delegation, the Manipur Governor said, "I would appeal to them to contribute towards restoring peace to the state."
After visiting people displaced by the ethnic violence at the Churachandpur relief shelters, the Governor said, "The government will provide compensation to people, to lost family members to the violence and also suffered loss of property.
I will do everything possible to bring peace to Manipur and towards the welfare and well-being of the people, across communities." (ANI)