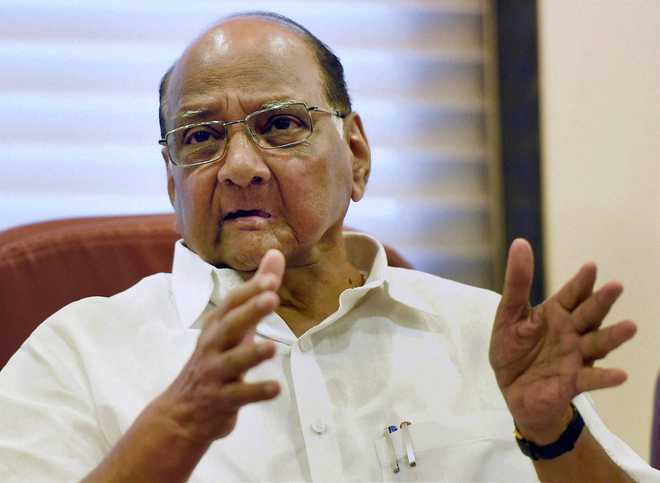 OPINION
OPINION
Maratha Strongman's Last Chance To Be PM
<![CDATA[
Sharad Pawar is seen as the proverbial dark horse for the Prime Minister's post if the opposition can garner the requisite strength in the Lok Sabha
Describing the job of a Prime Minister, a former minister once remarked that he is like the CEO of a company who presides over a board of directors. "The important thing is to pick the right people to serve on the board," he added.
There is all-round agreement that going by this job description, Nationalist Congress Party chief Sharad Pawar will prove to be an ideal candidate for the country's top post. Pawar's supporters never tire of pointing out            that the NCP chief comes with a wealth of experience, a knack for spotting talent and bringing out the best in his colleagues and officials.
The veteran leader has been in politics for over 50 years, winning his first election to the Maharashtra assembly in 1967 and subsequently went on to become the youngest chief minister of his home state at the age of 38 years. He understands the intricacies of electoral politics and has been an able administrator, having proved himself both as a chief minister and a Central minister.
Pawar is a four-time chief minister of Maharashtra, was the defence minister in the Narasimha Rao government and held the agriculture portfolio in the Manmohan Singh-led United Progressive Alliance government.
Pawar is regarded as a wise and mature politician, whose advice is taken seriously. It was a known fact that former Prime Minister Manmohan Singh valued him as a Cabinet colleague and relied on him for his inputs on key government decisions. Unlike other UPA allies, Pawar did not throw too many tantrums but, nevertheless, the senior leader managed to have his way with his quiet and understated manner.
Lately, Congress president Rahul Gandhi has been consulting Pawar as the Maratha strongman has stepped in to help weld the disparate opposition parties into a cohesive and viable anti-BJP coalition.
The NCP chief is considered a good choice for this task since he has cultivated friends across the political spectrum during his long innings in public life. His political clout was on display during his 75th birthday celebrations in 2015. The mega show at Delhi's Vigyan Bhavan was attended by a galaxy of political leaders, including Prime Minister Narendra Modi and former Congress president Sonia Gandhi, perhaps the first time that these two leaders shared a stage.
It was then said that the elaborate celebrations, held in Delhi and his Lok Sabha constituency Baramati, had been planned to underline that the Maratha strongman has a national profile even though his party's presence is limited to Maharashtra and he is out of power. It was also whispered then that Pawar had an eye on the Rashtrapati Bhavan as he believed he had the necessary seniority and stature for the President's post.
Moving on from there, Pawar today is being mentioned as the proverbial dark horse who could make the cut for the Prime Minister's post in the event that the opposition camp gets the requisite numbers to form the next government. Pawar, it is said, can emerge  as a consensus candidate as the  regional satraps would prefer him to Rahul Gandhi.
Besides the fact that the NCP chief has the qualifications and the temperament to run a government and manage  fractious coalition partners, Pawar (with his nine-odd MPs) also poses no threat to the other regional parties who have to constantly look over their  shoulders to protect their turf. Another big plus in Pawar's favour are his ties contacts with the corporate world.
On the flip side, Pawar has acquired a reputation of being untrustworthy. His motives for befriending someone or taking a particular decision are generally eyed with suspicion as there is always a nagging feeling that his moves are driven by a hidden agenda. After all, Pawar had walked out of the Congress in 1978 after breaking up with his political mentor Y.B.Chavan. He was brought back to the party by Rajiv Gandhi but was lost no time in pitching for the Prime Minister's post after the Congress leader's assassination in 1991. He was, however, outmaneuvered by the wily P.V.Narasimha Rao. He again lost to veteran leader Sitaram Kesari when he attempted to wrest the presidentship of the Congress party.
Realising that there was little possibility of his upward mobility in the Congress once Sonia Gandhi took over as party president, Pawar raised a banner of revolt in protest against her foreign origins. He was then shown the door. Pawar went on to form the NCP but he met with limited success in his home state and was forced to stitch up an alliance with the Congress in Maharashtra when neither party could muster enough numbers to form a government on its own. The two parties ran a coalition government for three terms. A chastened Pawar subsequently accepted the olive branch extended to him by Sonia Gandhi and joined the United Progressive Alliance in 2004. It proved to be a smart move as he was drafted as a agriculture minister when the Congress-led UPA won the 2004 Lok Sabha election.
Lately, however, there appears to be an erosion in Pawar's authority within his own party. This was evident when the NCP chief first announced in March that he would contest the Lok Sabha election but was pressured to make way for his grand-nephew following fierce infighting in the family. Pawar has denied rumours of any rift and has led a tireless campaign in the ongoing election in a bid to re-establish his authority within the party and to send out a message that he remains the NCP's undisputed leader.
Despite Pawar's best efforts, these developments have led to speculation that Pawar's weakening grip over his family and party will make it difficult for him to pitch for the Prime Minister's post. Conversely, there is also a view that his weakness may yet prove to be his strength.