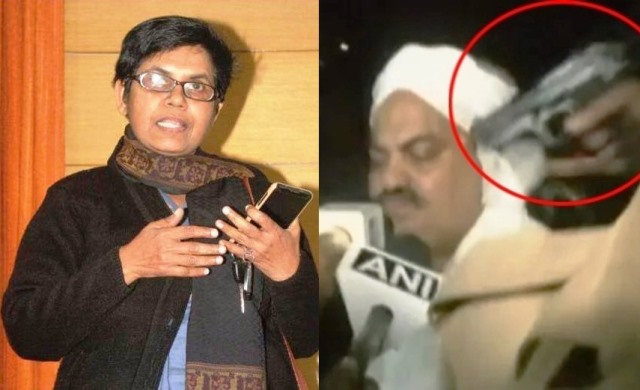 LOK ISSUES
LOK ISSUES
'Mastermind of Atiq & Ashraf's Murders Hiding Behind The Curtain'
Suman, a senior journalist based in Lucknow, UP, says that the live-on-TV murders of Atiq Ahmed and his brother Ashraf appear to be a scripted drama. Her views:
The murders of Atiq Ahmed and his brother are indeed uncannily strange and surprising. The young, amateur, unknown killers, from small towns in UP, were not using 'tamanchas' or 'kataas', the desi, country-made guns manufactured in the underground criminal network; they were using expensive, sophisticated, foreign pistols with expensive bullets. They don't seem to be amateurs at all as the pistol was put on the 'kanpati' of Atiq and fired at point-blank range – they behaved like "seasoned assassins" who know their job.
How did they get together and hatch this plan, and execute it with such efficiency and precision, and with such daring, right under the nose of the armed UP police, if they happen to be such small-time criminals, and apparently not connected to each other or any organized mafia or gangsters' group? Clearly, they were hired by someone – as fully-trained and cold-blooded 'assassins'!
Surprisingly, except for the two brothers who got killed, nobody seems to have got injured as these killers fired several rounds! Not a single cop got injured, it seems! And why did the entire police force, which was giving security to Atiq, run away from the spot, instead of choosing to protect him, and retaliate against these 'amateur' killers? Not a single shot was apparently fired by the police! Despite the cops having run away, the killers said two things: Surrender and Jai Shri Ram! How much more eerie can this seemingly, scripted, script become!
And why were the brothers made to walk, surrounded by TV cameras and media in such close proximity, at 10.30 pm in the night? Why were they brought in for a health check-up late at night? This remains a troubling question, though the police can claim that there is no law to prohibit them about the hour they choose for a medical check-up. How did the killers come to know about this schedule and that the media would be around in such close proximity to Atiq and his brother?
ALSO WATCH: 'If You Kill A Cop, You Destiny Is Clear'
The assassins look like puppets. Someone else, or, some others, are playing them from behind the curtain, it seems. There are reports that the motorcycle in which they arrived had a fake number plate. A prominent TV channel said that this bike was owned by the police. There was huge security in the funeral of Asad, Atiq's 18-year-old son, who, too, was shot dead in an encounter earlier – that was the 183rd encounter in UP under the current regime. So, if they could organise such massive security for his funeral, why did they not do the same in the case of Atiq, who was in the custody of the UP police after being taken out of the Sabarmati Jail in Gujarat? Ashraf was brought from Bareily jail. The judiciary had sent them to police remand, isn't it?
The ADG (Law and Order) of UP had earlier said that there is a danger that Atiq can be freed in UP by his gangster friends, while he is on the road under police custody. Atiq himself had expressed the fear that he could be murdered. Surely, this murder has a striking similarity with the earlier 'encounter' of Vikas Dubey in UP.
Besides, look at the reaction of the ministers of the BJP-led government in UP. One minister, Swatantra Deo Singh, known to be close to the current chief minister, said in a tweet that "paap aur punya ka hisaab isi duniya mein hota hain…" meaning that sin and good acts get their due in this world itself. Another minister said that this was divine intervention – an "aasmani" act.
So, who will benefit from these brazen, cold-blooded murders (and other encounters) in UP, under the auspices of the UP police, and, which, apparently, seems a well-planned, thought-out and stage-managed murders in full public view with live TV cameras?
There is a section of population in UP which believes that courts are taking too long to provide justice, that bahubalis, dons and the mafia is getting away under the due process of law, that there should be 'quick justice' and that this is indeed a very good trend. After the murders, there crackers were burst and sweets were distributed in some places, it has been reported. They really care a damn for the due process of law, or the values and doctrines of a society based on democracy and the Indian Constitution. This section seems to be aligned with the current dispensation – and their views, and joy, clearly, makes the current establishment in UP and India – extremely happy.
As told to Amit Sengupta