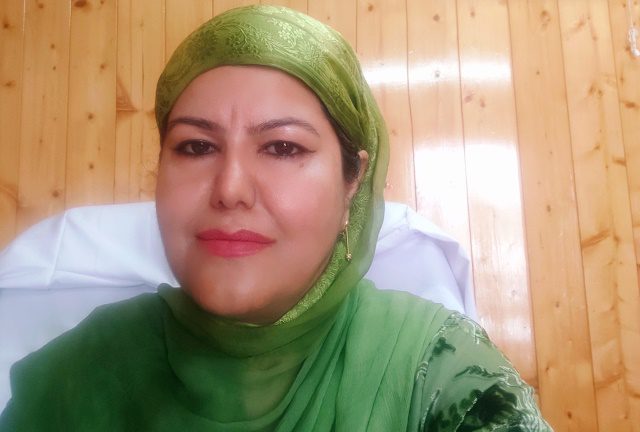 LOK ISSUES
LOK ISSUES
'Mental Wellbeing is a Huge Concern in Rural Kashmir Today'
Dr Lubna Khan, a Kashmir-based physician, educator, counselor and writer for over 18 years, shares her working experience in rural parts of the Valley. Her story in her words:
I have been engaged in social work in Kashmir for many years, starting from my childhood and continuing throughout my professional career. My journey began during my school years at the Presentation Convent, Srinagar, where my parents instilled in me the values of helping the less fortunate. As a Medical Officer specializing in maternal and child health, my opportunities to serve the community expanded. I started by serving in remote and rural areas of Kashmir, where I observed the plight of women facing health issues due to conflict and lack of medical facilities.
This experience drove me to initiate social activism focused on addressing health and mental health challenges. I began conducting health camps, particularly for women and children, and addressing their mental well-being. As my efforts gained recognition, I founded an NGO called Support Trust, which allowed me to collaborate with various organizations such as WHO, UNICEF, and the United Nations. I extended my work to encompass mental health awareness, women's empowerment, 'disaster-medicine', and economic upliftment.
I actively participated in relief efforts during the devastating floods of 2014 in Kashmir, organizing and conducting 72 health camps in collaboration with the Reliance Foundation. My involvement in disaster- medicine became pivotal, and I collaborated with organizations like Saving Lives Birmingham to conduct workshops and conferences on disaster management. This work expanded to earthquake-stricken Nepal, where I contributed to post-disaster management efforts.
In addition to my urban initiatives, my team extended our reach to rural areas, collaborating with the Indian Army under the Sadhbhawna initiative. We provided counseling to students and orphans, emphasizing on mental health and personal development. Our efforts weren't confined to health; we also worked on empowering women, artisans, and vulnerable populations.
The impact of our social work in contemporary Kashmir has been significant. Through our initiatives, we have addressed critical issues affecting the lives of ordinary people. By conducting health camps, we have provided access to healthcare for those in remote areas who previously lacked it. Our focus on mental health awareness has helped reduce stigma and increased understanding, leading to improved, psychological well-being. The workshops and conferences we have organized, often in collaboration with international organizations, have brought vital knowledge and resources to the region.
ALSO READ: 'PM Wants Optics, Kashmiris Want Statehood Back'
Our work during the floods of 2014 showcased the resilience of our organization and highlighted the importance of disaster management in a conflict-ridden region. Collaborations with organizations like Saving Lives Birmingham have brought expertise and support, elevating disaster-medicine awareness.
Moreover, our efforts in women's empowerment have contributed to enhancing the social and economic status of women in urban and rural areas. By aiding artisans and providing opportunities for self-employment, we have worked to alleviate economic hardships.
I have extensively worked in rural Kashmir, and the experiences have been enlightening and transformative. My initial exposure to the challenges faced by rural communities, especially women, fueled my determination to make a difference. Lack of access to healthcare, compounded by the region's conflict, created a dire situation. Through health camps, mental health awareness programmes, and workshops, we have addressed long-term and pressing, contemporary concerns.
Collaborating with the Indian Army's Sadhbhawna initiative allowed us to extend our reach even further. Counseling students and orphans, providing mental health support, and facilitating personal growth have been rewarding endeavors. Establishing connections with local communities and witnessing positive changes in their lives has been humbling and motivating.
Our work in rural areas has not been limited to healthcare alone. Empowering women through economic initiatives and supporting artisans to sustain their livelihoods has had a direct impact on improving the quality of life in these regions.
As I reflect on my journey, it's evident that the impact of our work in rural Kashmir has been profound. We have bridged gaps in healthcare, offered psychological support, empowered individuals, and fostered a sense of community resilience.
In conclusion, my journey as a medical officer, social activist, and advocate for change has been deeply fulfilling. From my childhood values to professional endeavors, I have been committed to serving the people of Kashmir, especially in rural areas. The impact of our work is visible in improved healthcare access, heightened mental health awareness, disaster-preparedness, and women's empowerment.
While we have achieved much, there is still a lot of work to be done. I, therefore, extend an appeal for collaboration from professional organizations and NGOs, in India and abroad, so that we can continue our mission of positive transformation for the ordinary people of Jammu and Kashmir.
(The narrator is an International Resource Person for Women's Empowerment and Disaster Medicine and has contributed to various organizations and initiatives. Her work as a Medical Officer in the Civil Secretariat, Srinagar, and her affiliations with institutions such as the Pune International Marathon, Pune Athletic Amateur Association, and Rotary Club, Birmingham, UK, showcases her commitment to community service.)
As told to Amit Sengupta