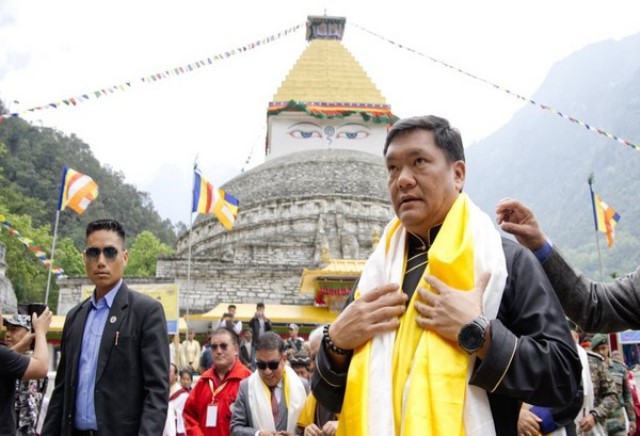 LM NEWS 24
LM NEWS 24
Message To China! Buddhist Leaders Meet In Arunachal, CM Khandu Attends Event
Sending out a strong message to China, which recently attempted to rename 11 places in Arunachal Pradesh in a fresh attempt to lay claim on sovereign Indian territory, a group of top Himalayan Buddhist leaders on Monday visited the state and held a day-long national conference on Nalanda Buddhism Tradition at Gorsam Stupa, Zemithang in Arunachal Pradesh's Tawang district on Monday.
It's rare for top Himalayan Buddhist leaders to come together in such big numbers in the border state and the meeting on Monday is being seen as a clear and unambiguous message to China after its renaming attempt.
The day-long conference, attended by about 600 delegates, is also being seen as an attempt to give a strong push to Himalayan Buddhism.
Zemithang in Arunachal is the last village in India, along the Indo-China border.
In December 2022, Chinese PLA troops clashed with Indian forces on the Line of Actual Control (LAC), in the Tawang sector of Arunachal Pradesh.
Defence Minister Rajnath Singh later issued a statement saying that the Chinese troops tried to unilaterally change the status quo on the LAC and the bid was successfully foiled by the Indian forces.
The conference was attended by delegates of revered Rinpoches, Geahes, Khenpos and scholars from all the Himalayan states of Himachal Pradesh, Ladakh (Union Territory), Uttarakhand, Jammu and Kashmir (Paddar-Pangi), Sikkim, North Bengal (Darjeeling, Doors, Jaigaon and Kalimpong), Densa South India Monasteries and 35 delegates from various parts of Arunachal Pradesh like Tuting, Mechuka, Taksing and Anini and others.
Arunachal Chief Minister Pema Khandu said the Buddhist culture, which thrives on the peaceful co-existence of every sentient being, should not only be preserved but also propagated.
Khandu said the state has a big chunk of the Buddhist population and "fortunately they have kept their culture and traditions safe with religious fervour".
"The main pillar on which Nalanda Buddhism stands is the principle of 'reasoning and analysis'. This means we can even bring the teachings of Lord Buddha under the ambit of reasoning and analysis. This logic is based on science and perhaps Buddhism is the only religion that gives its followers this liberty," Khandu said.
Welcoming the delegates, the chief minister said Arunachal Pradesh is home to a mix of religious followers.
"Arunachal Pradesh is not home only to Buddhism but to several religions, including those who follow their own indigenous faith. I believe that every religion and faith should flourish and exist peacefully. I am proud that we Arunachalis are doing just that," Khandu said.
He expressed gratitude to the Indian Himalayan Council of Nalanda Buddhist Tradition (IHCNBT) for organising the one-day national conference on Nalanda Buddhist tradition on retracing the source in the footsteps of Acharyas: "from Nalanda to Himalaya and beyond".
"Zemithang, as you might all know, is the last Indian border through which his holiness the 14th Dalai Lama entered India in 1959. Therefore, holding this conference here is significant," Khandu said.
While noting that Buddhism was expanding globally and witnessing an important resurgence in a few traditional areas, Khandu pushed for the need to make its presence more vibrant with roots connected to Nalanda Buddhism.
He insisted that those attending the conference, especially the youth, stay put for the three technical sessions scheduled for the day.
"We are blessed to receive his teachings based on ancient Nalanda tradition," CM Khandu said.
He added that great scholars of Nalanda University had developed Nalanda Buddhist traditions and, with time, they went to Tibet and propagated the faith through the great Nalanda gurus such as Acharya Santarakshita, and Nagarjuna, among others. (ANI)
Read More: http://13.232.95.176/