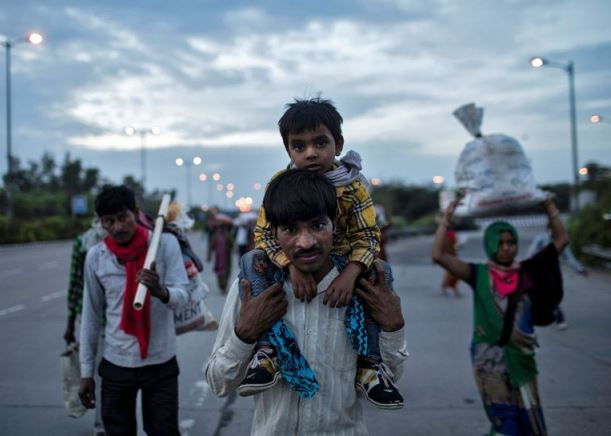 OPINION
OPINION
Misery And Hope In Covid-19 Days
The relentless exodus of the migrant workers continues, on train, trucks and tempos, and, of course, on foot, unabated. Scores have died in road accidents, several at a railway track in Aurangabad, as they slept after a long trek, and a goods train crushed their emaciated bodies. All that was left on the tracks was their blood and a few dry chapattis, even as the Prime Minister, for reasons only he knows, refuses to release free food from the Food Corporation of India godowns to the poor and the workers. The godowns reportedly store around 70 million tonnes of food grain, while the summer harvest will create another bounty.
At least 40 million workers are going to lose their jobs and livelihood in the post-pandemic era in India. This might just be a conservative estimate because most of these workers are outside the organized and formal structure of the Indian workforce, constituting almost 93 per cent of the labour force, almost half of them Dalits and from extremely backward castes, including adivasis and women. They have virtually no trade union rights, no fixed daily wages, no holidays, no maternity leave or crèche for children, no provident fund or pension, not even fixed work days. They are the eternal 'free labour' floating in an exploitative market, outside the gambit of trade unions.
That is why, perhaps, the call of 10 trade unions for a nation-wide strike against the new, draconian labour laws on May 22 last, did not elicit much response on the ground. The labour laws are a direct attack on rights won after decades of struggle including the 8-hour work day, and the Inter-State Migrant Act, among other laws. The suspension of a large number of labour laws for three years by the Yogi Adityanath government in UP and the 'hire and fire' policies in several states will not only adversely impact the formal sector workers, but also the migrant workers who have no trade union rights.
Those who will be hit the hardest are those who are at the bottom of the unequal ladder. During the Covid-19 pandemic, for instance, the garbage-pickers, dressed in tatters with no protective equipment, not even masks, do their jobs diligently, and without any thanks from any corner whatsoever. You can see them carrying the huge pile of urban waste of the consumer society on their ramshackle carts, stopping only to greet other garbage collectors – the rest of the society really cares two hoots for them.
Some of the sanitation workers in Delhi, indeed, as reports say, have been silent victims of Covid-19. Not too many reporters are chasing their daily life stories, or their health situation. Many of them remain anonymous in their tragic destinies; those who go through the trauma are reportedly never compensated.
Of the scores of stories which have been missed in the lockdown because reporters can't go to the ground due to difficult circumstances, strict regulations and containment zones, the everyday stories of the heroic garbage-collectors and sanitation workers too have been missed. They remain invisible, condemned and exiled – as in so-called normal times.
Those who have become invisible are only becoming visuals of infinite tragedy, like an endless film with no intervals. A dead mother lying on a thatched funeral bed with her two little sons crying, touching her forehead. A young mother carrying two children on her two shoulders. A woman climbing on the side of the truck, while another man holding a child just about sliding up from the side. A desperate man, crying aloud, trying to make a phone call to someone no one knows. Women with sacks on their heads walking on the highways, the streets, in empty landscapes, as if in a long march to nowhere. Men holed up in the b lack hole of a truck like cattle for slaughter. Feet smashed with earth, broken, destroyed, ravaged skin, nails, toes. Feet full of blood.
There are moments of optimism too, when hope floats. A smiling child with a plateful of food. A rare moment. A Muslim man standing with a placard: Please stop, take rest, eat and drink something. This is the duty the Muslims are doing during the daily fasts in the holy month of Ramzan. Location unknown.
The Gurudwaras, as usual, are distributing food to thousands of people. Their big hearts are there for all to see, as the big meals they prepare in big utensils. God is with them.
Shariq and his friends distributing food and fruits to far-away nooks and corners day after day since the killings started in Northeast Delhi. No publicity, no fanfare, no photo-ops. A daily task.
Scores of the others are doing the same, opening their hearts and doors, giving food and love, day after day. In Varanasi some students wake up all night because the workers are travelling in the night to escape the heat and the police: they are distributing food and water. Jadavpur University students have made a commune and collective kitchen: distributing food and sanitisers to cops, traffic cops, vegetable vendors, slum-dwellers, for weeks.
One man goes alone to a highway with butter milk every day, somewhere in south India. He spots a man walking from Bangalore to Madhya Pradesh – an old man. So he gives him Rs 400, and that is all he had.
Surprise, surprise: the old man calls him and thanks him. He has reached home with the Rs 400, hitch-hiking on a truck half-way. So what does the old man tell the 'butter milk man': "Come, visit my village; and send me your address, I will return the money. He also says that we should not lose hope because there are still people who are ready to share and help. Humanity and humanism lives. Yes, it does."
A man writes a hurried letter in Hindi. He is a migrant worker and the letter is addressed to the owner of a cycle, perhaps his employer. He says he has a handicapped child and no money, and he has to reach Bareilly, so he is stealing the cycle. He is a 'gunahagar' – he has done a crime, he confesses in the letter.
A migrant worker who has returned to Gurgaon called a female volunteer of the collective, Gurgaon Nagrik Ekta Manch who make 30,000 meals a day for the workers, and have fed lakhs of workers since the pandemic began. He says he has rejoined work but can he and his co-workers get food. She says, we are providing food to jobless and homeless workers, but do give your address, we will try to reach you. So what does he say in response?
"Didi, now that I have a job, I will manage. Give the food to those whose kids are hungry." With tears in her eyes 'Didi' thanks him profusely.
Indeed, even as huge unemployment and starvation stare millions of migrant and organized workers in India, eminent economists are repeatedly appealing to the Centre to drastically revise its strategies. Former RBI governor, Raghuram Rajan, for instance, has yet again said that the economic crisis is so huge and relentless that much more needs to be done. He told a portal in a recent interview: "I think it is particularly so in the case of India because we have years of economic drift in which our growth had slowed, our fiscal deficit has gone up. There is a lot more we need to do to put economy back on track. We have to pull all stop."