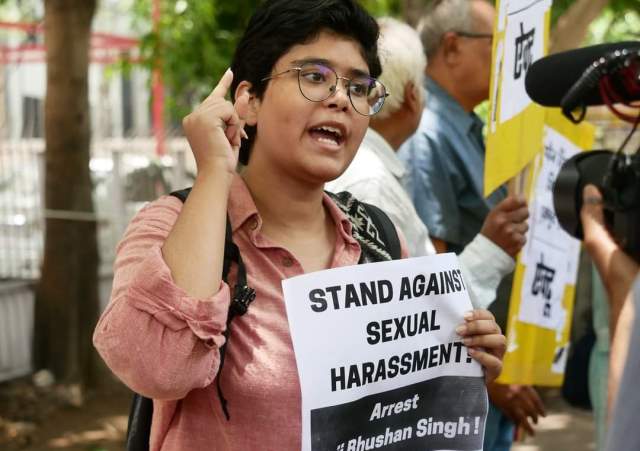 LOK ISSUES
LOK ISSUES
'Misery Caused By Delhi Floods Was A Photo Opportunity For Many'
Anjali, secretary of the All India Students Association (AISA), Delhi University, recounts her experience after visiting the flood-affected labourers families in Yamuna floodplains:
Our party, the CPI-ML (Liberation) and its students' wing, AISA, have been continuously working among the working people of Delhi. For, we believe in the solidarity and struggle of the working class people. From my experience on the ground, I can say the Indian State and the Union government led by the BJP have no regard for the people who actually build and run the city with their hard labour and sweat.
This time also, when people's homes were flooded, the people got nothing, other than empty promises, from both Narendra Modi and Arvind Kejriwal. Hence, as students, committed to the cause of a just society, we thought it was imperative to go and stand with the working people who have been worst affected by the inundation and mass displacement.
A team of 20 activists visited Ambedkar Basti, Wazirabad and Dhobi Ghat on 14 July where poor workers reside in temporary settlements in extremely difficult conditions. Even a cursory look at the settlement proved that these people have been compulsively ignored — way before the floods came. Ambedkar Basti and Dhobi Ghat had predominantly migrant Dalit and Muslim population.
We saw people waiting on their terrace with no expectation, and, absolutely no hope, with their homes half-submerged with water-level up to four feet. Rains and poor drainage have been catastrophic for the residents there and it is symptomatic of the inhuman living conditions that the labour population is subjected to. The people didn't want to leave their homes and go anywhere even though they had no water, food or shelter.
Even when we reached, they misunderstood us as people from the government and we were told, "Bohot log photo khich ke chale gaye, tum bhi photo aur vedio banane aaye ho kya?" (A lot of people have come here to take pictures and videos, are you also one of them?) After explaining who we were, they welcomed us and showed us around. Almost everything around was damaged by the flood.
ALSO READ: 'Daily Wagers Were The Worst Affected By Floods'
The people staying in these places are daily-wage workers, rickshaw-pullers, domestic-helpers, electricians, construction workers etc. Hence, for them, not being able to get out of their homes meant hunger and deprivation for their families. The stagnant water had caused severe diarrhoea, dengue, skin-infections, etc. Not able to get out also meant not being able to afford medicines to treat these diseases. The flood had damaged not just their homes, but also what was inside: their modest belongings like beds, tables, fridge, ration, documents, even the books of children — leaving people worse-off than before.
We decided to start with relief work by making a list of all that seemed necessary, like drinking water, food, medicines, sanitary pads and diapers. We appealed for funds from the citizens of Delhi, who helped the working people in whatever capacity they could.
From 15th July releif work began in Working class areas of Delhi, the same people who were first skeptical at our visit said "Aap log pehle hain jo madad karne vapis aaye" (you're the first ones who came back to help). This communicated the anger and frustration of the people from both the union and the state government. We distributed releif kits to Over 500 families. We also intend to conduct a survey in these areas for children who lost their education material.
Kejriwal claimed that his government had set up relief camps at various places in Delhi, but the reality is that these places had no water or food; at some places the stale food caused poisoning. The CPI-ML wrote to the Delhi chief minister and Lt Governor about the condition of people. But, the Union and state governments were busy shifting blame on each other; the victims were left to fend for themselves.
The larger problem behind all this is fake promises made by the BJP and AAP — 'Jahan jhuggi vahan makaan'. A lot of these settlements are on Yamuna floodplains, which the government says, are 'illegal'. However, the fact is, the people have been forced to live here for decades; they are constantly pushed out to the peripheries through illegal demolitions, rising rent, cost of living and the ghettoisation of the working class in our metros. Indeed, it is a continuous and tragic narrative, and there seems no end to this brazen injustice.
As told to Amit Sengupta