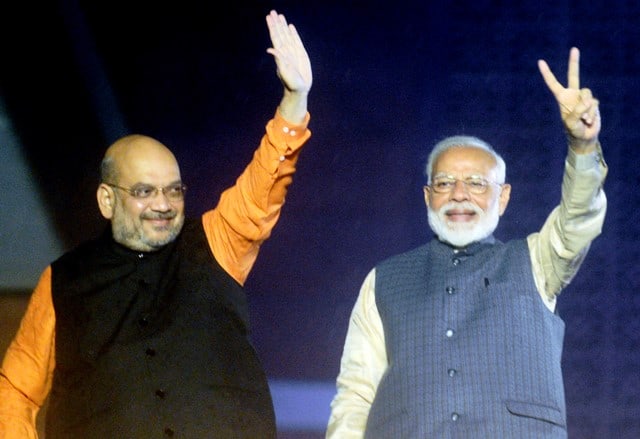 FOCUS
FOCUS
Modi 2.0 – Majoritarian Agenda Is In
<![CDATA[
Given majority in both Houses of Parliament, the Bharatiya Janata Party's second term in office may see a renewed push in majoritarian agenda.
This must begin with an apology for failing to discern the Tsunami that has brought Prime Minister Narendra Modi to a landslide victory in India's Elections 2019.
Churlish though it sounds, the fact is that none noticed it. A very toxic and polarizing campaign that raised the decibels of rival claims high even as it brought standards of discourse at their lowest-ever,  made it difficult.   
A 40-day polls process, when several institutions, including the Election Commission, came under the cloud, made that task near-impossible. 
Now that the world's largest democratic exercise is over, this apology must be followed by a sincere acknowledgement of Bharatiya Janata Party (BJP)'s solo score. It can compare well with the one by Indira Gandhi in 1971 when she fought off a united non-Communist opposition's "grand alliance". One is not taking into account the popular sympathy vote caused by her assassination in 1984 giving the Congress the highest 400-plus.
Modi and his National Democratic Alliance (NDA) were criticized for winning the 2014 elections with the lowest-ever 31 percent vote-share. At 48 percent today, it can claim to be close to the 1984 score of 49.10 percent. The BJP got 7.7 percent then and only two members won. Tables are totally turned now with the Congress getting just 29 percent vote. Regional parties won 23 percent. Unable to align with some of them when and where needed, Congress, the country's oldest party is an also-ran today.
Percentages apart, perceptions matter. They were created by Modi's oratory and deft media management. Indeed, Modi commands several 'M's —  media, money, muscle power in the form of cadres and government agencies that he let loose on critics and above all, brilliant marketing with his oratory, slogan-mongering and ample use of the "humble-me." 
Dedicated effort has paid. After two consecutive defeats in 2004 and 2009, the BJP, helped by its ideological mentor, the Rashtriya Swayamsewak Sangh (RSS), battled its way on the back of an anti-graft movement. Back in power in 2014, it has built the world's largest cadre-based political party that, under its chief Amit Shah, never stopped working for electoral gains. This victory belongs to those cadres.
By contrast, the Congress' mass-based goodwill and support are ebbing. It is not ready for such a revamp. Rahul Gandhi has offered to resign. But the party will not accept it. He must slog on along with his housewife-sister Priyanka. The party is destined to remain trapped as a family concern. Psephologist-politician Yogendra Yadav has demanded that the Congress "must die," but parties don't. The BJP did not, and the Congress, too cannot. It has no choice but to persist.
The salt on the Congress' wounds is Rahul's defeat in Amethi, the family bastion. If nothing else, he could take lessons from the victor, Smriti Irani, who nursed Amethi despite defeat five years ago.
His love-and-hug 'soft' power was a novelty for a while, but its persistence failed against Modi's hard-headed, even harsh, responses that included constantly attacking the Nehru-Gandhis.  Now that Modi has won and Rahul has lost, it is a moot point why Rahul calling the PM a 'thief' (chowkidar chor hai) failed.
Not just the Gandhis, the opposition's family enterprises failed. The Gowdas of Karnataka, the Pawars of Maharashtra, the Yadavs of Uttar Pradesh and Bihar, among many others, were bogged down by family rivalries. By contrast, the BJP took some hard-headed, even controversial decisions, to jettison its founding leaders L K Advani and Murli Manohar Joshi.   
In the next few days if not weeks, some opposition-run state regimes may go. Hindutva hardliners – Giriraj Singh, Sakshi Maharaj, Anantkumar Hegde and others have all won.  On the victory ramp is Pragya Thakur, the terror under-trial out on bail whose nomination was endorsed by Modi who then, in an act of damage control criticized her praise for Mahatma Gandhi's assassin.
Maharaja Ranjit Singh once predicted total British rule in India saying "sab lal ho jayega." Today, would he have said: "sab kesri ho jayega?"
The road for the march of communism in Asia, it was said in the last century, would traverse from Moscow to Beijing to Kolkata and beyond. Those prospects have disappeared.  After three decades' Left rule, West Bengal switched over to Mamata Banerjee and now, to the BJP. 
In ideological terms, the Before-Modi-After-Modi era has consolidated. The pluralist India of Nehru's dreams and vision that the world has known and praised is passé. India joins the comity of nations led by tough-talking populist right-wing leaders like US President Donald Trump, Turkey's Erdogen and Hungary Viktor Orban.  
Given majority in both Houses of Parliament, the majoritarian agenda can now be pushed. Also ripe for legislation could be Uniform Civil Code and repealing of Article 370 of the Constitution that removes the special status Jammu and Kashmir enjoys.
It would take a while to know how he Muslims have voted, but given the NDA's two-thirds majority win it is obvious that this vote has not mattered. In such a situation, the community may reach some understanding on the vexed issue of a Ram temple in Ayodhya.
There may well be some benefits on the economic front from Modi 2.0. Among them could be unshackling of ailing public sector units in favour of private enterprise. In telecom sector, BSNL is unwell and so is MTNL. In aviation, Air India might find buyer(s) if the government writes off some of the liabilities. Just-closed Jet Airways may also revive. Modi could use his Gulf goodwill to help out.
The India Inc. that has placed immense faith in Modi despite many disastrous moves because it sensed the TINA factor and did not want an unwieldy coalition government, can reap some benefits.        
Riding on conflict with Pakistan, Modi, like US President Donald Trump, focused on border to shape a vision of a muscular India. Nationalism was at the heart of the BJP campaign, and that included a citizenship census in the north-eastern state of Assam to raise the threat of Muslim "infiltrators" and show they are curbing the tide of undocumented immigrants at India's borders.
Yet, Modi has a fan across the border in Pakistan Prime Minister Imran Khan. He unusually — and controversially – showed open preference for Modi over anyone else to lead India. Old logic goes with it that the South Asian rivals can normalize relations only when a right-wing 'nationalist' Indian government (read non-Congress, since that party carries the baggage of the Partition and the Kashmir dispute) and an army-backed Pakistan government.
Khan should be happy to talk with a more agreeable Delhi under Modi. Both would be hiding their iron fists in velvet gloves. But circumstances favouring, they could solve some intractable issues. Why, solving even Kashmir is possible, to the glee of world powers that are tired of it. That would make them eligible for a joint Nobel.
The writer can be reached at mahendraved07@gmail.com