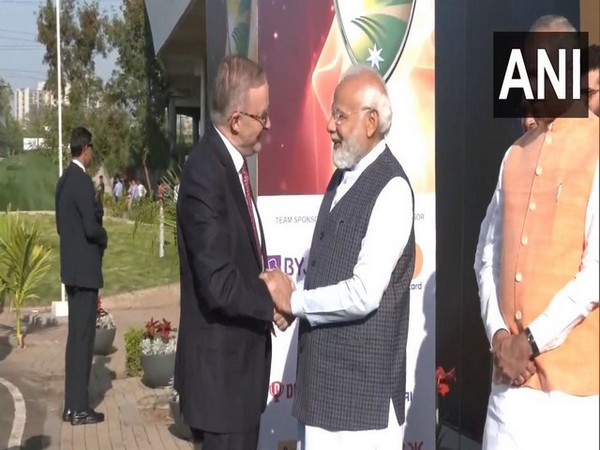 LM NEWS 24
LM NEWS 24
Modi, Australian PM At Gujarat Stadium For India-Australia Test
Australian Prime Minister Anthony Albanese, on Thursday arrived at the Narendra Modi Stadium in Ahmedabad to watch the first day of the final Test match of the Border Gavaskar Trophy 2023.
PM Modi welcomed his Australian counterpart at the venue, the largest stadium in the world.
Albanese will watch the first hour's play between India and Australia in the company of Prime Minister Narendra Modi.
Australia captain Steve Smith won the toss and opted to bat versus India at the toss for the fourth and final Test for the ongoing Border-Gavaskar Trophy series.
Both the Prime Ministers were greeted with loud cheers as they did a lap of honour at the stadium prior to the match.
Earlier, PM Modi arrived at the venue and was received by Gujarat Governor Acharya Devvrat, Chief Minister Bhupendra Patel, and state Home Minister Harsh Sanghavi. BCCI president Roger Binny and BCCI secretary Jay Shah were also present at the felicitation.
The Australian PM who arrived in India on Wednesday. Banners of Prime Minister Modi and his Australian counterpart went up at the Narendra Modi stadium ahead of the final Test.
India is currently leading the series 2-1. However, the hosts need to secure an outright victory in the final Test to qualify for the final of the ICC World Test Championship where they will be facing Australia in London from June 7 onwards.
"One of the things that bind both countries is cricket and it will be great to see the leaders of India and Australia on day one of the matches in Ahmedabad," Australian High Commissioner Barry O'Farrell said.
Yesterday, Albanese participated in Holi celebrations along with Gujarat Chief Minister Bhupendra Patel and the Governor of Gujarat Acharya Devvrat at Raj Bhawan in the state capital Gandhinagar.
"Honoured to celebrate Holi in Ahmedabad, India. Holi's message of renewal through the triumph of good over evil is an enduring reminder for all of us", tweeted Australian PM Anthony Albanese with colourful pictures of Holi celebrations with flowers and colours.
The Australian Prime Minister on the same day visited the Sabarmati Ashram in Ahmedabad and paid tributes to Mahatma Gandhi.
Gujarat Chief Minister Bhupendra Patel accompanied the Australian PM on his visit to the Ashram. During the visit, Albanese took a complete tour of the Ashram.
The Australian PM, upon his arrival in India, tweeted: "An incredible welcome to Ahmedabad, India. The beginning of an important trip for Australia-India relations." (ANI)
Read More:http://13.232.95.176/