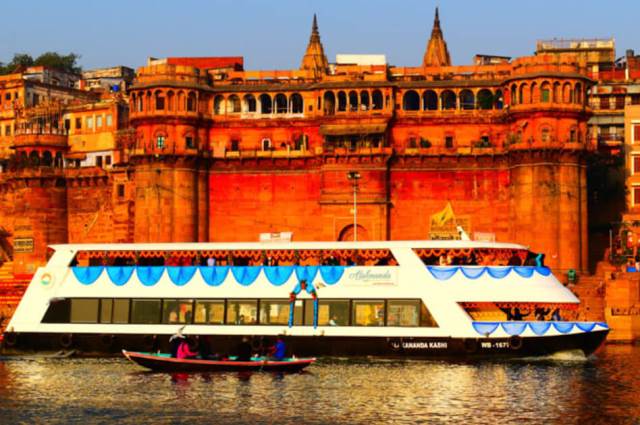 LM NEWS 24
LM NEWS 24
Modi Flags Off World's Longest Cruise MV Ganga Vilas In Varanasi
Prime Minister Narendra Modi flagged off the world's longest river Cruise, MV Ganga Vilas in Varanasi via video conferencing on Friday.
Prime Minister also inaugurated the Tent City at Varanasi and laid the foundation stones for several other inland waterways projects worth more than Rs 1,000 crore.
Union Minister for Ports, Shipping and Waterways Sarbananda Sonowal and Uttar Pradesh Chief Minister Yogi Adityanath were present at Varanasi on the occasion.
Speaking at the occasion, Sonowal said, "Today will be written in the history of the world's river cruise as it will be the longest journey in the world. It will go through UP, Bihar, Jharkhand, West Bengal and Bangladesh till Dibrugarh. Through this journey, not only the path of tourism but also the path of trade will open."
Uttar Pradesh Chief Minister Yogi Adityanath said, "In the last three days, tourists of the river cruise MV Ganga Vilas visited Varanasi and nearby places and experienced the culture. PM will inaugurate five new jetties in the state today. Kashi is moving ahead with a new identity today."
Assam Chief Minister Himanta Biswa Sharma who joined the ceremony virtually thanked PM Modi for flagging of river cruise connecting Kashi to Assam.
"Passengers who will come on this cruise will get the opportunity to visit Maa Kamakhya Temple, Kaziranga National Park and other place," Chief Minister Sarma said.
Bihar Deputy Chief Minister Tejashwi Yadav also joined the event virtually. He said the river cruise MV Ganga Vilas will visit Buxar, Chapra, Patna, Munger, Sultanganj and Kahalgaon in the state.
"The tourists will be accorded a traditional welcome at each port and taken to visit historical places," Tejashwi Yadav said.
An official of Port, Shipping and Waterways told ANI that the world's longest River Cruise MV Ganga Vilas is the first-ever cruise vessel to be made in India.
MV Ganga Vilas will begin its journey from Varanasi in Uttar Pradesh and travel around 3,200 km in 51 days to reach Dibrugarh in Assam via Bangladesh, sailing across 27 river systems in India and Bangladesh.
MV Ganga Vilas has three decks, 18 suites on board with a capacity of 36 tourists, with all the luxury amenities. The maiden voyage has 32 tourists from Switzerland signing up for the entire length of the journey.
The MV Ganga Vilas cruise is curated to bring out the best of the country to be showcased to the world. The 51 days cruise is planned with visits to 50 tourist spots including World Heritage Sites, National Parks, River Ghats, and major cities like Patna in Bihar, Sahibganj in Jharkhand, Kolkata in West Bengal, Dhaka in Bangladesh, and Guwahati in Assam.
The journey will give the tourists an opportunity to embark upon an experiential voyage and indulge in the art, culture, history, and spirituality of India and Bangladesh.
Further, Tent City has been conceptualized on the banks of the River Ganga to tap the potential of tourism in the region. The project has been developed opposite to city ghats which will provide accommodation facilities and cater to the increased tourist influx in Varanasi, especially since the inauguration of Kashi Vishwanath Dham.
It has been developed by Varanasi Development Authority. The tourists will reach the Tent City by boats from different Ghats situated in the vicinity. The tent city will be operational from October to June every year and will be dismantled for three months due to rise in river water level in the rainy season.
Prime Minister inaugurated Haldia Multi-Modal Terminal in West Bengal. Developed under Jal Marg Vikas Project, Haldia Multi-Modal Terminal has a cargo handling capacity of around over 3 Million Metric Tonne Per Annum (MMTPA) and the berths are designed to handle vessels up to around 3000 Deadweight tonnage (DWT).
Further, he also inaugurated four floating community jetties at Saidpur, Chochakpur, and Zamania in Ghazipur district, and at Kanspur in Ballia district in Uttar Pradesh. Besides, a foundation stone was laid for the five Community Jetties at Digha, Nakta Diyara, Barh, Panapur in Patna district, and Hasanpur in Samastipur district in Bihar.
More than 60 community jetties are being constructed along river Ganga across the states of Uttar Pradesh, Bihar, Jharkhand, and West Bengal to boost economic activities and improve the livelihoods of local communities in the region.
The community jetties would play a key role in improving the livelihoods of people by providing simple logistics solutions for small farmers, fishery units, unorganized farm-producing units, horticulturists, florists, and artisans focussing on economic activities in and around the hinterland of river Ganga.
A Maritime Skill Development Centre for North East at Guwahati was also be inaugurated. It will help honing the rich talent pool in the North Eastern region and will provide for better employment opportunities in the burgeoning logistics industry.
In addition to these, Prime Minister also laid the foundation stone for a ship repair facility and an elevated road at Pandu Terminal in Guwahati. The Ship Repair facility at the Pandu Terminal will save a lot of valuable time as it takes more than a month for a ship to be transported to the Kolkata Repair facility and back.
Moreover, it will also result in huge savings in terms of money as the transportation cost of the ship will also be saved. The dedicated road connecting the Pandu Terminal to NH 27 will enable 24-hour connectivity. (ANI)
Read more: http://13.232.95.176/